On the second day of the NHL entry draft, the New York Rangers traded their backup goalie Cam Talbot, and a seventh round pick to the Edmonton Oilers in exchange for a second round pick, a third round pick, and a seventh round pick, all in 2015. Shortly after that transaction, the Rangers moved forward prospect Ryan Haggerty to the Chicago Blackhawks for goaltender Antti Raanta, who is a less expensive option. With Talbot gone it appears that Raanta will be the Rangers backup goalie when the regular season starts this October. He is capable of stepping in for Talbot and giving starter Henrik Lundqvist the appropriate amount of rest through the course of the regular season.
Raanta has played in 39 career games in the NHL, and in that time he has posted 20 wins, a .912 save percentage, and a 2.41 goals against average. It won't be easy to mirror what Talbot did for the Rangers last year, but he should be a nice fit on a Rangers team hungry to make another run at the Stanley Cup. Raanta was a dominant goalie in Finland's SM-liiga for his team Assat. In his final season over-seas he played in 45 games going 21-10-11 with a 1.85 goals against average. He was crucial during his team's playoff run, winning 12 games, four of which were shutouts, and posting a 1.33 goals against average in the process.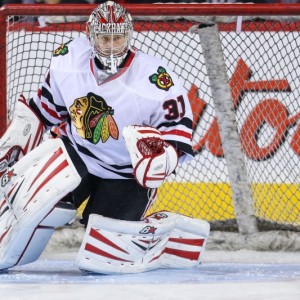 What impresses me about Raanta is his ability to make big saves, as well as stay calm and not start swimming in his net. In the video I selected below, you will notice Anze Kopitar of the Los Angeles Kings has a "grade A" opportunity to score.
Watch how the goalie just stays with him and makes the save, the rebound pops out to Kopitar, but Raanta doesn't panic; he gets his footing back and gracefully slides across his net to kick the second chance away.

For young goalies in the NHL, it isn't always easy to stay composed when you have one of the best players in the game bearing down on you. But when goalies can just hang in there and make the saves, it gives the team a new level of confidence.
Raanta isn't a big goalie, in fact he's only listed a six feet, 193 pounds. Despite his size, he battles hard for his ice in the crease. There are times where he has players crowding him and he doesn't get pushed to the back of his net, he just hangs in there and maintains his goal line. You would think that his height would limit his ability to get across the net-mouth in the butterfly, but this isn't the case, his tremendous athleticism and agility allow him to get into position, and have a chance on every puck.
One thing that should excite Rangers' fans is that goalie coach Benoit Allaire will be getting his hands on the net-minder. The coach has been with the Rangers since 2004 and has helped goalies like Nikolai Khabibulin, Martin Biron, and even Lundqvist, find their footing in the NHL. Raanta has all of the tools to secure a spot in the NHL, and Allaire should be able to help him reach his full potential.
Mr. Personality
Part of being a backup goalie in the NHL is having the ability to stay loose, and remain prepared. Last season, Raanta only played in 14 games; so it isn't always easy for these athletes to find a rhythm. Despite not playing often his teammates spoke highly of the 26-year-old.
Patrick Sharp spoke to Tracey Myers of CSN Chicago about how the goaltender is in the room, "He's in a great mood every day, win or lose, good game or bad game. You can tell he has fun playing hockey," Lots of guys are loved by their teammates, but I think for a backup goalie it's particularly important. A good personality should allow the guys who have been with the Rangers for a while now, to warm to Raanta quicker and allow them to move on from Talbot, who was such a horse for the Rangers in the 2014-2015 season.
To give you an idea of how Raanta carries himself, I found this interview after he was demoted and played a game for the Rockford Ice Hogs:
You can just feel his character bleeding through him. This is a guy who was just sent down from the Chicago Blackhawks to their AHL affiliate and he still has a great outlook on his situation.
We hear so much about guys who are reported to be bad teammates and constantly hear about how that characteristic can affect a team in such a negative way. So the hidden bonus for the Rangers is that they aren't getting a "head case". Instead, they are getting a kid who truly loves to play hockey, and embraces any role asked of him.
My Take
The net-minder was overtaken in Chicago by Scott Darling last year. Raanta was sent down because his play wasn't up to par with Blackhawks' standards. Raanta wasn't bad, he just wasn't as good as Darling who is a much bigger goalie physically. With the Rangers he is clearly the number two as Mackenzie Skapski is recovering from injury and still needs some AHL seasoning; aside from him no one else in the organization is close to challenging to be the back up.
I see him becoming a fan favorite, because of his booming personality, accompanied by his ability to step in and make big saves. I would have to think that he will play around 20 games this year baring injuries or further trades and I think a full year with Coach Allaire will really help him round out his game. If he improves his overall game, he may get a raise from his current base pay of $800,000, as the net-minder is an unrestricted free agent next year.