Despite the Montreal Canadiens' strong start this season, some players are struggling offensively for the Eastern Conference leaders. One of them is captain Brian Gionta. In 19 contests this season, the diminutive winger has only recorded 3 goals and 5 assists for 8 points despite playing on the team's first line with Tomas Plekanec and Rene Bourque, as well as getting plenty of power play time.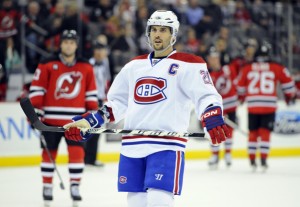 Named the team captain prior to the 2010 season, Gionta brings leadership, an excellent work ethic and valuable experience to a young team. However, the native of Rochester, New York, has seen his offensive statistics decline over the past few seasons. After recording a 60-point season with the New Jersey Devils back in 2008-09, Gionta signed a five-year contract worth $25 million with the Canadiens as an unrestricted free agent.
Since his arrival, Gionta's production has been on a steady decline, scoring at a .75 pace in 2009-10, at a .65 pace in 2010-11 and a 0.48 pace in an injury-riddled season in 2011-12. As you can see, the 34 year-old Gionta has not been really efficient and he has lost a step in the past two seasons. While some fans would argue that playing with Scott Gomez certainly did not help Gionta, the veteran is not producing more this season, even after Gomez's departure.
Still, the former 48-goal scorer is a very underrated defensive players who is very adept at shutting down the opponent's first line on a consistent basis. A very efficient penalty killer, Gionta boasts a very good defensive IQ and is very strong the back-check.
However, the offensive aspect on his game as faltered dramatically this season despite getting 18:43 minutes of ice time per game on average. Currently on a five-game pointless streak, Gionta has been whiffing on easy tap-ins and one-timers, and his shot has lost the power and accuracy that made him so god. Most of time, Gionta is aiming at the goalies' chest, making it very easy for opposing netminders to freeze the puck and stop the attack.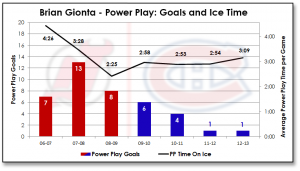 A proof that Gionta doesn't take quality shots anymore: he has only scored 3 goals on 51 shots this season, for a mediocre 5.9% of efficiency (good for 375th in the NHL), while recording only one marker at even strength.
Gionta has been losing way too many battles along the boards, especially on the road, and has been holding the Habs' first offensive line back because of his inability to recover and keep pucks near the slot. Gionta has also been atrocious on the man advantage, despite getting an average of 3:09 minutes of ice time per game.
The truth is that Gionta is no longer a top-six forward in this league and that Michel Therrien should reduce his ice time both at even strength and on the man advantage to give a chance to the more deserving players to produce offensively.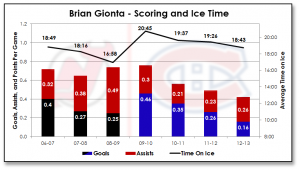 Gionta is second, only to Tomas Plekanec, in ice time per game among forwards, playing six more minutes per match than rookies Alex Galchenyuk and Brendan Gallagher, who both have more points than the team's captain.
While Gionta is showing a great attitude, excellent work ethic, and commitment to his team and teammates, it is time for Therrien to reduce Gionta's playing time in order to increase the role of more dynamic players such as Lars Eller and the two Gallys. Moreover, it would be hard for new GM Marc Bergevin to trade Gionta for three reasons:
– he is the team captain
– he has a no-trade clause
– he is still signed at $5 million/year for 2013-14
The best way to handle the situation would be to play Gionta around 15 minutes per game against lesser opposition and give him time on the second power play unit. Then, if his play doesn't improve, Therrien might have to relegate him only to penalty kill duties and sporadic ice time on the team's checking line.
With Rene Bourque out of to the line-up for an extended period due to a concussion (no he doesn't have the flu), what should be the line combinations going forward as a Prust-Plekanec-Gionta line is not the solution offensively?
UPDATE: The Canadiens have traded F Erik Cole to the Dallas Stars in exchange for F Michael Ryder