The travels of journeyman defenseman Kris Russell are an interesting case, to say the least. After being traded at the deadline to Dallas, the defenseman has yet to find himself a new contract for the upcoming year. Many rumors have been flying around with regards to what may be delaying the process. From turning down reasonable offers to waiting for specific teams to clear cap space, everything finally seems to be coming to a head.  Darren Dreger reported recently that Russell is in contact with as many as eight teams, and is expected to sign before camp.
Pure radio fodder. However, Russell is in serious discussions with 8 teams and is expected to sign before camp. https://t.co/8of8y6uhtd

— Darren Dreger (@DarrenDreger) September 6, 2016
The Hockey Writers took a look at who these eight teams could be, one being the team he left via trade at the deadline, the Calgary Flames. If the Flames truly still have interest, is Russell even a fit?
The Intangibles
Numbers aside, Russell has been referred to as the type of player with whom you are going to win.  He is the guy you can count on to put his body in harm's way game in and game out, doing whatever he can to help push the squad to victory.  It doesn't take much digging to find a perfect example of it either.  Russell's heart is evidently put on display in his propensity to block shots.  Russell ranked second in the NHL for shots blocked in 2015-16, as well as first in 2014-15, and third in 2013-14.  
The effort Russell puts in is visibly contagious. Russell would wear an "A" on his chest through the 2014-15 and 2015-16 seasons, a huge centerpiece in the Flames blue collared, never-give-up, heart and hustle attitude that the team would come to be known for. Russell would also elevate his game beyond what anyone thought possible when Mark Giordano went down to injury, leading the Flames to their first playoff scenario following a five-year drought. Russell's love for the team even bled into his other hobby of rodeo, shown in his bulls moniker, aptly named "Red Mile".
The Numbers
The numbers paint a different picture for Russell than the intangibles do, however.  Advanced stats show that Russell has been a well below average possession player over the past few years.  Russell's Corsi-for percentage in the 2015-16 season was an underwhelming 45.3%, which was, in fact, an improvement from the 43.0% and 43.5% he posted in prior seasons.  Simply put, when Russell was on the ice, the opposing team was consistently generating more opportunities to score than his line was.   Russell was also an undesired weight to current stud defenseman Dougie Hamilton.  Hamilton's statistics (both possession and standard) took a significant turn for the better without Russell by his side.  
However, these poor numbers only scratch the surface of Russell's possession metrics.  Over the past three years, Russell has seen a high level of defensive zone starts against a very high level of competition.  In the 2010-11, 2011-12, and 2013-14 seasons, Russell was deployed against lower levels of competition, and his possession numbers were much more respectable.  Russell's CF% would sit between 50.5% and 52.0%, good enough for a swing of almost 10%.  In short, Russell's numbers dictated that he is better served as a sheltered five or six depth defenseman. 
The Dollars
Only a couple of years ago the Flames had significant room beneath the salary cap.  The team had so much space to work with that there were rumored deals that had the Flames getting paid in assets to take on bad contracts.  Fast forward to this year, however, and things have become incredibly tight.  According to GeneralFanager, the Flames are sitting with a generous $8,594,601 in space.  One key issue, phenom Johnny Gaudreau is still in need of a contract.  There have been reports that Gaudreau is looking for a large deal with an 8 million dollar average, with the Flames hoping for somewhere in between 6.375 and 6.75.  Even if he ends up in the range the Flames are hoping for, the team would be left with less than two million dollars under the cap.
The other wild card is the health of Ladislav Smid.  If Smid were to begin the season on the LTIR, the Flames would have an additional $3.5 million to spend, allowing for a little more wiggle room.  Even if both of these contracts play out, and the Flames have approximately $5.5 million in space to work with, the reality is $5.5 million is still a very small amount.  Cap space in itself is a valuable commodity, especially with the potential for in-season moves.
The Pipeline
Another consideration that always has to be taken into account is the development and opportunity given to young players looking to break out. Over the last few years, the Calgary Flames have done an excellent job of bulking up their defensive prospect pool.  Names like Oliver Kylington, Rasmus Andersson, Tyler Wotherspoon, Brett Kulak and Kenney Morrison are viewed as high-end defensive prospects, but are any of them ready to make that jump to a starting top-six roster spot?
The majority of these defensemen, while great prospects, are still young and would be best-served seasoning in their respective leagues.  A surprise performance in camp would always be welcome, however unexpected.  That being said, there is a pair of exceptions.  Recently Ryan Pike looked at which prospects were poised to make the jump to the big leagues, and included was Brett Kulak.  Kulak made a great impression at the beginning of last year playing in the absence of TJ Brodie.  Kulak would return to the minors after Brodie returned from injury, and didn't quite make it back up.
Tyler Wotherspoon is also a name that has been batted around for a while as a defenseman on the verge of making the jump.   Wotherspoon played 11 games with the big club last season and did not look out of place, racking up an average of 14 minutes per game down the stretch.  With a new coaching staff coming in, Wotherspoon could look to take advantage and take a run at a spot.  A good camp could show that either of these players, if not both, would be better suited for the fifth or sixth spot.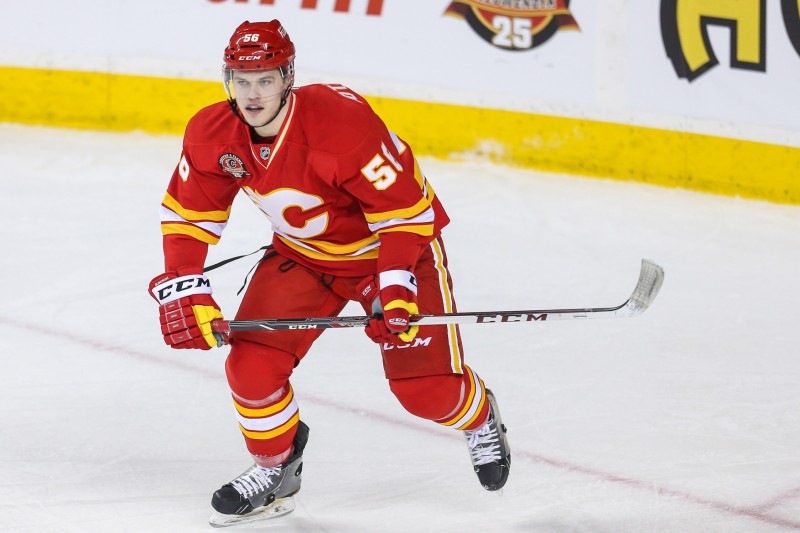 All things considered, Russell could be a fit back in Calgary.  The intangibles scream match made in heaven.  Having Russell back in the room from all accounts would be nothing but positive, but in reality, the other factors seep into the decision.  Even if cap space was cleared, a cheap one-year contract that would have Russell slotted in on the third pairing and on the penalty kill would be ideal.  A cheap one-year deal would allow the Flames to continue to assess where their young defensemen are at, as well as provide more competition in camp for the ones looking to steal a spot.
A cheap contract would also allow for the Flames to continue to navigate around a cap crunch until some bad deals come off of the books at the end of this season.  On the ice, as long as the Flames utilize Russell as a fifth or sixth defenseman, it would provide some great depth at defense, instantly making the Flames a better team.  Sure it's a long shot for it all to come together as illustrated,  but stranger things have happened.  If these items don't line up, however, all signs point to the fact that it's time for the Caroline, Alberta-product, and the Flames to go their separate ways.