The free-agent market has been picked apart. With training camp just a couple weeks out, there's woefully little left for general managers to pull roster players from. Nonetheless, there are teams that are assessing what is out there, whether they're offering contracts or just looking to bring some players into camp on a professional tryout contract (PTO).
With that in mind, here's a look at the best of what's left out there among free agent forwards.
Kris Versteeg
Despite trying to jump ship and play in Switzerland, Versteeg is back in North America and has taken a PTO with the Edmonton Oilers. He's had a trying couple seasons in terms of bouncing between teams, but his production has been good for a bottom-six forward who can play up the lineup and his passing skills are vastly underrated. His 3.31% adjusted CF%Rel over the last two seasons is the best among players in this group. His 22 even-strength goals, 31 even-strength assists and 53 even-strength points all rank second among these free agents. He may be the best forward on the market at present.
And for FWD
Bad outliers – Terry, McLeod, L Shaw, DSP
Good – Sedin, Crosby, Malkin, Thornton, Versteeg, etc… pic.twitter.com/jIcgMw2kn4

— Sean Tierney (@SeanTierneyTss) August 19, 2016
Brad Boyes
Boyes has received poor reviews in recent years in part because his contracts have been too steep for what he brings to the table at this point in his career. However, at a lower price tag — which is what he's likely to get at this point in free agency — he could be a good signing. He's capable of contributing 25-35 points and puts up solid possession numbers with a 2.21% adjusted CF%Rel over the last two campaigns.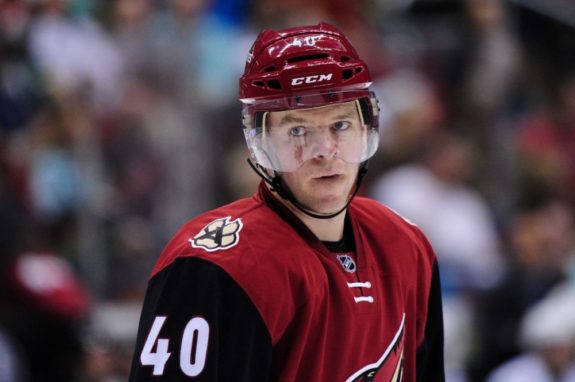 Alex Tanguay
At 36, Tanguay is getting up there, but he's still managed to be a positive contributor, posting good possession numbers for a possession-starved Colorado roster. After getting traded to the Arizona Coyotes late in the season, he put up four goals and 13 points in 18 games. He could be a sneaky depth pickup for a team that wants to roll four lines that opponents need to consider offensive threats. Highlighting that is his 24 goals, 23 primary assists, 37 total assists and 64 points over the last two seasons. Those are all the highest totals of anyone on this list.
---
RELATED: The Best of What's Left: Free Agent Defensemen and Goaltenders
---
Jiri Tlusty
The Czech winger is still relatively young at just 28 and had been a reliable depth scorer who pushed play in the right direction with a 2.17% adjusted CF%Rel over the last two years. Unfortunately, it's hard to know what you're getting with him. His production fell off a cliff last year when he scored only two goals and four points for the Devils in 30 games. Injuries played into that. He was injured early and then called it a season in January when he underwent wrist surgery. However, the prior season he scored 14 goals and 31 points in 72 contests. If he's healthy and is suffering no long-term setbacks from surgery, he could make a team-in-need's bottom-six a little more dangerous.
David Jones
The 32-year-old winger is a former 27-goal scorer and though he hasn't come close to hitting that mark in recent years, he has previously been capable of providing depth scoring with a physical edge. He uses his body well to protect the puck and is capable of using that edge to win 50/50 battles. He's one season removed from a 14-goal, 30-point campaign. Last year, he was used a little less in Calgary (averaging almost two minutes less ice time per game) and was traded to the Minnesota Wild at the trade deadline. There, he was given a chance to play up the lineup but didn't have much impact, scoring just two goals and an assist in 16 games.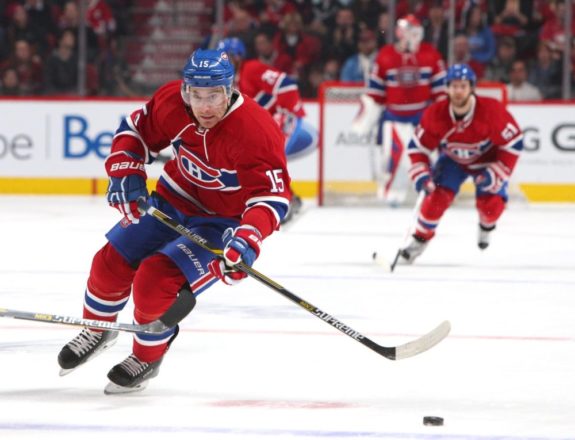 Tomas Fleischmann
Fleischmann is a decent third-line offensive contributor. One of his biggest issues is elevated expectations. He's been paid like he's more than a 10-15-goal forward because he was once a 30-goal scorer in the league. Those days are long gone. If he can absorb some d-zone starts on the third line and still manage to put up 14 goals and 25 points, like he did last year split between the Montreal Canadiens and Chicago Blackhawks, there should be a place on an NHL team for him.
Justin Fontaine
Fontaine had a rough season last year. It was a big step back from the prior year where he handled a good number of d-zone starts and turned it into basically even possession numbers. He also posted some strong WOWY figures that season and respectable secondary offense. At 28, he's not a prospect any longer, but there's a chance that he could be a fourth-line wing who can get the puck moving in the right direction and toss in something near 10 goals and 25 points. It's also possible that as a smaller player he continues to decline, though an early-season injury may have had something to do with his lowered production. He's a risky acquisition but has more potential to be a depth contributor than some on this list who may be deep into the decline part of their aging curve.
He has taken PTO with the Florida Panthers.
---
RELATED: The Hockey Writers' 2016 PTO Tracker
---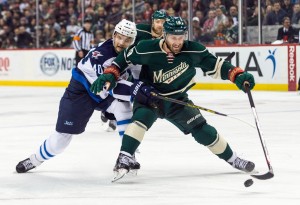 Jarret Stoll
Stoll was a possession black hole last season for the Wild after they claimed him from the Rangers. But there are teams that value a player who they can lean on to take a lot of defensive zone starts and win a boatload of faceoffs. Though, the counter argument is that he was eaten alive in the d-zone and just about anyone can get thrown out in the d-zone to perform poorly. Nonetheless, Stoll took more d-zone starts relative to the rest of the team than almost any forward in the league this side of players who had to line up with Nashville's Paul Gaustad. He's also right-handed, increasing his faceoff value for teams that have lefties in their top six and need someone who can win a big draw at a crucial moment.  
 
Lauri Korpikoski
Speaking of depth contributions, expect Korpikoski to join an NHL club at training camp on a PTO. He doesn't carry the baggage of being a former high-end goal scorer, but he does carry the baggage of being a parachute for possession with an adjusted CF%Rel of -7.94% over the last two seasons. Nevertheless, considering what is out there for those in the market for an experienced NHLer, Korpikoski's resume isn't negligible. An analytics-savvy team won't take a risk on him, but, like with Stoll, there are still teams that value the kind of contributions Korpikoski can make.
Others available:
Ryan Carter, Cody Hodgson, Shawn Horcoff, Tyler Kennedy, David Legwand, Lucas Lessio, Chris Porter, Mike Richards, R.J. Umberger.