It's no secret there's a bit of a goaltending mess in Vancouver. The Canucks have two capable number one guys, and after trying to let them co-exist last season in what was an extremely awkward, elephant in the room type of situation, the writing is on the wall that one must go.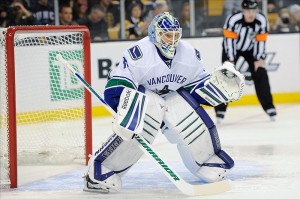 The easy choice is Roberto Luongo. He lost his starting role to Cory Schneider, and has made it very clear he's willing to go just about anywhere as long as he doesn't have to put on a Canucks jersey ever again. Luongo isn't a bad goalie. He led Vancouver to game seven on the Stanley Cup finals in 2011. He was in net when Canada won gold at the 2010 Olympics. He's only 34 years old. But there's a small (okay maybe not exactly small) problem with Luongo. As he so eloquently put it at the end of last season: his contract "sucks".
Whoever would take on Luongo would also take on his $5.3 million dollar cap hit for the next nine years. That's a long time. And makes potential buyers wary of shouldering that load. The Canucks can buy out Luongo's contract, but they would much rather trade him and try to get something, anything, back in return. But that's a lot easier said than done.
TSN's Darren Dreger, a normally reliable source, tweeted this out today.
It's getting interesting. 2 sources say Corey Schneider is in play. 1st and a prospect part of asking price. Suspect Oilers in on talks.

— Darren Dreger (@DarrenDreger) June 29, 2013
Interesting. When the Canucks signed Schneider to a contract extension it was under the assumption they could trade Luongo and have Cory as their starter. But they haven't been able to move Luongo. There were deals in place, but Vancouver wanted more and now they're stuck. A few mistakes by Canucks management has put them in a very uncomfortable position.
It would shock no one that teams are kicking tires on Cory Schneider. He's young, he's got a decent cap hit on a shorter term contract, and he's proven he can handle being a number one. The Edmonton Oilers, who were interested in young Jonathan Bernier before the Leafs snatched him up, have made no secret they want to improve their goaltending.  A duo of Devan Dubnyk and Cory Schneider doesn't sound half bad, and they have the assets to facilitate a trade.
Obviously, moving Cory is not Vancouver's first choice, but they painted themselves in a corner when they didn't trade Luongo last summer. There was a sense at one point that Schneider's cap friendly deal was done so that he could be easily moved at some point, but we'll probably never know.
The Oilers hold the seventh overall draft pick tomorrow, and GM Craig MacTavish is more than willing to move it if necessary. Is Cory Schneider worth the gamble? Will he shore up a perceived weakness in Edmonton? If the Oilers trade for him, clearly they believe so.