Chris Bigras THW Close-Up:
Date of birth: 2/22/1995
Place of birth: Orillia, Ontario
Ht: 6'0″     Wt: 187 lbs
Shoots: Left
Position: D
NHL Draft Eligibility: 2013
Twitter: @Chris_Bigras

THW The Next Ones Rankings (January 2013): 27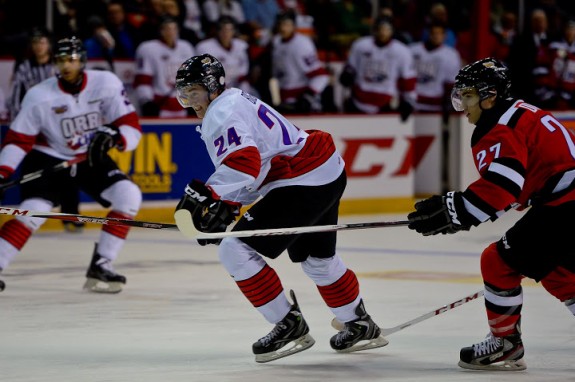 Other Rankings:
THW Warm Room Rankings (April): 35
ISS (May): 29
Future Considerations: Not ranked
Craig Button: 35
Consensus aggregate of several services (NHL Numbers): 50
CS Final Rankings for North American skaters: 14
***
[NHL 2013 Draft Guide – The Next Ones Draft Headquarters: Your quintessential draft resource]
***
Chris Bigras takes very little risks with the puck.  That may be the reason he's so highly regarded in this year's stock of defensemen.  He has a knack for knowing when to hold onto the puck and make a play himself, or dish the puck to a teammate and relieve pressure.  A cerebral defenseman, Bigras has shown all season why he deserves to be so highly ranked.
With great outlet passes and the knack for knowing what's happening down the ice, Bigras has a great sense of the game.  A steady two-way defenseman, the Owen Sound Attack blueliner takes pride on his ability to position himself to cut down angles, be in the play at all times, and make it easy for his goaltender to see the puck at all times.
On the offensive side of the puck, Bigras can run a powerplay with ease and gets quality chances from the point.  He doesn't try to do too much with the puck and knows when and how to find the open man.  With his head on a swivel, he can find teammates from anywhere on the ice.  Rest assured, Bigras will get picked high in the draft.  With his hockey smarts, he will do very well for himself in the NHL.
Where He Will End Up In June:
There are teams in the later half of the first round that could use a defenseman of Bigras' caliber.  He can very well be taken in the first round, but if he slips to the 2nd, it won't be for very long.
Scout's Honor:
"Tremendous hockey sense, strong skating ability and smart decision making are the standout qualities you will find in Owen Sound Attack defenseman Chris Bigras. Playing in the shadow of Senators' 2012 1st round pick, Cody Ceci, Bigras is an under-the-radar defensive prospect for the upcoming 2013 NHL Entry Draft. Bigras doesn't possess a flashy offensive game but he does have some underlying potential to put up points. He is excellent in the defensive zone, showing great positioning and an ability to read the opposition's attack. Bigras' strong skating stride allows him to jump into the rush and lead the attack but he is also very efficient at making the first pass to kick start the transition game. In 68 games with Owen Sound, Bigras contributed eight goals and 38 points, finishing second in defensive scoring. Bigras was also a key member of Canada's U18 WHC defense core adding a trio of assists en route to a gold medal."
Brendan Ross – Dobber Sports
"Bigras is a safe, responsible two-way defenseman with a smooth, fleet-footed stride that generates plenty of speed. He's not overly aggressive but effectively rubs out opponents on the board, showing good positioning and an active stick when need be. There's not a lot of upside to his game but he can carry the puck and distribute it up ice."
Aaron Vickers – Future Considerations
"Refined defenseman who logged heavy minutes with Owen Sound and rarely was caught out of place… Really lets the game come to him and rarely tries to do too much, always playing within his means… Took a positive step forward this year offensively, showing more offensive poise and an ability to handle PP duties… Safe pick but we question how much upside he has at the pro level."
The Scouting Report
"Smart six foot offenseman who is able to lead, QB and dominate on his team's PP. He doesn't make many mistakes, playing his position very disciplined. A solid all around defender in junior. He has excellent upside as a prospect due to his hockey IQ, and smart decision making, but I just don't see him as first rounder or player NHL teams select with their first choice, as he is a 'tweener" and past history has seen guys close in comparison be devalued because teams are weary as to whether they can grow and develop into the pro game."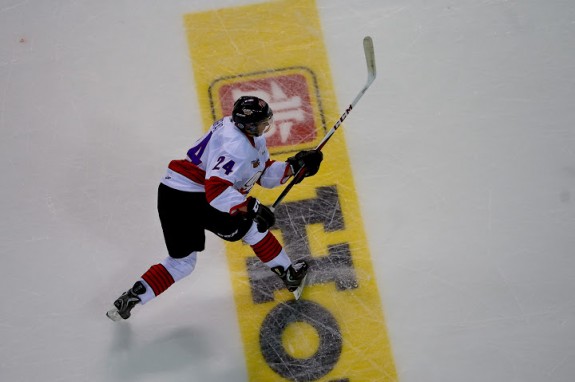 Statistics:
Bio/Interview(s)/Links:
Overview from Last Word On Sports
Interview with Neate Sager from Buzzing the Net
International Tournaments:
Bigras has played for Team Canada thrice – once for the U17 team and twice with the U18 team.  In 18 games he has one goal and four assists.
ETA:
2-3 years
Risk/Reward Analysis:
Risk: 1/5  Reward: 4/5
NHL Potential:
1st or 2nd pairing two-way defenseman
Strengths:
Vision
Hockey sense
Passing
Gap control
Positioning
First pass
Poise with the puck
Flaws/Aspects He Needs To Work On:
Size and Strength
Not getting bullied in front of the net
More consistent effort
Shot speed
Fantasy Hockey Potential:
Offensive: 6/10  Defensive: 6/10
NHL Player Comparison:
– Bigras' game is reminiscent of Paul Martin of the Pittsburgh Penguins.  Martin exudes a great sense of the game and seems to make the right plays at the right time.  He can contribute on both sides of the puck, much like Chris Bigras.
Video(s):
***
THW's The Next Ones prospect profile template design architect: Chris Ralph
Follow Shawn Reznik on Twitter: @ShawnTHW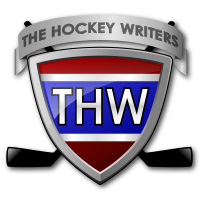 The archives of THW contain over 40,000 posts on all things hockey. We aim to share with you some of the gems we've published over the years.