Last year at roughly the same time, the Montreal Canadiens were readying themselves for the NHL Entry Draft in Pittsburgh, PA where they had the third overall pick after a disappointing, train-wreck of a season which saw the team finish dead last in the Eastern Conference.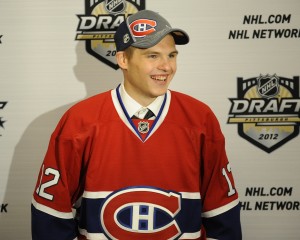 And as we all know (and if you don't, I'm telling you), Montreal went on to select Alex Galchenyuk — a big, gifted, natural centre with great hands, terrific hockey vision and a maturity beyond his years. Now whether the new number 27 goes on to become the franchise player the Habs have sorely lacked for years is still yet to be determined; but if last year is any indication, the young power forward should more than live up to his billing.
Last June was fun for the Canadiens and Habs nation. It was exciting. Change was in the air. Geoff Molson was now firmly in control of his franchise, and the team turned the proverbial corner by hiring a new GM and then a new Head Coach.
This year the draft for the Canadiens is not that exciting — not on paper at least. After a surprising turnaround, the Habs finished second in the Eastern Conference behind the Penguins. So Montreal picks 25th in the first round of this year's Entry Draft held in New Jersey. This of course is usually a good thing because as you know (and if you don't, I'm telling you) the lower you pick, the higher a team finished in the regular season — unless of course a deft trade is made to better your position (hey there Peter Chiarelli).
This is why the Edmonton Oilers or Florida Panthers seem to be always picking at the top of the draft. Unfortunately, it doesn't seem to be making much of a difference in these two squads' fortunes due to either slow development or even — heaven forbid — poor draft selections.
But so goes the draft. Ultimately, it's a crap shoot. Even a number one overall pick can sometimes be a complete dud.
Case in point: the 1980 National Hockey League Entry Draft. Your Montreal Canadiens do the unthinkable and decide to take a pass on French-Canadian superstar in-waiting Denis Savard opting instead for Doug Wickenheiser — who could never live up to the high expectations placed upon  him by Montreal's management and fans alike.
One has to wonder how things might have been different if Sam Pollock was still GM in 1980 or if his protege Scotty Bowman got the chance to be GM — an opportunity that was denied to the Hall of Fame coach.
After three desultory seasons, midway through the '83 session Wickenheiser was shipped off to St. Louis along with right wing Greg Paslawski and defenseman Gilbert Delorme for forward Perry Turnbull. Man who was running this team? Not the best of trades either. Turnbull played 49 games with the Habs, recording seven goals and nine assists. He was then shipped off to Winnipeg for Lucien DeBlois, who ultimately had the most impact of all of these players with the Canadiens, having at least taken part in the Canadiens' Stanley Cup triumph in '86.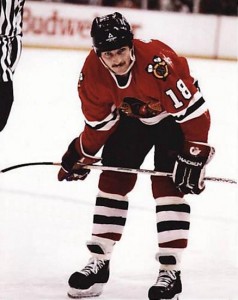 When all was said and done the Canadiens really blew that pick got Lucien DeBlois instead of Denis Savard. Well, at least the guy was French-Canadian, right!?
If it makes you feel any better (it does for me), DeBlois was actually picked 8th overall in the 1977 Entry Draft, ahead of Mike Bossy!!!
Of course, Patrick Roy was drafted in the 3rd round, 51st overall in the 1984 draft — and we all know how that turned out (and if you don't, this time I'm not telling you).
And maybe this is a good omen for the Canadiens because the 2013 draft class is supposedly the best and deepest we've seen in quite some time. And with the number 34, 36, 55, and 71 picks, the Canadiens should get some quality prospects.
Word on the street has the Canadiens going for a big forward with their first pick, but this could change; if a top-flight defensive prospect is still available like Nathan Beaulieu was in 2011, the Habs might pull the trigger on a d-man.
Guest writer Eldon MacDonald put together a solid lowdown on who the Canadiens may select this year; and if you feel like you can channel Montreal's Director of Scouting Trevor Timmins, try your hand at the Canadiens' "Pick the Pick" contest:
The draft is approaching and with it comes the return of our "Pick the Pick" contest. Play here –> http://t.co/YYq7nmK4ey

— Canadiens Montréal (@CanadiensMTL) June 17, 2013
Finally, now that Vincent Lecavalier was set free by the Tampa Bay Lightning as one of their compliance buyouts, the Canadiens may try to go after him or may even make a trade to move higher up in the draft.
So who says this year's draft isn't as much fun as last year's for the Canadiens!? Okay, maybe it's not quite as much fun but it still should be exciting.
Catch the Stanley Kubrick of hockey writers, Ari Grief, on Facebook or twitter at: HabsFanLeafLand where he'll continue to tell you about things which  you may or may not know about.