With the departure of Torrey Mitchell, and having no top free agents of their own, what's left for the San Jose Sharks to do?
And now that Rick Nash is out of the picture and Shea Weber remaining a Nashville Predator, who is left that could possibly find a home in the South Bay?
To answer those questions, we first must figure out what plagued the Sharks last season and what caused their early playoff exit.
At first glance it doesn't appear to be a special teams issue, as they were ranked third in the league short-handed and second in the league on the power play. No, it has to be something else.
Goaltending maybe? Antti Niemi coming off career totals in wins had anything but a stellar sophomore season posting a 2.44 goals against average (previous seasons 2.38 & 2.25) and 22 losses (career high).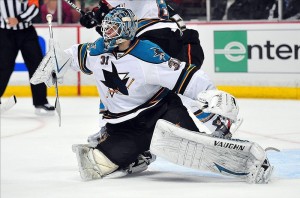 Niemi split his time with Thomas Greiss who was recalled from Brynas of the Swedish Elite League. Greiss played 19 games in his third season with the Sharks. His 2.30 GAA is a career high while his .915 sv% is well above that from his rookie season (.860 sv%).
The only way the Sharks would be able to acquire a solid goaltender should they really need one would be through trade.
But maybe it's not goaltending that's the problem. Maybe it's everything else, last season the Sharks were listed as 13th under goals for and 8th in goals against. In the 2010-11 season the Sharks were 6th in goals for and 10th in goals against. That's a drop of 7 places on offense and moving up two for defense. Neither one of those is a good move.
The Sharks need someone who can play offensively as well as defensively. Only a few select players have those qualities, and unfortunately with Weber and Ryan Suter both out of the picture, they are left with very few options.
Shane Doan covers all that. Last season Doan had 22 goals and 28 assists, five of those being power play goals as well as game winning goals. Once again however, in order for the Sharks to take on the contract that Doan is rumored to want (4yrs, 30Mil), they would have to create holes where holes can't be created.
Stephanie Lee
@ohmyswed3
OhMySwede@gmail.com
After being born and raised in Northern California, I'm often asked how I became a hockey fan. Simply put, I was born into it. Attended my first Sharks game in 1998 and fell in love. Marco Sturm is the reason I continue to love and watch the Sharks to this day. I've got this knack for naming players on teams just by being told their last name only. Test me. :)