Over the course of the off-season, I'll be examining the essential questions facing the Anaheim Ducks in the 2012-13 season, as they look to regain elite standing in the league. Stay tuned as the pieces start to role out!
Management vs. Coaching vs. The Core
Earlier in the Summer I started out on a series of pieces that would examine the three key elements tied to the Anaheim Ducks' fortunes. The first two pieces dealt with Anaheim's management and coaching respectively (to read these pieces, click here and here). The question of whether Anaheim's core group of players as currently assembled have what it takes to win is a much deeper question, however, and I'll be dividing the pieces into individual spotlights on the following six players: Ryan Getzlaf, Corey Perry, Bobby Ryan, Cam Fowler, Luca Sbisa, and Jonas Hiller.
Last week I wondered whether Corey Perry could re-bound from a subpar 2011-12 season.
This week? We're going between the pipes to visit with goaltender Jonas Hiller.
Jonas Hiller Is Good – But How Good?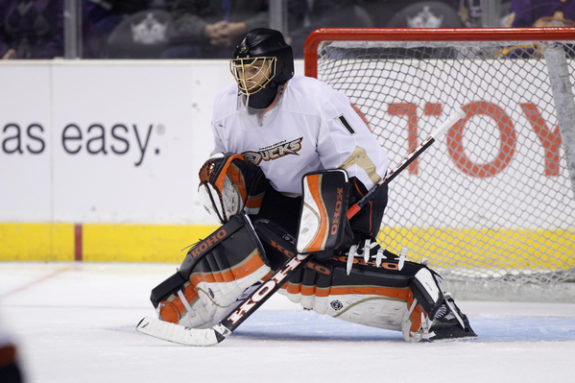 Jonas Hiller has been "the man" in the crease for the Anaheim Ducks ever since he wrested the starting job from longtime Duck netminder and fan favorite, Jean-Sebastien Giguere for good during the 2009-10 season. The following year, Hiller posted world-class numbers in the first half and was the only Western Conference goaltender invited to participate in the NHL All-Star game. During that game though, Hiller took a shot to the mask and, although he finished the period, he struggled mightily in his next handful of games for Anaheim.
Hiller appeared a step slow and off balance, and was suddenly giving up the kind of goals that Ducks fans had become accustomed to seeing Hiller stop with ease. He was eventually diagnosed with a mysterious case of "vertigo-like" symptoms and was shut down for the rest of the season, leaving Anaheim to make their playoff push with bandaids Dan Ellis and Ray Emery backstopping them to a first round date with the Nashville Predators.
Although both Ellis and Emery played admirably in Hiller's stead, the absence of the Ducks' All-Star goalkeeper, combined with their lack of defensive and scoring depth, proved to be too much for Anaheim to handle, and they folded in six games to Nashville. With much concern surrounding Hiller's health heading into the 2011-12 season, the Swiss netminder effectively shook off any concerns about his long-term ability to play goal, in starting an astounding 73 games, but over the course of the campaign, Hiller alternately struggled and played superbly.
At various points throughout the season, it was difficult to say with certainty whether Hiller was struggling because he was struggling, or whether he was struggling because he wasn't being given enough support by the players in front of him. Anaheim's defensive deficiencies were no doubt glaring at times, but then, as if to provide a counterpoint, there were numerous instances wherein Hiller would simply give up a bad goal – a weak shot from a bad angle – a goal he'd want back.
Which Jonas Hiller is the real Jonas Hiller? The All-Star caliber goalie with the ability to single-handedly steal a game for his team, or the technically solid goalie who struggles with consistency? Let's take a deeper look.
Potentiality vs. Reality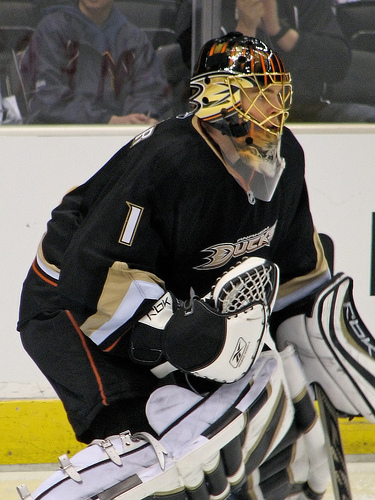 Here are some facts:
1) Jonas Hiller is 30-years-old.
2) He originally signed in Anaheim as a Free Agent after spending three seasons playing for Davos in Switzerland, where he posted a career record of 76-43-9, with a 2.38 Goals Against Average (his Save Percentage statistics for Davos are unavailable).
3) Jonas Hiller has played in parts of five season with Anaheim, going 118-91-21 lifetime, with a 2.53 GAA and .918 SV%.
4) In January 2010, the Ducks signed Hiller to a four-year contract extension that will keep him in Anaheim through the 2013-14 season.
5) During his five-year stint in Anaheim, Hiller has played in only thirteen playoff games, going 7-6 with a 2.23 GAA and .943 SV%.
6) Since his "vertigo-like" symptoms cleared up, in the one season's worth of sample size, Hiller has failed to single-handedly carry the rag-tag Ducks to the playoffs, and success, and glory. (Or something like that…)
Here are some opinions:
Hiller has the size, reflexes, and technical ability to be one of the premier goaltenders in the NHL. He certainly proved this during the first half of the 2010-11 season, during which he was otherworldly. A simple glance at Anaheim's 2011-12 season would suggest that Hiller failed to return to form (because, you know, they didn't make the playoffs), but while his "vertigo-like" symptoms were a tough blow during 2010-11, statistically speaking, his game really didn't fall off much, if at all during 2011-12.
Compare his 2010-11 stats:
26-16-3 record
2.56 GAA
.924 SV%
With his 2011-12 stats:
29-30-12 record
2.57 GAA
.910 SV% 
What can you take away from the above data? Yes, Hiller's win-loss record doesn't look very good in 2011-12, but his GAA is almost identical to 2010-11, and his SV% is at least comparable. Jonas Hiller's job is to stop the puck from entering Anaheim's net, and in 2011-12, a season in which, if you're to believe the "official narrative," Hiller struggled, he did that as consistently as he ever has in the NHL.
What Jonas Hiller cannot do is score goals (at least not in any sort of dependably consistent quantity). At the end of the day, a goaltender can only do so much to help his team win – a task made exceedingly difficult if that team seemingly refuses to play hockey in front of him. In fact, during a particularly ugly stretch of the 2011-12 season, Hiller called out his teammates for their sloppy play:
"It looks like we're there but we're not really there. We're kind of physically there but probably mentally already in the other zone or, I don't know, still in the dressing room. I don't know what. To me, it looks like we get so many errors. Suddenly guys are all by themselves in the slot out of a nothing play. Two guys chasing one guy. We're playing here in the NHL and I don't think that should happen."
His teammates difficulties in front of  him weren't limited to the defensive zone either. Ryan Getzlaf, Corey Perry, and Bobby Ryan's struggles have been well-documented, but as a team, Anaheim ranked 23rd in the League in goals per game at 2.45. They ranked 24th in shots per game at 27.9, and 21st in power play percentage, clicking at 16.6%. For a team that can throw Getzlaf, Perry, Teemu Selanne, Lubomir Visnovsky, and Cam Fowler out on the ice as the number one power play unit, 16.6% just ain't gonna cut it.
Again, what could Jonas Hiller have done to remedy this, save for simply being "better?" He played the most games of any goalie in the League (73 – ditto Pekka Rinne), and faced the 6th most shots of any goalie, with 2,021. Neither his GAA nor SV% ranked in the top 20 for goalies league-wide, but then most of those goalies probably had players in front of him who actually, you know, played defense and scored goals.
Being someone who watched a solid amount of Ducks games last season, I'll be the first to tell you that Hiller did indeed seemingly let in more bad goals than in seasons past. While "bad goals" isn't an objective quality that can be quantified and contextualized through statistical analysis, they do have a way of creeping into the narrative for any struggling goalie. They don't tell the whole story, though – it's my feeling that "bad goals" are more readily identified and easily highlighted when presented in the context of a team struggling to score goals for itself – and in the case of the Anaheim Ducks, only one of those things is within Jonas Hiller's ability to control.
Hiller Going Forward
When the Ducks signed Hiller to his contract extension in 2010, he was undeniably part of their core group of players. Now, though, one can't be too sure. Anaheim has been stockpiling goalies of late, drafting the highly touted John Gibson and Frederick Anderson, and signing Swedish Elite League stand-out Viktor Fasth to a one-year contract over the summer. Are these the actions of an organization confident that their number one guy will actually their number one guy for years to come?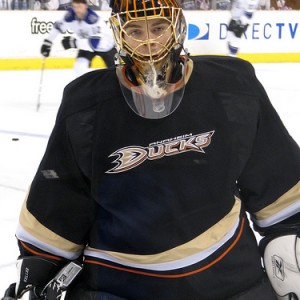 Chronologically speaking, Jonas Hiller may already be on the downward slope of his career. Remember, he didn't come to North American until 2007, when he was 25-years-old. He's now 30, and although he's in peak physical condition, he's also very much in awkward spot for a team that doesn't know whether it wants to win now or build for the future. If Anaheim thinks they can win now, then Hiller is their immediate and obvious number one option in goal, and though has proven he can handle the minutes of a number one goaltender, the fact remains that he has limited playoff experience, and doesn't really have the elite-type numbers of the Jonathan Quick's and Henrik Lundqvist's of the world. The alternate fork in the road is more likely though – if the Ducks fail to make the playoffs again this season, then they're likely looking at a re-build, and is a goaltender already in his 30s the best choice to start a rebuild with? Would Hiller even be interested in taking part in such a process?
Perhaps the bigger question that Anaheim's management and coaching staff needs to ask though, is just how much of the blame for Anaheim's struggles can be laid at Jonas Hiller's feet? I'd argue, 'not much.' The fact of the matter is that Anaheim GM Bob Murray has failed to put an NHL-quality blue line in front of Hiller. Cam Fowler and Luca Sbisa are great, young players, but they can't be expected to carry the brunt of the workload. Francois Beauchemin is solid, but still mistake-prone. Lubomir Visnovsky was often-injured and Toni Lydman has struggled with consistency throughout his career. Are Bryan Allen and Sheldon Souray the answers? I doubt it. If you accept this as being the case, then just how much a part of the "problem" can Hiller really be considered?
With the 2012-13 season approaching (hopefully), it's not too much of a stretch to expect Hiller to once again play the majority of Anaheim's games, and to ring the bell with his by-now standard 2.50ish GAA and .915ish SV%. And short of morphing into the second coming of Georges Vezina, that's all he can be expected to do – it will be up to his teammates to live up to their end of the bargain and help propel Hiller back into the "elite-status" conversation of which he was part several years ago.
As a lifelong hockey fan and resident of Southern California, he recently started a blog called SoCal Puck, which aims to explore all things hockey in Southern California. He grew up playing roller and ice hockey in the Orange County area and currently plays on several beer league teams. Collin also contributes at Sunbelt Hockey Journal.