The Tampa Bay Lightning seem to be in the trickiest positions of all NHL teams with the looming NHL trade deadline set for 3 pm on Mar. 1 and the upcoming Expansion Draft for Las Vegas set for this late spring. The team has a number of restricted free agents (RFAs) and unrestricted free agents (UFAs) needing new deals at the end of this season and in order to lock up these players some bodies will be needing to make their way out of Tampa Bay.
Lightning General Manager Steve Yzerman has already made some bold moves prior to the trade deadline this week, but could the big man upstairs in office be done dealing and making moves already? With the predicament the Lightning face in terms of roster players and salary cap limits, we have to think there's a little more to come from Stevie Y and management.
Latest Additions
As mentioned before, Yzerman has already made some moves these last few days leading up the deadline, and a couple of strange moves that not many people saw coming at that. In less than 24 hours he managed to trade goaltender Ben Bishop to the Los Angeles Kings Sunday evening, and then center Brian Boyle to the Toronto Maple Leafs late Monday afternoon. He also traded defenseman Nikita Nesterov to the Montreal Canadiens earlier this year, as well as defenseman Anthony DeAngelo to the Arizona Coyotes, showing he hasn't been afraid to make deals all season long.
Bishop to the Kings
The Lightning traded Bishop and a 2017 fifth round pick to the Kings in exchange for goaltender Peter Budaj, defenseman Erik Cernak, a 2017 seventh round pick, and a conditional pick that has the potential to become a second round pick if conditions in the deal were met. For a goaltender who is ready to become a UFA this summer, it's a decent return for the Lightning no doubt.
It's always tough having to move on from players, especially players that have given your team so much success the last few seasons, something Yzerman wasn't hesitant to comment on when discussing the deal for Bishop.
"In the business now in hockey, you have to make some decisions based on the salary cap. He's been a major part of the success we've had in the last three years and helping us go on long playoff runs, as important to our team as any other player," Yzerman admitted.
Boyle to the Maple Leafs
Yzerman also shipped off center Brian Boyle to the Maple Leafs for forward Byron Froese and a 2017 second round pick on Monday. The deal gives the Maple Leafs an added veteran up the middle as they continue to push for a playoff spot in the Eastern Conference, while the Lightning get, well, not much to be honest.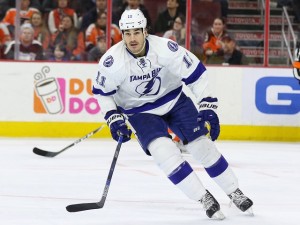 This deal came as bit of a surprise. Boyle only holds a cap hit of $2 million, but was set to become a UFA this summer. After being a cornerstone piece for the Lightning since coming over from the New York Rangers in 2014, it was thought that maybe the Lightning would be able to re-sign the big man on a discounted deal in order to keep him in Tampa Bay. It looks like there's been new plans established as the Lightning still find themselves outside of a playoff spot and see themselves as current sellers. Boyle, however, has welcomed the trade with great optimism.
"I think there are some smart minds behind that organization in Toronto and they know the player they're getting and that's what I'm going to do," he said. "I'm going to do what's asked of me, first and foremost. There's a lot of motivation for me to prove Lou [Lamoriello] and Brendan [Shanahan] and the management in Toronto right, and help the team win."
Deals Still to Come?
With the cap crunch that the Lightning are facing it's very well possible that Yzerman makes another move or two prior to Wednesday's 3 pm deadline. What other transactions could be on the horizon?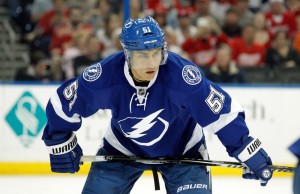 Filppula could be another trade chip headed out of Tampa Bay. According to CapFriendly, Filppula, along with veteran forward Ryan Callahan and defenseman Jason Garrison, combine to make up $15.4 million against the team's cap with only Filppula managing to produce numbers worth his pay. With names like Jonathan Drouin and Tyler Johnson needing new deals at season's end, does this make Filppula and his $5 million cap hit the next most expendable option if they can get him to move?
At 32-years-old and still capable of playing a productive two-way game, teams should be open to taking on Filppula if they are able to fit his cap hit. The tricky part here in moving Filppula to a new team is the drawback of Filppula's modified no-trade clause (NTC), a part of the veteran's contract that permits him to submit a 16-team trade list at the end of each season indicating which teams he would be willing to play for, and 13 teams that he would not be willing to move to.
It's believed that Yzerman has approached Filppula about possibly waiving his NTC in order to be moved to one of the 13 teams before tomorrow's deadline. TSN's Bob McKenzie tweeted about the possibility this morning and has informed us to stay tuned on the situation.
TB has list of 16 teams Valtteri Filppula can be traded to; 13 he can't. Belief is TB has approached him to consider waiving to one of 13.

— Bob McKenzie (@TSNBobMcKenzie) February 28, 2017
With two big fish already gone from the Lightning's pond of talent prior to the deadline, are there any more moves to come from Steve Yzerman and the rest of the Lightning management before 3 pm tomorrow? Is Filppula an option? Are there other moves being considered that we don't know about? 3 pm tomorrow can't come soon enough.