Well, the day many in Tampa Bay have been fearing for well over a year has come. The Tampa Bay Lightning traded No. 1 goalie, Ben Bishop to the Los Angeles Kings along with a 2017 fifth-round draft pick.
In exchange for Bishop, the Lightning receives the Kings' backup goalie, Peter Budaj along with right-handed defenseman, Erik Cernak and a 2017 seventh round draft pick. There is a conditional pick for 2017 in the deal as well.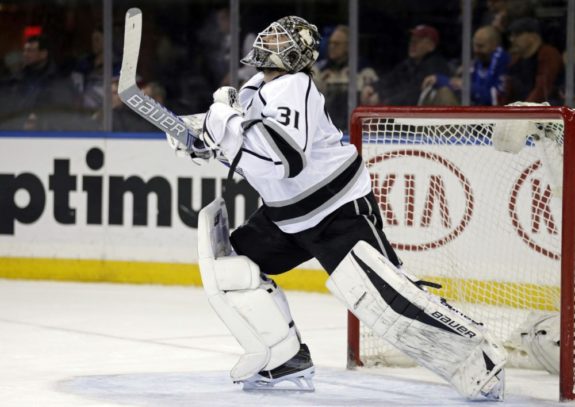 For many Lightning fans, the news was hard to take. You see, when Bishop arrived in Tampa four years ago, his career had been as a backup goalie. Bish had never been a No. 1 goalie. When he got to Tampa, he was battling Anders Lindback for the top spot.
Many of these same fans hated the trade that brought Bishop to Tampa for fan favorite, Cory Conacher in April 2013. In a bit of irony, they now seem to hate the trade that sends Bishop out of town.
Bishop beat Lindback by playing at a level seen by only a handful of the top goalies in the NHL since the 2013-2014 season. He was an iron man, playing over 60 games for the last three seasons. While playing this many games, he was a Vezina Trophy finalist twice in these same brilliant seasons. This one hurts.
In the six seasons prior to landing Bishop, the Lightning made the playoffs once. Bishop played in three full seasons for Tampa prior to the current season and they were in the playoffs each season with Bish as their top goalie.
Cap Casualty
This wasn't an easy deal for Steve Yzerman, "He's been a major part of the success we've had, but in hockey, you have to make some tough decisions based on the salary cap" read the statement released by Yzerman. In the salary cap era, you have to lose a guy to keep two or three others.
The trade was nothing more than a business decision. This is the part of the game that rubs fans the wrong way. Bishop is immensely popular in Tampa, primarily for the elite performance he gave game in and game out. He is, after all, the best goalie in franchise history.
There were still some critics of Bishop during his time in Tampa but facts matter. In the three seasons, before Bishop came to Tampa, the Lightning won a total of 96 regular season games. For the three seasons since his arrival, the team has won 142 regular season games. He will be missed.
There were also two Conference Finals and a Stanley Cup Final in the short but productive Bishop era. Anyone thinking the team won't miss Bishop is most likely in denial. In the salary cap era, tough decisions are a must. Some players lost due to the cap will be missed more than others.
Bishop solidified the net for the Lightning and gave them opportunities to win seemingly every game. He was a stalwart who on many nights, carried this franchise on his tall shoulders. This one may take a bit to get over.
With the expansion draft coming up after this season and on the last year of his contract, Bishop has been in danger of a trade being made for quite some time. Rumors were bordering on their own cottage industry.
Team's Best
We would be remiss not to recognize the place Bishop holds in Lightning history. He is the franchise all-time leader in wins with 131. He has seen more shots and made more saves and has the best goals against average of any Lightning goalie.
Bishop's goals against per game are also tops for the organization. He has more shutouts and logged more minutes in the crease in the almost four seasons with the Lightning.
That is to take nothing away from Andrei Vasilevksiy, the goalie of the future who found out after the trade that the future is now. The goal for the new goalie should be to surpass Bishop in every goalie category.
Should the young, new No. 1 goalie play to expected levels, he will eventually overtake Bishop in franchise history. That doesn't take away the sting of seeing the best goaltender in team history go.
It was the same when other guys were traded away or unceremoniously released by the team. Fans rally around their teams and the great players become like family. Losing a player is like a family member suddenly moving across country.
Keys to the Car
It is Vasilevskiy's team but Bishop handed the kid keys to a vehicle that he refurbished and restored as a perennial playoff team. For that and for everything he gave to the Lightning, their fans and our community, Bishop leaves Tampa with our gratitude.
He helped the fans become the Thunder. Bishop would raise his stick to the people in the 300 sections. It wasn't unusual to see him at a local restaurant or at a Tampa Rays baseball game. In four short years, he led our hockey team to a level they only saw once before in this town.
We'll miss you, you big (6'7") lug. You were the best in net we ever saw in Tampa. Ben Bishop may be the best we'll ever see around these parts. Thank you and Godspeed.
Born in Chicago, Illinois. Grew up playing and loving sports. Spent most of my formative years playing, debating, arguing and talking sports. for the last couple of years I have written about hockey. I am currently a Tampa Bay Lightning contributor for The Hockey Writers. I know that I may not always be right, but I am passionate about hockey and it is damn hard to hide that passion in my writing.