The Winnipeg Jets are currently outside of this year's Stanley Cup Playoffs. This is not the situation that the Jets wanted nor expected. After a disappointing season that resulted in a bottom-five finish, there was renewed hope for another playoff run in the Manitoba capital with the selection of Patrik Laine. General Manager Kevin Cheveldayoff and the Jets brass would like nothing more than to see "Winnipeg White Out" in full effect again as soon as possible.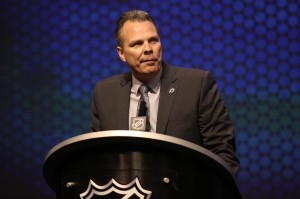 Sitting just five points out of a playoff spot is frustrating, especially when the Jets know they are just a few pieces away. Nevertheless, Cheveldayoff and his patient approach will stay the course. With one of the deepest prospect pools in the league, Winnipeg has plenty of hope for their future and trading away young talent for rental players would be a waste.
But, if Cheveldayoff was presented with a deal that he feels would make his club better long-term he would pull the trigger on it, but he really is not big game hunting. He would rather make slight adjustments and some minor tinkering to his roster. Shipping out players who are on expiring contracts or players with contracts that may complicate their cap situation moving forward should be the moves for Cheveldayoff. With youngsters pushing, things become problematic for a trio of veterans.
Matthieu Perreault
With young talents like Nic Petan and Marko Dano and others seemingly NHL-ready, the four-year contract extension for Perreault was unnecessary. Perreault still had a year left on his existing contract when the contract was announced early July and with an abysmal season to this point, Winnipeg has to be regretting that decision now.
After three straight seasons of 40 or more points, Perreault is on pace for his lowest statistical season since 2012-13. He is a team worst minus-13 and is only eighth among forwards in time on ice per game (TOI/G) despite a $4,125,000 cap hit. Perreault remains an extremely useful top-nine forward on most clubs with his versatility to play center and the wing. He can contribute on the power play and throws around his 5 foot 10 frame. It will be difficult to deal a player with such a large contract especially given the expansion draft taking place this season, but I expect Cheveldayoff to have his ears wide open and ready to be creative.
Drew Stafford
Acquired in the trade that sent Evander Kane to the Buffalo Sabres for Tyler Myers, Stafford earned a two-year contract coming back to join a young Winnipeg team as a veteran, top-nine presence. In 143 games with the Jets (and counting), Stafford has amassed 34 goals and 69 points, pretty decent production for a third line winger. Teams looking to make a deep run in the playoffs are always looking for depth and why not bring in a veteran of over 700 NHL games to help the cause?
Jets are getting calls on Drew Stafford, could see him getting moved before deadline. UFA after this season, lots of forwards in Winnipeg.

— Craig Custance (@CraigCustance) February 24, 2017
Stafford hasn't been given much credit as a member of the Jets. Fans want him traded and understandably so given his expiring contract. The big Finnish forward Joel Armia is expected to take Stafford's third line winger position long-term. Stafford also has the worst giveaway/takeaway differential among Jets forwards at minus-13 and averages 1:22 TOI/G on the power play however, he only has three power play points all season to show for it. I think a team like the St. Louis Blues, Calgary Flames or Edmonton Oilers could really use a top-9 winger heading into the playoffs and if Stafford is available at a low price, he would be a good fit.
Ondrej Pavelec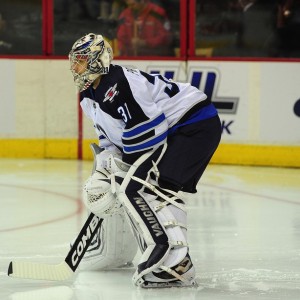 C'mon, you had to know this was coming. Though there is next to no market for goaltenders at the moment, injuries are very common in the crease and many teams love to have an insurance option. Let us just look at the recent acquisition of Ben Bishop by Los Angeles. Dean Lombardi had an urge to add another top-ten goaltender to his roster and did so. The Anaheim Ducks essentially have four NHL goaltenders in their organization. It is no secret Pavelec can be a liability in net at times and his numbers this season back that up, but contending teams like depth heading into the playoffs and a veteran with the ability to steal games could be of use. 
Cheveldayoff likely won't be dialing too many numbers before Wednesday but his ringtone will be on loud. With players like Perreault, Stafford and Pavelec tagged with for sale signs, he still has a few players in mind he would field offers on. Paul Postma and Ben Chiarot are on expiring deals and could probably fetch a low draft pick in return. Mark Stuart could be had basically for free at any point and Chris Thorburn could help a smaller team up front as a depth forward for a low price. The only thing that should be off the table for the Jets is impulse buying and with a general manager like Cheveldayoff, that should not be a problem.