The NHL trade deadline is less than a week away, and that means the most exciting time of the season is here. It's the time of year where contending teams add pieces to get ready for the stretch run while struggling teams look to get as much as they can for their star players in order to build for the future. After a tough first half of the season, the Arizona Coyotes will be sellers at the deadline and could be one of the league's most intriguing teams as they possess quite a few talented players that could be available for the right price.
Martin Hanzal
We'll start with the man who has been the subject of near-constant trade speculation this season – veteran center Martin Hanzal. The 30-year-old has been with the Coyotes since the 2007-08 season and is in the midst of one of his better offensive seasons. He leads the team with 15 goals and has chipped in with nine helpers.
Martin Hanzal backhands in his 15th goal of season; one off his career high set in 2009-10 & his 5th goal in his last 5 games. 3-1 Sharks.

— Craig Morgan (@CraigSMorgan) February 19, 2017
He's been the team's best faceoff man; he's first among Coyotes centers in faceoff percentage at 56.1% and leads the team in faceoff wins with 574. Hanzal has consistently been rated as one of the top players available at the trade deadline, so it's likely that general manager John Chayka will receive a lot in return for the veteran should he be moved.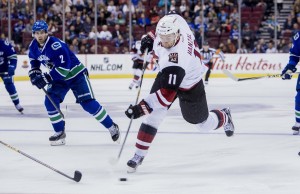 However, the Coyotes might be better off long-term if they're able to re-sign Hanzal. The team has some very talented center prospects in Dylan Strome, Christian Dvorak and Clayton Keller coming up the ranks, but those players are likely a few years away from being top-line centermen in the NHL. If Hanzal is traded (or walks as a free agent over the summer), the Coyotes will be in a tough spot for the 2017-18 season; they'll be forced to hand over top-line minutes to either a 21-year-old Dvorak or a rookie Strome, and will likely have to endure another year of growing pains as their young centers learn the ropes.
If Hanzal returns, he'll continue to provide a veteran net-front presence to a Coyotes team that has struggled to score and defend over the past few seasons. He's often the focus of a lot of criticism from Arizona's fan base for his perceived lack of durability and penchant for taking excessive penalties, but he's one of the league's better centers, and players like Hanzal are not easy to come by. The decision to trade or retain Hanzal isn't an easy one for Chayka, but it could be made much easier with an offer he can't refuse. And with more than 20 teams fighting for a playoff spot, it's possible that one will overpay for Hanzal in an attempt to make a splash at the deadline.
Radim Vrbata
Hanzal's linemate and Coyotes leading scorer Radim Vrbata could be on his way out of Arizona as well. After spending two years in Vancouver, Vrbata returned to the desert over the offseason on an incentive-laden, one-year deal and has so far proven to be one of the biggest steals of the summer. Playing under a contract with a cap hit of just $1 million, Vrbata leads the Coyotes in scoring with 41 points and is on pace to be the first forward to lead the team in scoring since Ray Whitney did so during the 2011-12 season.
Radim Vrbata of the @ArizonaCoyotes scored the game-winning goal to extend his point streak to six contests (1-5—6). #ANAvsARI pic.twitter.com/4HR4oWjuc3

— NHL Public Relations (@PR_NHL) February 21, 2017
As expected from a productive forward playing on an expiring contract, Vrbata has been the subject of many trade rumors. Should he be traded, he would immediately provide a playoff team with a veteran scoring threat that is also capable of producing on the power play. However, Vrbata has previously expressed his desire to stay in Arizona beyond this season, but he does not have any sort of no-trade clause in his contract.
Radim Vrbata's trade value is at an interesting place https://t.co/WKcrSvTPrJ

— 98.7 Arizona Sports (@AZSports) January 26, 2017
Chayka likely could receive a mid-round draft pick in return for Vrbata should he elect to move the 35-year-old winger, but Vrbata's offensive production and veteran leadership qualities might be more valuable to the team than another prospect. The Coyotes must begin to stockpile some veterans to go along with youngsters such as Dvorak, Max Domi and Brendan Perlini, and they can start by retaining Vrbata at the deadline and re-signing him over the offseason.
Shane Doan
Another Coyotes player who has been mentioned in many trade rumors is the Captain Shane Doan. The 40-year-old Doan is likely in his final year as a player, and could try his luck with a contender in an attempt to capture the Stanley Cup championship that has eluded him for more than 20 years. However, Doan has repeatedly stated that it would have to be a "perfect" situation in order for him to consider leaving the city that he's called home since 1996, so it seems unlikely that Captain Coyote is going to leave. It would be a shock to see him finish his career with a team other than the Coyotes.
Coyotes GM John Chayka reiterated there have been no new talks about Shane Doan waiving his no-move clause. I seriously doubt it happens.

— Craig Morgan (@CraigSMorgan) February 21, 2017
Others
Although Hanzal and Vrbata are the two most likely Coyotes to be traded, there are others who could be changing their addresses in the near future as well. Defenseman Luke Schenn is likely the team's #4 trade chip behind Hanzal Vrbata, and Doan; as a big, physical, right-handed defenseman with over 600 games of NHL experience, Schenn could find a home as a bottom-pairing defenseman on a Cup-contending team. As we've seen, right-handed defensemen are always in high demand in the NHL come playoff time, so it's likely that the Coyotes would be able to receive a mid-round draft pick for Schenn should they decide to move him.
Another Coyote who could be moved at the deadline is forward Anthony Duclair. With just three goals and six assists through 41 games this year, Duclair has had a rough sophomore season and has ended up in the AHL with the Tucson Roadrunners as a result. It's extremely unlikely that the Coyotes would give up on the talented Duclair after just two seasons, but, if the right offer is made, Duclair could be off to his third NHL club in as many seasons.
Overall, the Coyotes could be the most intriguing team at this year's NHL trade deadline. With a number of desirable players available, Arizona's front office could have their hands full over the next few days.