The majority of Chicago Blackhawks fans were upset when Brandon Saad was traded to the Columbus Blue Jackets in the summer of 2015, but their fears disappeared when they saw the most dominant product of the trade, Artem Anisimov. Despite being one of the most important players on the team, Anisimov is often overlooked due to his award-winning linemates and less flashy style of play.
There is much more to Anisimov than what is seen at surface level. Here are five must-know facts about Artem Anisimov.
1. In Good Company
Anisimov plays on the same line with Patrick Kane and Artemi Panarin and the line is often described as one of the most dominant in the NHL. The three mesh perfectly on and off the ice, which is what often makes the three unstoppable. During the 2015-16 season, Anisimov was overshadowed by his linemates, so much that he was named one of the most underappreciated NHL players by CBS Sports. Even Kane believes he deserves more credit.
Luckily for Anisimov, he broke out of his shell during the 2016-17 season. He had a stellar start to the season and continues to dominate. He is also adored by his linemates, as Kane told Mark Lazerus of the Chicago Sun-Times:
"You know what? He's a really great person," Kane said. "He's one of those guys that's always calm and relaxed, and [then] he'll kind of surprise you with a comment here or there that's really funny. He's just a really great guy, and a great teammate, too."
With chemistry like that, it is no wonder the three are so powerful together.
2. A Russian Bond
Anisimov and Panarin, both Russian natives, started playing with the Blackhawks in the 2015-16 season and developed a quick friendship. Russian players tend to have a lot in common since they often suffer some form of culture shock when they enter the NHL.
They are in a brand new country and their English speaking abilities are often limited. Panarin was no exception, as he arrived in Chicago with little knowledge of his new home or the English language. Luckily, Panarin had former SKA St Petersburg teammate Viktor Tikhonov (who was eventually sent to Arizona and currently plays in St. Petersburg) and Anisimov when he began playing for the Blackhawks.
Since Tikhonov's stay was temporary, Anisimov and Panarin's friendship grew. It helped that the two played on the same line so Anisimov could translate for Panarin what was going on both on and off the ice. Anisimov was familiar Panarin's experience, since he, like many Russian players, felt confusion both linguistically and culturally when he first arrived in the United States. Their close friendship is on display through their Instagram accounts, where they often post pictures together or poke fun at each other.
3. Exceeding Expectations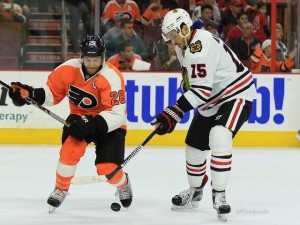 Anisimov came to Chicago in the 2015-16 season as a product of the Brandon Saad trade to Columbus. The Blackhawks were looking for a reliable center when he was brought into the mix, but nobody expected him to become a star.
As Blackhawks General Manager Stan Bowman puts it, "You always hope guys are going to do that, but I just expected him to be a really nice complement to Jonathan and a guy that can do everything."
Head coach Joel Quenneville agrees: "I didn't know he had that patience level, and those nifty moves, as well. He has a nice finish to his game, he's got a willingness to get in front of the net as much as any player we have on our team."
4. Family Man
Anisimov's wife, Ksenia and their two children Adriana and Artemiy dominate his Instagram account. Like his teammate Duncan Keith, he is serious when it comes to hockey yet has a softer side and is devoted to his children. Highlights include trips to landmarks in Chicago and throughout Russia, the "ultimate take your daughter to work day" when he took two-year-old Adriana to see the United Center all by herself, and most recently, a montage to "Eye of the Tiger" of Adriana and Artemiy playing in the family gym.
5. In for the Long Haul
In the current salary cap era, it often seems that a dominant player is on the chopping block during the offseason, especially for star-studded teams like Chicago. Luckily, Anisimov is not one of them. He signed a five-year contract with Chicago shortly after he was traded. He will become an unrestricted free agent in 2021, the same year Marian Hossa's contract expires. Blackhawks fans have one less player to worry about losing to the salary cap for the next few years.