It appears that hockey fans know everything they can possibly know about Duncan Keith, yet there is so much more than meets the eye. As one of the most dominant defensemen in the league who miraculously improves his play with more ice time, he has made his unique mark on the NHL. This mark was confirmed on Friday, January 27, 2017, when he stood amongst teammates Patrick Kane and Jonathan Toews as they were named as three of the top NHL players of all time in the NHL 100 ceremony.
There is more to Keith than the defenseman who lost ten teeth in a Stanley Cup Final game and kept playing. Here are five must-know facts about one of the top defensemen in the league.
[RELATED: Chicago Blackhawks Latest News & Information]
1. Keith Relief
Keith is tough as nails on the ice, yet has a much softer side off the ice. He has a passion for philanthropic work, so much that he launched his own charity in 2011. The charity, Keith Relief is "dedicated to alleviating the financial and emotional burdens of families and individuals suffering from medical crisis." His is one of the many charities sponsored by Blackhawks Charities and is partnered with the Ronald McDonald House.
The charity is best known for its annual benefit concert in Chicago. Proceeds go to Keith Relief and last year the concert raised over $120,000. Keith also released his own cereal for charity, Keith Krunch, available in grocery stores across the Chicago area. Keith's dedication to charity work is almost as prevalent as his dominance in the game.
2. Success Didn't Come Overnight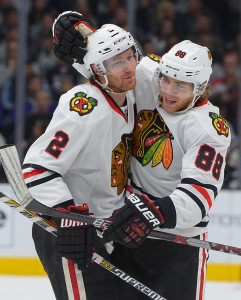 Some NHL stars like Wayne Gretzky and Sidney Crosby start making headlines long before they are eligible to enter the NHL, and other stars like Patrick Kane and Connor McDavid enter the league as teenagers and dominate the scoring sheets. Keith, on the other hand, had a different experience when it came to breaking into the NHL.
Due to his massive success now, it's hard to believe that it took him three years after being drafted in 2002 before he made his NHL debut. He spent one year playing at Michigan State University and two years playing minor league hockey improving his game before he finally made the Blackhawks roster in the 2005-06 season.
The timing and hard work have paid off. With the Blackhawks' resurgence that began in 2007-08 in Toews and Kane's rookie year, Keith's NHL debut was perfect when it came to rebuilding the struggling franchise and landing his place in Blackhawks history.
3. No Backup Plan
Like most hockey players dreaming of the NHL growing up, Keith didn't have a backup plan. Making the NHL was the only option, as his father, Dave Keith, recently told NHL.com,
"In Grade 4, he had a teacher, Mr. Ron Grabowski," his father, Dave, said. "Duncan wanted to become a hockey player, and Mr. Grabowski talked to Duncan about what he would do if that didn't happen. You know, did Duncan have a plan B? Well, Duncan was devastated. Cried for two days because he thought Mr. Grabowski meant he wasn't going to be a hockey player. Mr. Grabowski was just doing his job, but Duncan didn't want to hear it. I once suggested he find a summer job. He informed me that would interfere with his training. Duncan was driven."
It's safe to say his decision to focus on hockey that summer was a wise one.
4. Success in Awards
Defensemen tend to get overlooked in the league since they don't hit the score sheet as often as forwards, but Keith is an exception. One of the top achievements a defenseman can receive in the NHL is the James Norris Memorial Trophy, which Keith won in both 2010 and 2014. It's rare to see a defenseman win a trophy such as the Conn Smythe for Playoff MVP since it mostly focuses on the dominant scorer in the playoffs.
It was different when Keith won the Conn Smythe Trophy in 2015, and won it unanimously, a rare and remarkable feat in itself. Along with three Stanley Cups, two Olympic gold medals for Team Canada and four All-Star game appearances, Keith is one of the most decorated players in the league.
[irp]
5. Devoted Father
Keith's three-year-old son, Colton, has made far more public appearances than most kids his age. Despite being divorced from Colton's mother and spending so much time on the road, Keith is a devoted father. Luckily for him, Blackhawks fans and fans all around the NHL absolutely adore Colton. When Keith won the Conn Smythe Trophy, Colton stole the show and did the same during the 2017 NHL All-Star Weekend.
Illinois State University graduate and lifelong Chicago Blackhawks fan. I also write for The Odyssey at Illinois State and Fans Talk Sports. Other than hockey, I love to write historical fiction and nonfiction.