The New Jersey Devils have a weak defense that needs to be upgraded and this will likely come via trade sometime this summer. That is the simplest and most effective way to help this team for next season. However, that does not mean it is the only way to improve the blue line. The Devils have several young players that could step up and prove themselves as reliable starters in 2017-18.
As things stand, the defense has a few open spots. Andy Greene, Damon Severson, John Moore and Ben Lovejoy are all locks to make the team. That leaves two spots up for grabs. There will be three players battling for those positions throughout camp and the preseason. Dalton Prout would be the fourth competitor but I think the Devils want their younger defensemen with more potential to have the opportunity to play every day. That leaves three 22-year-olds vying for those two openings, so let's see who has the best shot of playing next season.
Mueller Has to Prove Himself
Mirco Mueller was acquired this offseason from the San Jose Sharks. The official deal was Mueller and a fifth-round pick in 2017 for a second and fourth-round pick in 2017. The Swiss defenseman is a former first-round pick of the Sharks that did not play up to expectations in his first three seasons.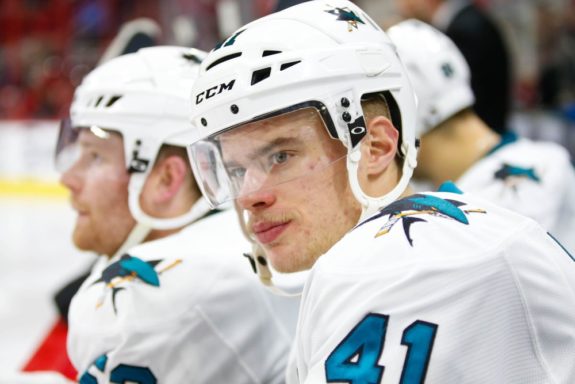 The Devils are hoping that a new system will help Mueller find his game. The 6'3", 210-pound defenseman adds good size and speed to a blue line that could use more of both. Barring a terrible camp, I expect him to be given a spot on the roster to start the season, Ray Shero gave up two picks for him after all. He will most likely join Lovejoy on the third pairing to start the season.
I am not expecting big things from Mueller from the start but he has the potential to prove me wrong. He has the physical tools to become a good two-way defender and a staple in the top four. Even he fails to live up to that, I believe he will be a solid fifth or sixth defenseman on this team. Shero would not have made the trade if he did not see potential in him becoming a good player.
Kapla the Dark Horse
Michael Kapla was signed to an entry-level contract after playing at UMass-Lowell for the last four years. The left-handed defenseman signed for two years, meaning that this will be his last season with the Devils if he does not impress the coaching staff and have his deal extended.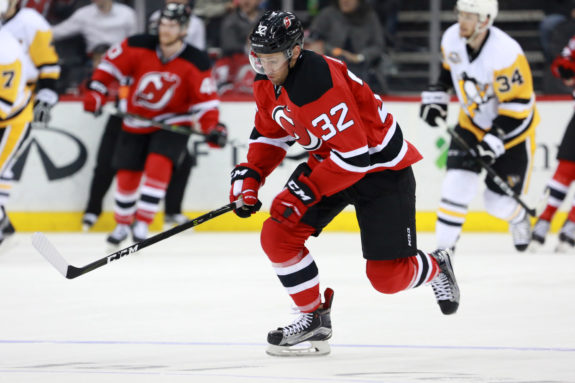 Fortunately, Kapla has an impressive collegiate career to help his chances. The former River Hawk (hockey has the coolest team names) accrued 92 points in 161 games, with 30 coming in his senior year. The Devils desperately need more production from their defense and this is where they may find it.
I think Kapla will be the dark horse candidate to make the team. His college numbers are impressive but he has not had much NHL experience as of yet, playing in only five games last season. Still, the defense is a work in progress so I would not be surprised to see #32 suiting up quite often next year in Newark.
Santini Is Primed for a Good Year
Steven Santini did not overly impress in his rookie year with the Devils, at least not at first look. With the defense looking bad almost every game it was hard to evaluate how well the Boston College product was faring. His stat line of two goals, five assists and a minus-6 rating does not look great. However, if you dig a little deeper his underlying numbers look a lot better.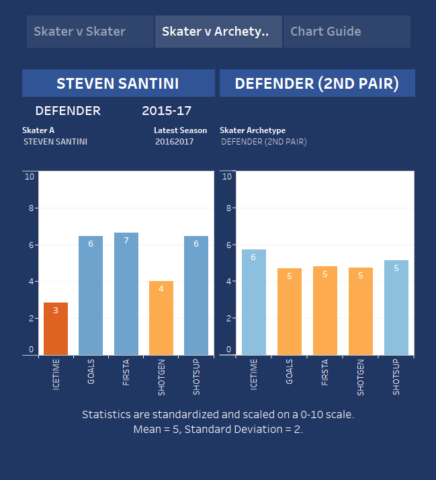 Not too shabby. Aside from ice time, which obviously is out of his control, he stacked up well on the second pairing last season. His offensive categories might be a bit overblown, as he has never been a big point producer. Instead, he lets his defensive prowess do the talking, and it impressed both Ken Daneyko and John Maclean last season.
One talking point I liked from that exchange was Daneyko describing Santini as a stabilizing force on defense. I think that is a great way to describe the young blue liner. Santini will never be a true two-way defenseman but he will make very few mistakes and he never tries to do too much. An efficient, reliable second pairing defenseman is what I see him being next season in Jersey.
Final Thoughts
I think Mueller and Santini will win the jobs to start the season. That does not mean Kapla will not get his chance. Defense is clearly the weakness of this team and that will translate to multiple lineups and chances given to everyone. It is not hard to envision all three of these players suiting up at the same time. All are young, skate well, and may bring more to the table than some veterans on the roster. The blue line may not be a positive going into next season but it will be interesting to see how these young defensemen develop throughout the year.
I am a graduating senior at Marist College where I majored in sports communication. I played hockey for 13 years and have been an avid fan all of my life. I am honored and excited to write for the hockey writers!