The New Jersey Devils officially made a move before the 3 p.m. ET. trade freeze by trading for San Jose Sharks defenseman Mirco Mueller. It was not the splashy trade that Devils fans were hoping for, but it is better than nothing. The official deal is Mueller and a fifth-round pick in 2017 for a second and fourth-round pick in 2017.
Mueller is a left-handed shot, weighs in at 6-foot-3, 21o lbs, and is only 22 years old. He clearly fits the Devils' youth-centered rebuilding strategy. Ray Shero decided to give up some early picks for the Swiss defenseman, so the Devils' staff must see a good amount of promise in the young blueliner. After digging a little more deeply into Mueller, I see plenty of reason why Shero made this move.
Former First-Round Pick
Mueller was drafted 18th overall by the Sharks in 2013. There were high hopes for Mueller when he was selected. Pierre McGuire even compared him to Roman Josi. Both are Swiss and bring good size and skating ability. Not an entirely unplausible comparison.
https://www.youtube.com/watch?v=3AWIODHLhG8
I doubt Mueller will become the player that Josi is, but if he can play anything like the Nashville defender, this will become a solid deal for the Devils. He brings good skating ability, a high hockey IQ, and good positioning to a Devils back end that needs all three. There is some offense to his game as well, as he recorded 58 points in 123 games for the Everett Silvertips in the WHL.
Mueller has struggled at the NHL level though, posting a mere six points with a minus-10 rating in 54 games. However, in a smaller sample size of four games in 2016-17, the big defenseman posted two points and a plus-2 rating. Defensemen generally take more time to develop into difference makers than forwards, so Mueller may finally be coming into his own. The Devils certainly hope that is the case.
Future Outlook
The future looks bright for Mueller if he can continue to develop. He projects to be a top-four shutdown defender who can chip in offensively. His skating ability and strong positioning should secure him a spot on the Devils' starting roster at the beginning of the 2017-18 season. Once on the team, he should be given a good amount of minutes throughout the year to help his development.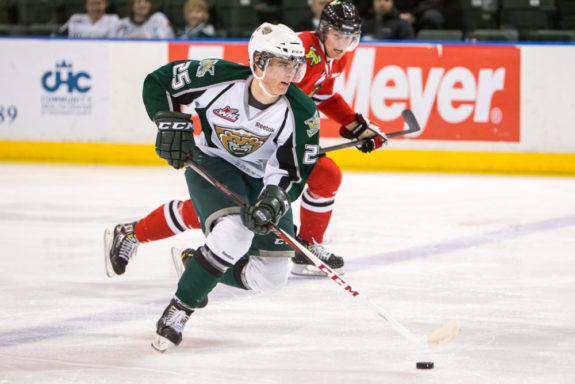 A team can never have too many young, talented defensemen. Shero has now gotten one for two picks that he was looking to trade anyway. The Devils didn't overly need those picks, as they still have 10 for the draft. Shero will probably look to move a few more before or during the draft, but this one may turn out to be his best of the offseason.
Another interesting tidbit, which is probably meaningless, is Mueller's nationality. Mueller is Swiss and so is…you guessed it, Nico Hischier. Not that this means much, but it is interesting that the one trade Shero made today was for a Swiss player. We will soon see if there is any actual significance in this.