With the 2017 NHL Entry Draft quickly approaching, it's time for the Toronto Maple Leafs to draft another long-term solution to their defensive woes. In particular, on the right side if possible. The Leafs have plenty of left-handed defensemen who could step up next year, but lack competition on the right side.
Cue the NHL Entry Draft. With the Leafs selecting at 17th overall, they won't draft an immediate fix of this issue. Instead, this pick will serve as a long-term defensive solution. Below I will analyze the top four defensive options the Leafs should think about drafting. This particular article was written with the assumption that Miro Heiskanen, Cale Makar and Timothy Liljegren were already taken.
Cal Foote
2016-17 Team: Kelowna Rockets
Date of Birth: December 13, 1998
Ht: 6'3″ Wt: 209 lbs
Shoots: Right
Position: Defenseman
NHL Draft Eligibility: 2017 first-year eligible
Cal Foote, the son of former NHL defenseman Adam Foote, is expected to be drafted in the middle of the first round. The second generation prospect has elite hockey IQ, which results in a defenseman who is very sound positionally. In fact, this ability makes it difficult to point out any struggles in Foote's game.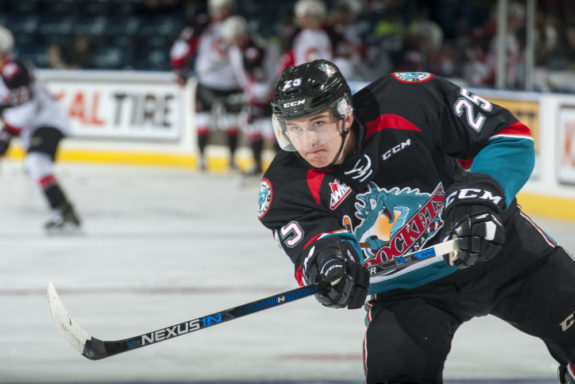 Foote is one of the highest skilled players in the draft because his hockey IQ improves his play dramatically. He has been compared to current Calgary Flames defenseman Dougie Hamilton, which is a very fair comparison. They are both right- handed and play a positionally sound game, neither being overly physical. Foote also impresses offensively, as he contributed 57 points in 71 games last season for the Kelowna Rockets of the WHL.
Foote is a larger defenseman with room to grow since he is only 18 years old. If chosen by the Leafs, he would immediately become their top defensive prospect but would require a few years of AHL experience before he sticks in the NHL. If Foote falls to around 17th overall in the draft, the Leafs would be quick to take the Rockets defenseman. Even if they have to trade up to do so.
Nicolas Hague
2016-17 Team: Mississauga Steelheads
Date of Birth: December 5, 1998
Ht: 6'6" Wt: 220 lbs
Shoots: Left
Position: D
NHL Draft Eligibility: 2017 first-year eligible
To say Nicolas Hague is a large defenseman would be an understatement. Hague towers over opponents with at 6'6″ tall and has the weight to back it up. This amount of size combined with offensive ability has scouts dreaming of his potential.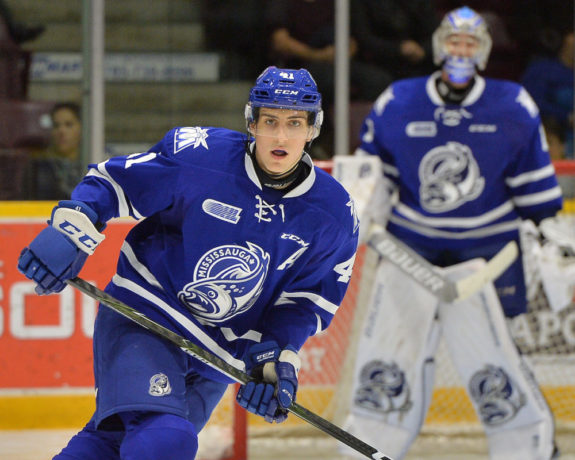 In his draft season, Hague posted 18 goals and 28 assists in 65 games.  In the playoffs, he elevated his game to a new level, with 11 points in 13 games. If we are judging by appearance, we would assume a defender of his size to be a shutdown guy, but there has been a steady progression of his offensive game. He can quarterback a power play and has a booming slapshot from the point.
The Leafs should seriously consider taking Hague unless they prefer a right-handed defenseman. Hague, being left-handed, doesn't exactly fit the Leafs' desperate need of a right-handed top tier defenseman. However, his size, reliable defensive play and progressive offensive flare cannot be ignored. If Hague is available at 17th overall, expect the Leafs to draft the best player available regardless of handedness.
Juuso Välimäki
2016-17 Team: Tri-City Americans
Date of Birth: October 6, 1998
Ht: 6'2″ Wt: 201 lbs
Shoots: Left
Position: Defenseman
NHL Draft Eligibility: 2017 first-year eligible
One of the most impressive Finnish defensemen in the draft, Juuso Valimaki has the size and ability to control the game offensively from the blue line. With a booming point shot and strong puck skills, he has the ability to quarterback a power play, evident by his 61 points in 60 games in the 2016-17 season.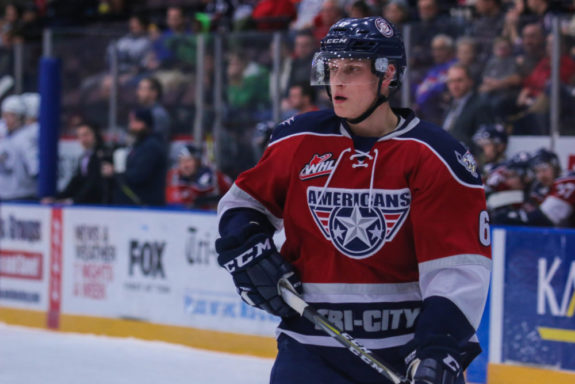 There is a great deal of talk regarding Valimaki, some even stating that he could creep into the top-10. He isn't overly physical, but rather uses a strong positional game to excel at defending. Many prospect reports are very high on his combination of size, skating and puck skills. For example, here is what Peter Harling of Dobber Prospects had to say on Valimaki:
"Valimaki has better than average size, skating, skill and is one of the older players in the 2017 draft class. His offensive output didn't materialize at the World Junior for a struggling Team Finland but has been over a point per game producer in his second season in the WHL. Valimaki will excel at the NHL with his speed and ability to carry the puck up ice as well as make exceptional outlet passes. His skating is an asset and in conjunction with his size he plays the prototypical modern day NHL style of game." – Peter Harling, Dobber Prospects.
That is some pretty high praise, any organization would surely love the chance to draft the Tri-City defenseman.  The question is, where will he be drafted?
The only issue for the Leafs is the handedness of Valimaki is not what they desperately desire. If Foote is already taken before the 17th pick, Valimaki would make for a great option regardless of handedness. Trades can be made to shore up the right side, however drafting and building within is the ideal way to build your core. Valimaki would bring plenty of value to the Leafs organization, as he has top-pairing potential.
Conor Timmins
2016-17 Team: Sault Ste. Marie Greyhounds
Date of Birth: September 18, 1998
Ht: 6'1" Wt: 181 lbs
Shoots: Right
Position: D
NHL Draft Eligibility: 2017 first-year eligible
Conor Timmins is a story of very rapid progression, which makes it difficult to predict where he will be drafted. The Sault Ste. Marie defenseman started the season third or fourth on their team depth chart but quickly became the number-one guy. Timmins ended up playing more than NHL prospects such as Colton White.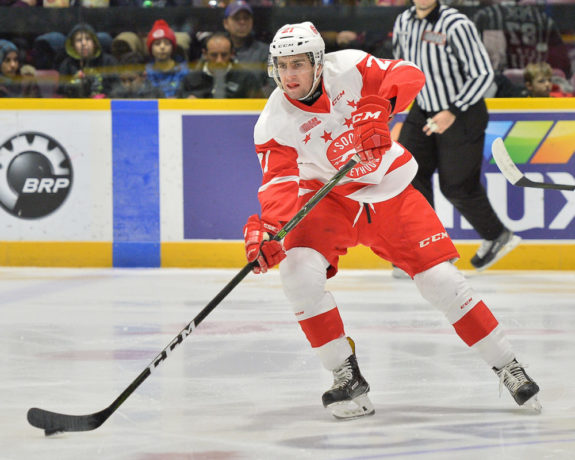 After recording seven goals and 54 assists in his draft season, Timmins has proven his worth as an elite passer. He has a distinct decision-making ability which sets him apart from his competition. Timmins can even play a little physical if need be.
Aside from his personal accomplishments, Timmins fits the Leafs immediate needs of a right-handed shot which can quarterback the power play. Here, Timmins can use his elite puck-moving abilities to create plays with the man-advantage. Could you imagine how dangerous he could be on a William Nylander, Auston Matthews and Mitch Marner power play? The Leafs would be happy to select Timmins at 17th overall.
Honourable Mentions
Erik Brannstrom, Henri Jokiharju, Urho Vaakanainen