In today's NHL, there seems to be a small group of teams with stacked defensive cores. Since top defensemen are hard to come by, these teams hold a huge advantage in terms of trade value. Recently, I wrote a Top 5 NHL Defensive Corps article, which directly ties into this topic. Since defensive upgrades via free agency were already addressed, the next option is via trade. Certain teams will be explored for their defensive surplus, and a few trades of fair value will be addressed that would meet the needs of both sides.
The Toronto Maple Leafs surplus is almost the complete polar opposite, which is why they make for good trading partners. They possess one of the deepest offensive cores in the entire NHL including both their NHL and AHL roster. The Leafs can afford to lose a key contributor if it means landing a defensive stud.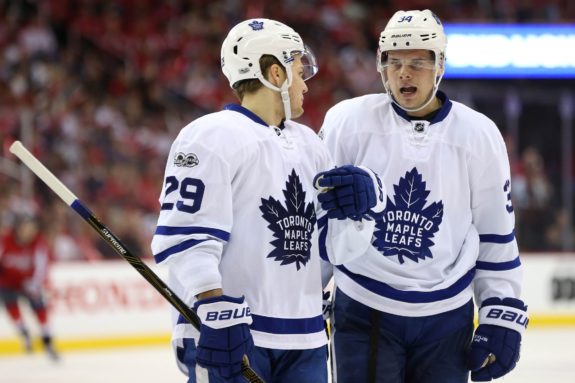 I am a firm believer that the three main superstars Auston Matthews, William Nylander and Mitch Marner, will be Maple Leafs for a very long time. Therefore, any trade possibility explored will not include any of them. Instead, trades will include veterans such as James van Riemsdyk, prospects or draft picks.
Specific Defensive Needs
The Leafs are in need of a right-handed defensemen capable of playing top-four minutes, or top pairing if possible. They managed to pluck one from the KHL last season which was a total success, but these opportunities are rare. The ideal defensemen acquired should be able to handle a shut down role, and be able to grow with their current defensive core of Morgan Rielly, Jake Gardiner and Nikita Zaitsev. Below I will highlight five possible trade targets that could be explored — if the price is right.
Anaheim Ducks
Ranked as the deepest defensive corps by yours truly, the Anaheim Ducks have defensemen to spare and a good trade history with Toronto. Between the trade that netted the Leafs their starting goalie, Frederik Andersen, and the deal that brought Gardiner to Toronto, there is plenty of recent trade history between the two teams.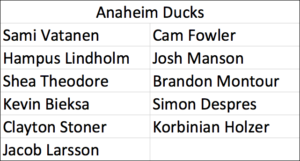 With the expansion draft coming soon, the Ducks will have to decide who to protect, which will be a very difficult decision. Luckily for them, Brandon Montour and Shea Theodore are exempt. On the not so lucky side of things, Kevin Bieksa will have to be protected unless he waives his NMC, which probably won't happen.
Assuming they choose to protect seven forwards, three defensemen and a goalie, I think it's safe to say the Ducks would protect Sami Vatanen, Hampus Lindholm and Bieksa because of his NMC. Therefore, this would leave both Cam Fowler and Josh Manson exposed. To avoid losing them for nothing, I think it's safe to assume a big offseason trade is coming their way.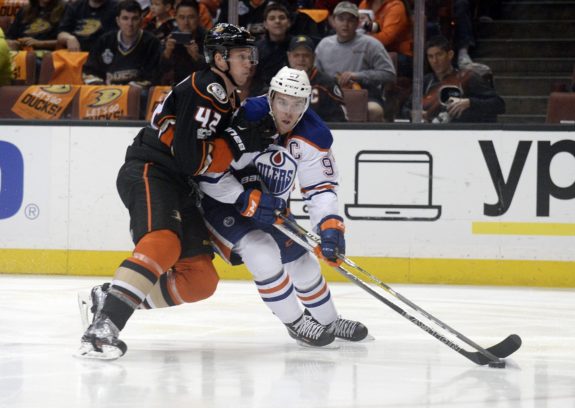 Would van Riemsdyk for Manson and a fourth-round draft pick be a fair trade?  Again, this is simply to get an idea of what kind of value is needed to acquire a defenceman of Manson's calibre. The expansion draft could be a bargaining chip the Maple Leafs could use to their advantage to get a deal done for less. Maybe it wouldn't have to include van Riemsdyk, as he has recently expressed his interest to stay in Toronto long-term.
JVR on his future: "I'd love to stay here. This is the place I want to be. I've really enjoyed my time playing here."

— James Mirtle (@mirtle) April 24, 2017
The Leafs have an abundance of prospects that could be made available for trade. Players such as Brendan Leipsic, Josh Leivo and Nikita Soshnikov have had trouble holding down a roster spot as competition is steep. Maybe they could be exercised as trade bait to acquire a defensive gem like Manson.
Carolina Hurricanes
The Carolina Hurricanes are not a playoff team yet, but have been stacking their defensive corps for years. They may be okay with sacrificing a defensive stud if it means landing a scoring punch to their top-six forward group. Luckily for them, they are in the driver seat, as Jaccob Slavin, Noah Hanifin, Brett Pesce, Jake Bean and Haydn Fleury are all ineligible for the expansion draft. Therefore, they don't have to make a trade. Rather, if the price is right, they could be open to it because of their surplus.
I think it's safe to say Hanifin is off the table, but what about players like Pesce or Justin Faulk? They would both provide immediate upgrades over anyone on the right side other than Zaitsev. A top-4 of Rielly, Zaitsev, Gardiner and Faulk/Pesce sounds very good, with another year of experience for all this could be a real dominant group.
But at what cost? Carolina could use a scoring punch, and once again, that is the Leafs' surplus. They are a very young team so I will stick with that theme. Would Brendan Leipsic, Connor Carrick and a third round draft pick be enough to pry away Faulk or Pesce? If not, another combination of prospects could be explored, or possibly van Riemsdyk.
Again this is a strictly surplus for surplus trade, where each satisfies the other teams need. Carrick is included in the deal because if a player was acquired on the blue-line, Carrick would be exposed in the expansion draft anyways.
There was talk last season that Faulk was on the trade market in a possible Matt Duchene deal, but nothing was accomplished. Therefore, it's hard to say if he is actually on the market. As for Pesce, he is a young stud of a defensemen who was an absolute steal in the third round of the 2013 NHL Entry Draft by the Hurricanes. Both play on the right side, and both would help round out the Leafs top-4. They also have the ability to step up in the lineup and could be ideal partners for Rielly.
Vancouver Canucks
Yes, the Vancouver Canucks were nowhere near my top-5 defensive corps list, but that's okay, as they are in a very unique situation themselves. They are in the midst of a rebuild, where assets can be sold if the price is right. Chris Tanev is a name that continues to be brought up, and could be a great fit in Toronto's top-4. He does not have ideal point totals, but that isn't his role in Vancouver. He is a premier shut down defenseman who is mobile, and capable of handling top pairing minutes, averaging 20:21 minutes per game last season.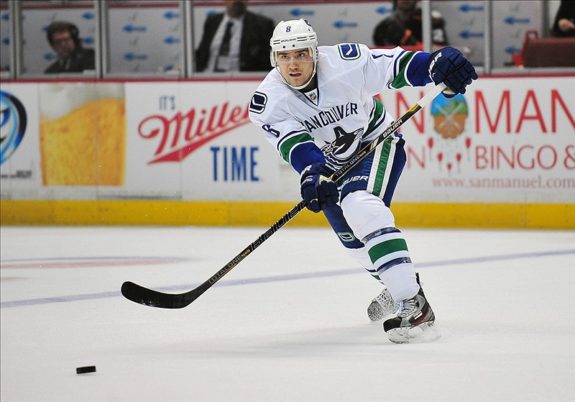 Tanev would be the ideal partner for Rielly, possibly the best option of them all. He could shoulder more of a defensive role, allowing Rielly to take more risk and become the elite offensive-defenseman he is capable of becoming.
Tanev also grew up in Toronto, so maybe a hometown reunion would be extra motivating for the current Canuck. There are multiple Toronto-born players on the Leafs roster so he would fit right in. Since the Canucks are rebuilding, a group of young promising prospects could be enough to get the deal done. Does Leipsic and Carrick for Tanev sound like a fair deal?
Minnesota Wild
The Minnesota Wild are in a bad situation when it comes to the expansion draft. Assuming they choose the 7-3-1 protection plan, tough decisions will have to be made. Since Ryan Suter has a NMC, he has to be protected — rightfully so, as he is the backbone of this defensive corps.
Jared Spurgeon enjoyed a career high 38-point-season, so therefore one would assume that is deserving of protection. Assuming my assumption is correct, they have to choose between Matt Dumba and Jonas Brodin as for who is protected for the expansion draft.  They could easily protect Dumba instead of Brodin, but Brodin doesn't fit the Leafs need, as he is left-handed.
Personally, I find it difficult to judge Dumba's value, so I will let my readers wonder. Dumba has had very dynamic moments at only 22-years of age — I imagine he would fit in well with the Leafs young core. If the Leafs lose Roman Polak to free agency, Dumba would be amongst the teams most physical of defensemen. Dumba is well-known for big open ice collisions in both the junior and NHL level.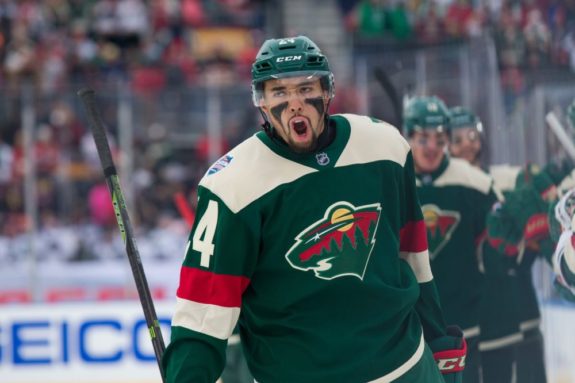 Dumba had a career-year last season, posting 34 points in 74 games and averaging 20:20 minutes per game. On top of these impressive totals, he had a +15 goal for differential. Pretty good totals for his fourth-year of NHL hockey. Last season, the Wild defenseman proved he belongs in any teams top-4, which is exactly what the Leafs need.
Your Call Lou
Hopefully Lou Lamoriello can find a way to pull off some offseason magic, much like the deal that pried Frederik Andersen from the Anaheim Ducks last off-season. Manson, Faulk, Pesce, Tanev and Dumba would all be excellent trade acquisitions, satisfying an immediate need. Either of the five trades would fill out the Leafs top-4, and maybe could be enough to trigger the jump from a fringe playoff team to an elite team in the matter of one off-season. Either way, I'm sure Lou will do what is best for the team moving forward.
I've been a Leafs fan since I was a little kid, and had to live through the painful collapse of the 2012/13 season against the Bruins. Most of the Leafs top players are my age. They light up the NHL and I write about it! The youth on this roster makes for very entertaining hockey. You won't want to miss a game!