In case it's been forgotten, Marc-Andre Fleury shut out the Washington Capitals in Game 7. Next up, he allowed just one regulation goal through the first six periods of the Eastern Conference Finals. He is an elite goaltender. What isn't elite in Pittsburgh—their make-shift, old, AHL-caliber defense.
Give credit where credit is due: the Ottawa Senators came ready to play Game 3. They punched the Penguins in the mouth from the opening face-off and never looked back. Pittsburgh may not have brought its best game, but Ottawa played very well.
Ottawa's Scoring
Mike Hoffman started the scoring early in the first period with a sharp-angle shot that came hard off the boards (which is the greatest home-ice advantage in the playoffs) and squirted past Fleury. For a goalie, there are two ways to play those pucks that are shot from behind the goal or close to it. In Game 3 of the Western Conference Final, we saw Pekka Rinne play it one way with his leg parallel to the goal post and what happened? The puck stayed low and bounced off his skate and into the goal.
Fleury played it differently and kept his blocker leg on the ice, knee down. He left space above his leg and into the net went the puck. This type of goal happens and although it's stoppable, Fleury can live with that.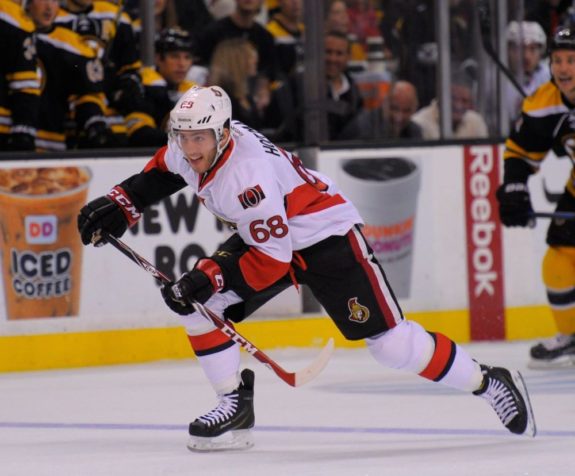 Goal two was scored on Fleury and assisted by Ian Cole. Yes, Ottawa's effort was outstanding and they did a great job of creating traffic in front of Fleury. The Senators were rewarded for their effort, but the defense in front of Fleury has to do a better job of clearing the puck.
Goal three: unstoppable. There isn't a goalie who's ever played for Pittsburgh that could've made that save, except maybe Fleury. The play started with a poor attempt to clear by Pittsburgh's defense, followed my an amazing pass from Clarke MacArthur that gave Derick Brassard a wide open net. This was a great offensive play. The defensive effort for Pittsburgh was awful.
Geez, to those ripping on Fleury, Please remember, WITHOUT him, they aren't even playing tonight…it was a flat start by ALL #Penguins

— Bob Pompeani (@KDPomp) May 18, 2017
Goal four should've been officially scored as Zack Smith's with an assist to the boards because Smith used them perfectly to put himself in perfect position to drive the net and attempt the wraparound, which beat a sprawling Fleury. Smith beat three Penguins to earn that chance and he capitalized.
Pittsburgh Left Fleury Out to Dry
Marc-Andre Fleury had no help from the drop of the puck. His defense lost the battle early fighting for position in front of the goal and there was no physicality to speak of. Ottawa raised its level of play on offense and Pittsburgh wasn't ready.
It doesn't help that the Penguins are having to play with guys who are hardly deserving of the position. Are they quality hockey players? Yes. Are they top-six defensemen on the defending Stanley Cup champions? Hardly.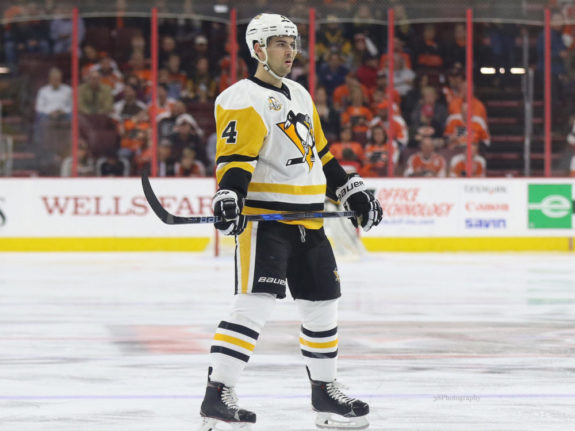 Kris Letang's absence can no longer be hidden. It's a glaring hole in every facet of Pittsburgh's game. Justin Schultz had his best season in 2017 and has come up huge for these Penguins during the playoffs. Trevor Daley was not ready to return to the lineup. He was slow, flat-footed, and did very little to help his team.
Chad Ruhwedel and Ron Hainsey are playing in their first playoffs and although they're quality defensemen, they aren't the elite players that the Penguins are trying to replace. Simply put, the defense is without a leader, they're relatively inexperienced, and they put Fleury in a position to fail.
Fleury's Job to Lose
Matt Murray came in and was the lone bright spot for Pittsburgh. The inexperienced defense took bad penalties, and Sidney Crosby failed to show up (again) and did nothing to help his team. Yes, he scored a goal on the power play, and hopefully that gets him out of his funk. With that being said, the end boards in the Canadian Tire Center created more offensive chances for Ottawa than any offensive player for Pittsburgh created, including Crosby.
Murray, who hadn't played since the the final week of the regular season, looked sharp. He made several tough saves and certainly looks to be 100 percent. Pierre McGuire commented that it was a chance for Murray to earn his starting spot back. Wrong.
Fleury's the Reason the Penguins are Still Playing
This is Marc-Andre Fleury's postseason. He's been great, and he's made the saves he's had to make. He's kept the Penguins alive in close games. Mike Sullivan pulled his goaltender because it's the one substitution you can make in hockey that sends a clear message to the whole team. Fleury certainly didn't play well, but his defense was worse.
Take a deep breath, bury all 12 minutes and 52 seconds of that debacle, and focus on the infinitely more important broader picture: The Penguins are three wins shy of the Final. They've made it this far despite waves of injuries, now including Justin Schultz, Patric Hornqvist and Bryan Rust. They're still… the favorites to take this series that's got a two-two split in home ice the rest of the way. Oh, and this: They're Fleury's team. – Dejan Kovacevic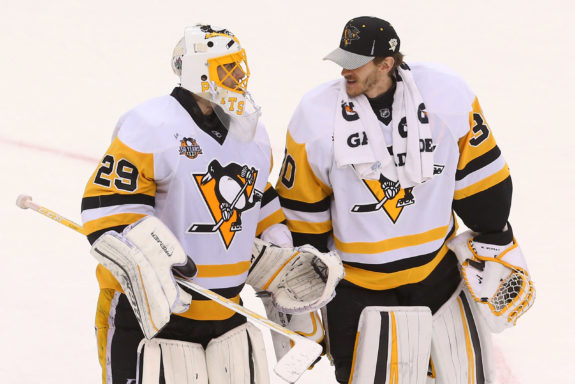 Fleury will be the starting goaltender for Game 4; he's earned it. The Penguins responded well to the goalie substitution and raised their compete level. The defense was better and the game slowed down. No matter how you spell it out, however, the Penguins got outplayed in every way. There wasn't anyone (with the possible exception of Carter Rowney) who played well enough to win and there was no aspect of the game that was sufficient.
If the power play goes on to be successful, that will be the takeaway from Game 3, but that will remain to be seen. The fourth line played well again but until they score a goal, who cares. "Quality minutes" don't win hockey games; scoring goals does.
It's One Game…The Penguins Won't Quit
Pittsburgh could've played a quality game and they still probably would've lost Game 3. The Senators had their best effort of the playoffs, their best crowd of the playoffs, and every bounce went their way. It happens, and for the Penguins, they have to put it behind them (quickly) and steal one in Game 4. The Penguins need to focus on what they can control and fix it.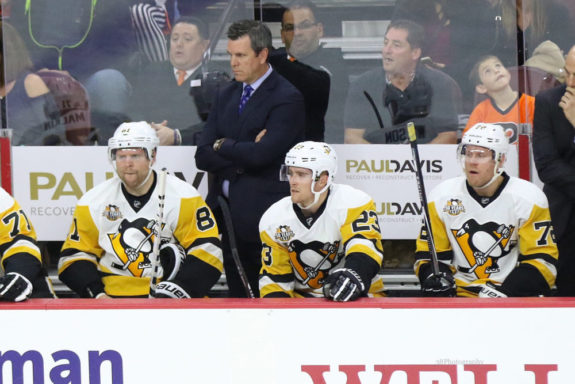 The energy and the effort have to be better. The defense has to be better and they need to play the body, not the puck. Game 3 wasn't the Penguins night, but they only have themselves to blame. Mike Sullivan will have his guys ready to play and Pittsburgh will show up, with Fleury in goal.
Smith works full time with Rise Against Hunger, a non-profit set on ending world hunger by 2030. He's a hockey enthusiast living in Pittsburgh, PA and formerly covered the Pittsburgh Penguins for THW.
Follow him on twitter @BSmithWV