The LA Kings still have one of the best forward groups in the entire National Hockey League. Worldly players like Anze Kopitar, Jeff Carter and Marian Gaborik play key roles as players that can lead by example. Young stars like Tanner Pearson and Tyler Toffoli are establishing themselves as NHL professionals that want to stay in the area surrounding their team in the offseason, train hard, and give back to the community.
Role players like Trevor Lewis, Dwight King, and Kyle Clifford solidify half of the bottom-six forward group that still has holes needing to be filled. And even with the addition of Milan Lucic, question marks still hover around the Kings' forwards ability to score and score at the right times and which forwards will make the cut come October.
Corsi Kings and the Difficulty in Scoring
The Kings were, once again, one of the top possession teams in the NHL last season. With possession in mind, the Kings had a high corsi for per 60 minutes, a low corsi against per 60 minutes, and favorable on-ice corsi differential.
Some players had outstanding possession numbers with four players having a scoring chance differential greater than 100 at even strength. Kings forwards were driving the play and doing it in the same fashion that has lead them to such success in the past. But as pointed out here, the team had difficulty closing out games in overtime and in shootouts. One can chalk that up to bad luck or it can be simply looked at as players not being able to perform (score).
Jarret Stoll and Mike Richards played a disappearing act and were each only able to put up 16 total points. Dustin Brown mustered up 11 goals and 26 points having played in all 82 regular season games and Kopitar had his lowest full-season point total since his rookie season in 2006-2007. Even with the great seasons that Carter, Toffoli, and Gaborik had scoring more than 20 goals, Kopitar's modest 63 total points still ranked highest on the team.
Statistics should be looked at as objective pieces of evidence. How they are interpreted and how they play out can be two entirely different things. Teams with poor possession numbers like the 2013-2014 Colorado Avalanche and last year's Calgary Flames can make the playoffs with low possession numbers yet the 2014-2015 corsi Kings failed to do so.
LA Kings' Projected Forward Configuration
As far as the top two lines are concerned, barring any injury (or in the Kings' case, a legal dispute and/or suspension), the top-six forward group has already been established. Kopitar and Gaborik have been rarely split up, if at all, and newly acquired Lucic is destined to play left wing with the two. Carter, Toffoli, and Pearson had the only productive line for a small stretch of the season last year and had a chemistry that Sutter refused to tinker with until Pearson got injured midway through the season. The bottom-six is not as set though.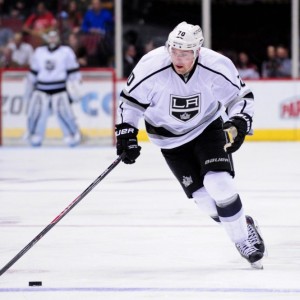 In addition to Stoll and Richards disappearing off the score sheets for the majority of the season, both encountered off-ice troubles that were followed by a misdemeanor charge against Stoll and the contract-termination of Richards and the departure of both players. Both centers played big roles in the two championships had won, but it seems as though the Kings are no longer the juggernaut they once were at the center position, but have reinforcements like Trevor Lewis and Nick Shore.
Lewis and Shore will be the most likely choices to begin the year at the third and fourth line center positions. Lewis, with more experience, brings a defensively responsible 200-foot game. The 2006 first-round draft pick has done everything asked of him in his role with the team. He is versatile, having the ability to play all three forward center positions and has provided subtle intangibles needed in high-stake games like hard work and a high compete level. Lewis, much like other bottom-six forwards Clifford and Dustin Brown, has earned his roster spot and will continue to play his role there.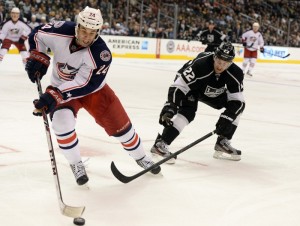 Shore only had one goal on the year, but his play began to mature as the season progressed, he started having chemistry with line-mates like Dustin Brown, and got playoff experience winning a Calder Cup with the Manchester Monarchs after being sent down at the conclusion of the NHL season. Combine that with the confidence head coach Sutter had in playing Shore over other players like Richards and Andreoff and Shore looks to be a lock for one of the vacant positions.
Forwards on the Outside Looking in
Andreoff and Nolan will be two forwards that will have the most difficult time consistently making the lineup. While Nolan is signed for another three years and Andreoff was recently re-signed, both players have had (and will continue to have) difficulty staying in the line up as Dwight King and Clifford will secure the third and fourth line left-wing position and captain Dustin Brown is getting paid $5.875 million not to be relegated to anything less than the third line.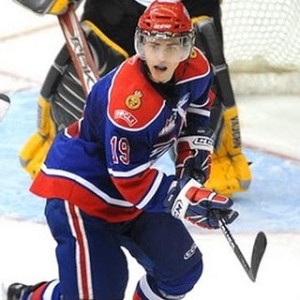 Jordan Weal is one of the last forwards under contract that has a considerable chance of cracking into the Kings forward group this season. Weal had an incredible year in the AHL last season, lead the Monarchs in playoff scoring last season, and has paid his dues with the Kings organization after being drafted in 2010. The only real criticism against Weal is his size, however the speedy center uses his heightened hockey intelligence to see the ice very well and he has put up big numbers at every level thus far in his young career. Whether those skills can translate to the NHL level has yet to be seen.
Brian O'Neill is another forward that has put in his dues at the minor league levels and had a strong enough year last year in Manchester that he could also garnish some attention and fight for a spot in the NHL this year. All of these players have done what has been asked of them as far as their development is concerned, but they are certainly on the outside looking into a lineup filled with experienced veterans and a few of shoe-ins in line before them.
Other young players signed by the Kings like Adrian Kempe, Valentin Zykov, Michael Mersch, Nic Dowd and Jonny Brodzinski all have a chance to impress at training camp, however, all are expected to start the year with the Ontario Reign to continue their development.
What the lines will be and who will make the cut out of training camp will ultimately be Darryl Sutter's decision. Sutter is known to change up the format of the lines and try different players in different roles like when Lewis played on the top line last season with Kopitar and Gaborik. The Kings currently have 24 forwards signed with 12 available roster spots and 14 or 15 of those players ready to contribute to a successful season. There may be question marks surrounding the Kings, but the forward group is still very strong as a whole and it will provide healthy competition amongst forwards this season.
Update: The Kings signed forward Joel Lowry to a two-year entry-level contract. According to generalfanager.com, the Kings now have 25 forwards signed.
Cole R. Querry resides in Southern California. Having played hockey through college and a background in science and math, he promises to bring an objective analysis to the team and sport he loves.