With their series against the Seattle Kraken tied 2-2, the Colorado Avalanche got some less-than-stellar lineup news ahead of their Game 5 tilt, taking place on April 26 in Denver. Both Cale Makar and Valeri Nichushkin will be unavailable for the contest, but for different reasons. While Makar is only out for the night, courtesy of a one-game suspension handed down on April 25, Nichushkin's situation is a bit murkier and is likely to be a longer-term situation.
Cale Makar's Suspension
The NHL Department of Player Safety deemed that Makar's hit on Jared McCann was interference and worthy of a one-game suspension. The incident saw Makar shove McCann into the boards behind the Avalanche net at 8:24 of the first period.
---
---
"What I saw live and what I watched after the period on video is a late hit, where puck is out of play," Kraken coach Dave Hakstol said. "(McCann) shoots that puck. It goes immediately out of play, straight up into the netting, and I don't know how many feet or whatever, I don't really care about that. I believe the puck is being caught by a fan as (McCann) is being run into the end wall.
"So late hit, really late, no puck in play, our 40-goal scorer not available for the rest of the game, and like I said, not going to be available going forward here."
For his part, Makar chalked the whole thing up to an unfortunate event, but did not deny liability. "I know he got the shot off and then I was just assuming he was going to the corner because it was coming down, so I didn't really look and then just didn't … just unfortunate how it all happened," he said. TNT commentator Anson Carter called Makar an "honest player" and suggested he may not have heard the whistle blow, and therefore didn't realize the hit was late.
Related: Cale Makar's Injury and the Suspension That Should Have Been
Critics of the suspension drew comparisons to Matt Dumba's hit on Joe Pavelski, remarking that if Dumba was not suspended, Makar shouldn't have been either. "If Matt Dumba gets nothing for his hit on Pavelski, I don't see how anyone can argue that this should be a suspension," one fan wrote on Twitter. "It's the same circumstance. Defenseman thinks his man has the puck, and drills an unsuspecting forward. It's bad and it's definitely a penalty, but that's it."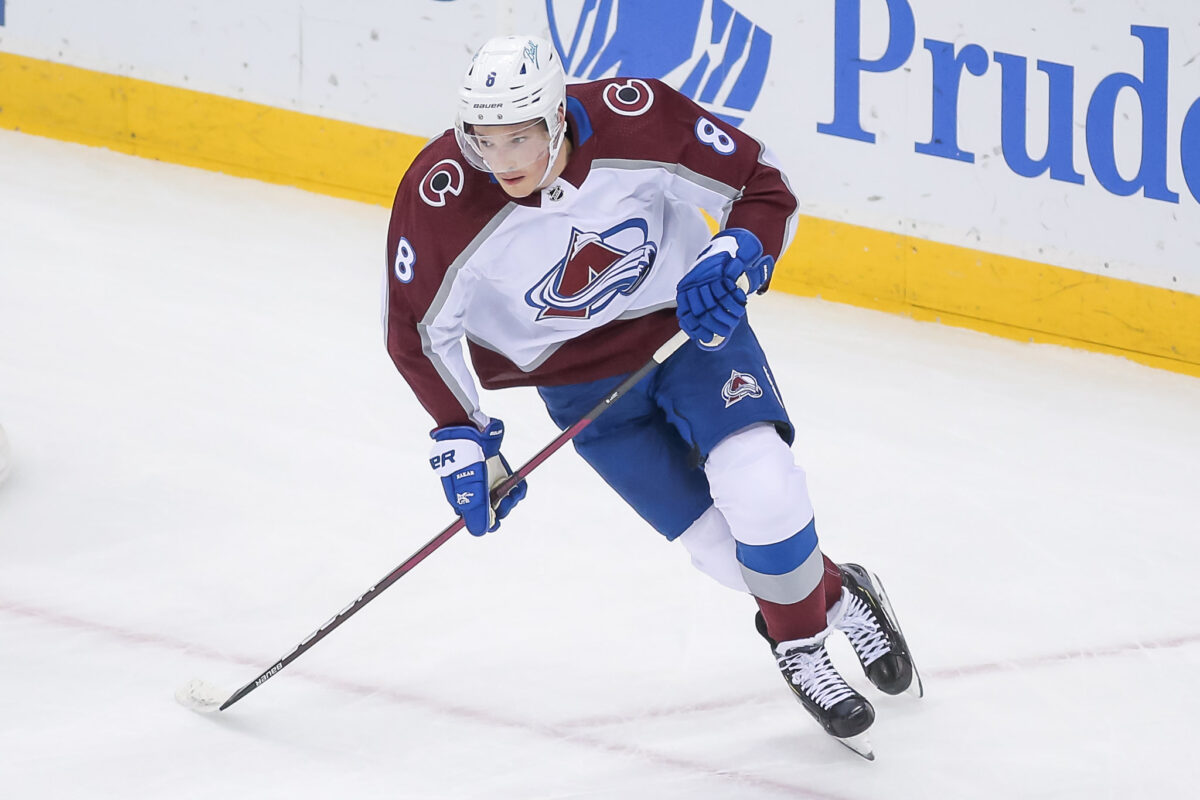 Makar, of course, is one of the Avalanche's superstars, plays up to 30 minutes of ice time, and is magical – if not scary – at both ends of the ice. His absence on the blue line will leave a big hole on the roster, but will likely mean that a depth defenseman, like Kurtis MacDermid, will have to slot in for the game and bring a physical aspect.
Nichushkin's Unavailability Comes With Unclear Circumstances
Not much came out before Valeri Nichushkin missed Game 3 of the series – just that he had skipped morning practice for a "maintenance" day. On Sunday, head coach Jared Bednar clarified the situation, noting that Nichushkin would be out for personal reasons following the maintenance day. "That's the information I had at the time," he said. "It was a maintenance day, and then he left for personal reasons. If he was around or could be around, then he would be available to play." He indicated that the absence was not injury related or for disciplinary or health reasons, leaving only personal reasons as the issue.
---
Latest News & Highlights
---
Nick Kypreos originally said on Fan590 that Nichushkin may not be available "for the foreseeable future," and a flurry of rumors ensued. Frank Seravalli said on Sportsnet that "something happened in the team hotel on Friday evening" and that "it's related to the alcohol." He continued to say that he and other media outlets were trying to navigate which part of the story should be made public and what should remain private.
Drew Livingstone summed up all of the rumors on Twitter:
Speculation continues to float around the internet but, apparently, Nichushkin's agent, Mark Gandler, denies that the incident was alcohol-related.
The Avalanche will certainly miss Nichushkin, who was off to a strong start on the season before injuring his ankle, and who was vital to their Stanley Cup victory last year. Whatever it is, his health and safety should always remain the top priority.
Final Thoughts
Both Makar and Nichushkin's absences will be felt heavily in the dressing room and on the ice – and after a shaky game in Seattle – the club will have to make some big adjustments in their absence. The entire second line from last year's Stanley Cup victory (Nichushkin, Nazem Kadri and Andre Burakovsky) are now unavailable for the Avalanche, and the team is already filling in for the loss of its captain, Gabriel Landeskog. Increased roles for Evan Rodrigues and J.T. Compher seem imminent, as the team cannot rely on Nathan MacKinnon and Mikko Rantanen for all of the offensive production as they did in Game 4.
As much as the Avalanche play with a next-man-up mentality, and roster depletion is something they've struggled with all season, there will need to be a greater sense of urgency and desperation in the playoffs moving forward. The club cannot skate by on talent alone, and they'll need some tenacity and drive from depth players – something they have yet to see so far – if they're going to make it out of the first round.