Colorado Avalanche defenseman Tyson Barrie and center Nathan Mackinnon are both due new deals as restricted free agents this offseason. While the pair are in slightly different stages of their respective careers, both should expect hefty raises from their previous contracts. Both players are coming off solid campaigns and have become core players for the organization moving forward.
Tyson Barrie's Worth
Coming off a two-year contract with an AAV of $2.6 million, defenseman Tyson Barrie is a 24-year-old restricted free agent looking for a big raise. Barrie's offensive game has blossomed in the past two seasons, becoming Colorado's premier puck-moving defenseman and bordering on elite territory when it comes to offensive defenseman. However, his defensive deficiencies and smaller stature (5'10, 190 lbs.) keep him from being considered a top-two defender and raise questions regarding his true value.
Barrie scored 49 points (13 goals, 36 assists) in 78 games last season. Over the last two seasons, his 102 points places him seventh overall amongst all defensemen and his 0.65 points per game lands him at 11th. However, this does not exactly make Barrie a bonafide top-10 defenseman in the NHL. He isn't relied upon in shorthanded situations, nor did Patrick Roy deploy him and Nick Holden against opponents' top lines. Last season, Barrie averaged only 30 seconds per game on the penalty kill, but he did quarterback the powerplay for an average of 3:07 per game.
Consistently finding himself leading the rush, Barrie sometimes appears as a fourth forward on the ice for Colorado. As with any offensively-oriented defenseman, he can be prone to turning the puck over when he tries to do too much. However, those few lapses seem to be worth the offensive production Barrie has been able to muster. There's also the possibility that he improves his play with a more stable defensive partner next season after Nick Holden's departure.
Avalanche NOT trading D Tyson Barrie, GM Joe Sakic tells me. LT deal preferred for RFA, or arbitration. "Either way, he'll be here" – Sakic

— Mike Chambers (@MikeChambers) June 16, 2016
General manager Joe Sakic expects Barrie on the team next season, whether it be through arbitration or a long-term extension. There are a few similar players and contracts that can be used to forecast a possible deal. 25-year-old Sami Vatanen doesn't possess the same offensive flare as Barrie, but still posted 38 points in 71 games last season. He signed a 4 -year contract with an average cap hit of $4.875 million. Defenseman Keith Yandle scored 47 points in 82 games last year before inking a contract with an average cap hit of $6.35 million. However, Yandle was unrestricted and had extra leverage on his side which Barrie does not. These two deals represent the perceived floor and ceiling for Barrie's negotiations.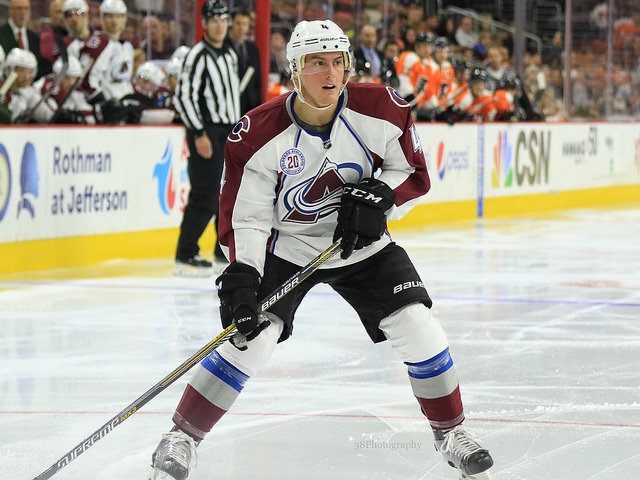 An agreement between $5 -$6 million is Barrie's range, but that's the real problem here. It's difficult to assess offensive defensemen's worth, especially younger ones who have yet to mature defensively. Sakic may be able to drive down the average value of the contract by adding term, but it is unclear how many years Colorado is comfortable with. If the two sides can't come to an agreement, Barrie will likely seek arbitration and be awarded a one-year deal, but this option risks damage to the relationship between player and organization as it illustrates the two sides' utter disagreement.
Prediction: 2 year contract, AAV of $5.5 million
Nathan Mackinnon's Worth
The Avs have more flexibility when it comes to Nathan Mackinnon because of his age. The 20-year-old could sign a bridge deal and still be a restricted free agent by its end. Or, Colorado may opt to gamble on their former No. 1 overall pick and sign him to a long-term extension at a reasonable cap hit.
Struggling with consistency so far in his career, Mackinnon's points per game have fluctuated from .77 as a rookie to .59 in 2015 and then .72 last season. He possesses elite speed, along with a sneaky quick shot and above average playmaking skills and vision. On the defensive end, Mackinnon has progressed and accepted more responsibilities, but is still raw at times in his positioning as a center. His faceoff percentage has increased each season, ultimately peaking last year at 48%.
Mackinnon has all the tools to be an elite player but has yet to put them together for a complete season. With an affinity for stick-handling the puck, he too often tries to out-skill the opposition instead of making the simple play.
Filip Forsberg recently signed a six-year contract with a $6 million annual capt hit for the Nashville Predators. A 21-year-old, Forsberg has scored around a .78 point per game pace the last two seasons in Nashville. While Mackinnon's draft pedigree may push him ahead of Forsberg in negotiations, his production is much less consistent.
With more time to iron out his game and the salary cap expanding over the next two years, Mackinnon very likely will be commanding a higher salary in two years' time. Extending the young center for six or more years could be a very wise move for Colorado as they try to eat away Mackinnon's first few years of unrestricted free agency.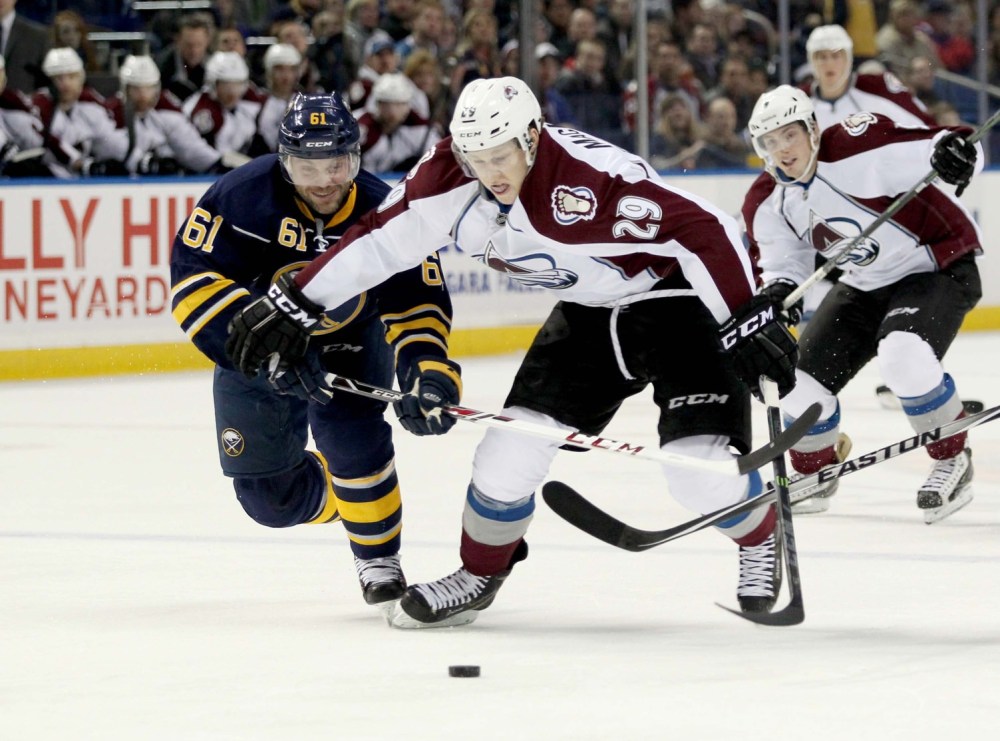 The biggest obstacle in a long-term contract for Mackinnon is the Avalanche's 'structure'. The team essentially labeled Matt Duchene as its best player before his extension, which included a $6 million AAV. Any other player demanding a higher salary has been let go by the organization, namely Paul Stastny ($7 million) and Ryan O'Reilly ($7.5 million). Erik Johnson makes $6 million, while Gabriel Landeskog earns $5.571 million annually.
It's long been expected that Mackinnon would be the one to shatter the structure when combining his overflowing talent and the increasing salary cap, but whether its this contract or the next is unclear. It may be prudent to offer the speedy forward a long extension for Sakic. A deal will likely fall at $6 million or below for a bridge deal, or touch up to $7 million for a long-term deal.
Prediction: 2 years, AAV of $6 million