The NHL Entry Draft weekend has concluded and the Carolina Hurricanes have added two more promising prospects to their growing list of talent. Now General Manager Ron Francis turns his attention towards negotiating with restricted free agents, as well as free agency itself. Here is a Hurricanes update as to where the team stands heading into this crazy part of the off-season.
Goaltending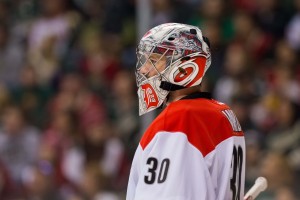 Let us start with what we know.  Or at least what we're pretty sure we know.  As of today, Cam Ward and Eddie Lack will be the two goaltenders for the Carolina Hurricanes this coming season.
Lack signed a two-year extension back at the beginning of the 2015-16 season, and Ward, just recently resigned with the 'Canes. The AAV for Lack is just $2.75 million and the AAV for Ward is only $3.3 million, which in the grand scheme of the NHL, is not bad at all.
Lack struggled mightily at the beginning of the season but to his credit didn't get much help from the team early on. Also to Lack's credit, he played much better in the latter half of the season even though he finished with a 2.81GAA and .901sv%. Ward earned his extension with his play from December 18 on where he posted a 2.19 GAA (seventh best in the NHL) and a .919sv% over the final 30 games.
In the system Alex Nedelijkovic whom many consider to be the future in net is set to begin his professional career with the Checkers. Also in Charlotte, new coach Ulf Samuelsson will have the incumbent, Daniel Altshuller who appears ready to enter the year as the guy for the Checkers.
Defense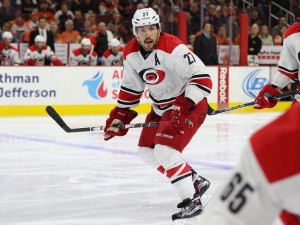 Easily the strength of the organization, the Hurricanes blue line looks to be stocked for years to come.
We begin with Justin Faulk, a player who is in the running to be the next team captain, who just set a franchise record with 12 power-play goals in the 2015-16 season. He also tied the franchise single-season record for a defenseman with 16 goals despite missing 18 games. Oh, and he was the 'Canes lone All-Star, again.
Then there are the kids.  Noah Hanifin (79GP), Brett Pesce (69GP) and Jaccob Slavin (63GP) all proved more than capable of playing major minutes at the NHL level despite not having any previous experience at the top level.
Finally, the old guys. Consummate professional, Ron Hainsey who played all but one game this past season returns with one year left on his contract. Along with him, James Wisniewski is on track to return after only playing one shift before tearing his ACL in the season opener at Nashville.
In the system things just keep getting better. Trevor Carrick and Ryan Murphy have both seen time with the 'Canes. Joining them in Charlotte this year will be former first-round pick Hayden Fleury and another top-notch prospect in Roland McKeown. The six already in Raleigh are split three left shots, three right, allowing for flexibility between pairings. On opening night, pairings could look something like this:
Slavin – Faulk
Hanifin – Wisniewski
Hainsey – Pesce
That gives Carolina's defense an average age of just 25.5 years and at least 4 high-quality prospects in Charlotte. That is without mentioning first-round pick Jake Bean who could be in Charlotte in just a few years time. The defensive depth of the Carolina Hurricanes organization is right up there with any in the entire league.
Forwards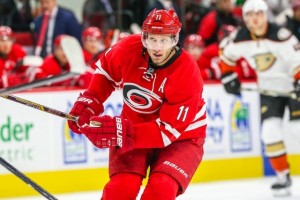 Now to the largest unknown left on this roster — the forwards.  We know most of the names, such as Jordan Staal (20G 28A), who is in the running to be the next captain, Jeff Skinner (28G, 23A), Elias Lindholm (11G, 28A) and Victor Rask (21G, 27A).
Rask was just tendered a qualifying offer, will hopefully sign a multi-year extension in the coming weeks locking him into the core of this team. Joakim Nordstrom (10G, 14A) just received a two-year extension for his play this season and Andrej Nestrasil (9G, 14A), who looks to be recovered from a fractured vertebra that cut his season to just 55 games, both had good seasons playing with Jordan Staal.
Jay McClement (55.3 FO%) has been a superb 4th line center in his time with the 'Canes. Ron Francis brought in Teuvo Teravainen (13G, 22A), who should play a top-six role, along with Bryan Bickell, who could replace Brad Malone on the 4th line, are both expected to contribute. It appears that Phil Di Giuseppe (7G, 10A, 41GP), has solidified himself a role with his play as a grit guy alongside Victor Rask last season.
All that leaves the 'Canes with a projected line-up something along these lines:
Skinner – Staal – Nestrasil
Di Giuseppe – Rask – Teravainen
??? – Lindholm – Nordstrom
Bickell – McClement – ???
The spot on the 3rd line or the Di Giuseppe spot could be reserved for Sebastian Aho who is set to begin his North American professional career after signing with the 'Canes, leaving just one 4th line spot open.
Personally, I would like to see Riley Nash (9G, 13A) in that spot. I believe his play last year, either at center or on the wing, earned him at least one more year as he transitions into a Jay McClement-like role. First-round pick Julien Gauthier could compete for a spot coming out of training camp although, barring a fantastic showing, I believe another year in juniors could be best.
What's Left?
Though General Manager Ron Francis has made some prudent moves this off-season, he is not done yet.  The Hurricanes still need to spend around $6 million just to reach the cap floor. Much of that could come from an extension for Rask along with new contracts for Murphy and possibly Nash which would get the 'Canes at least close to the floor.
Regardless of what happens, Francis still has some moves to make and judging by the looks of it, he doesn't have enough open roster spots to just go out and sign players without making a move first. Buckle up 'Canes fans, this ride ain't over yet.