After months of speculation, analysis, and predictions, the 2016 NHL Entry Draft has come and gone. New Jersey Devils general manager Ray Shero told reporters prior to the draft that the goal was simple, to add more talent and the Devils undoubtedly did with a bevvy of new prospects headlined by the 12th overall pick, center Michael McLeod.
Typically, the draft includes at least one surprising trade. But this year, the most shocking aspect was that there were virtually no surprises. Yes, Andrew Shaw, Lars Eller, and Dmitry Kulikov all found new homes and the Arizona Coyotes now have Pavel Datsyuk's contract on their payroll. However, with names like forwards Taylor Hall and Ryan Nugent-Hopkins, goalie Ben Bishop, and defensemen Cam Fowler and Kevin Shattenkirk circulating, the trade market was eerily quiet and uneventful.
Scoring Support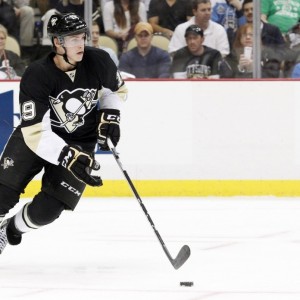 Entering the draft, there were questions about whether New Jersey would be looking to make a splash and acquire a prominent NHL goal scorer like Hall. Instead, with the 77th, the Devils made what could be thought of as an almost predictable move and acquired Pittsburgh Penguins forward Beau Bennett. The trade is not surprising when a person considers that Bennett was drafted by Shero 20th overall in 2010 and Pittsburgh needed to move him for cap space.
The 6 foot 2 inch right wing endured an injury plagued career in Pittsburgh and while the trade was slightly predictable, it could also be an under the radar acquisition. Bennett will likely not post a 30-goal season like forward Kyle Palmieri did last year after being acquired at the 2015 draft. However, Bennett has a great deal of talent and potential. If he can stay healthy, he should offer secondary scoring and fill a void in the bottom six, which is an area the Devils must address.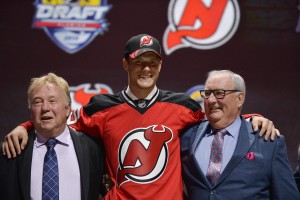 Nevertheless, Bennett should not be the biggest move the Devils make this offseason. New Jersey needs at least two to three more players to return to the postseason. The Devils proved last year that reaching the playoffs is not an impossible task and that they can compete with elite teams. There were many glimpses of strong play but it lacked consistency, particularly when it came to scoring. Forwards Devante Smith-Pelly, Reid Boucher and rookie Pavel Zacha will provide goal support and take some of the pressure off of stars Palmieri, Adam Henrique and Michael Cammalleri, who were heavily relied upon last year.
Although, Shero could revisit the trade market later this offseason, it will now cost the team a roster asset, which would likely be one of their young, skilled defensemen. Fortunately, free agency is right around the corner.
Free Agency Market
Unlike many teams around the league, the Devils are not in cap trouble and have money to spend. However, New Jersey has a clear projection and for Shero to make a contract offer, that player must meet his and head coach John Hynes' criteria. Currently, there is not much buzz around the Devils and who the team could potentially be targeting to sign. While it is not clear whether New Jersey will even take part in the Steven Stamkos derby, there is no reason for the team to not reach out. Nonetheless, it is highly unlikely that the Devils will be a finalist. But even though Stamkos will be the most coveted free agent on the market, there are still other candidates New Jersey may consider.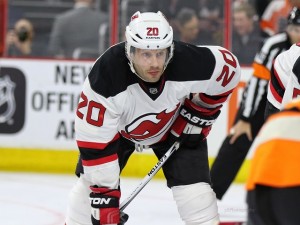 One name that has not been readily associated with the Devils is left wing Mikkel Boedker, who would bring speed and scoring depth. Additionally, Boedker is only 26-years-old, which aligns with some of the moves Shero has previously made.
Furthermore, if the Boston Bruins do not re-sign him, the Devils could take another look at forward Lee Stempniak, who the team traded at the deadline last season. Stempniak was a solid Devil and fit perfectly on the top line with Cammalleri and Henrique. It would be foolish for Shero not to consider re-signing him when they already know his value, chemistry with New Jersey's top players and his ability to play within the system and produce.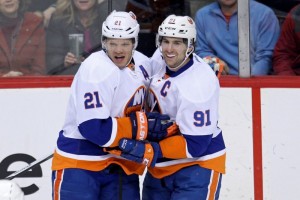 In addition to Boedker and Stempniak, forward Kyle Okposo, is expected to hit the market. Okposo is well-known to New Jersey fans. Throughout the years, people are accustomed to seeing him often times play with superstar New York Islanders center John Tavares. Nevertheless, the Devils, like most teams throughout the league, do not have a player that resembles Tavares. While Okposo is highly skilled, it is reasonable to question his ability without Tavares, which is why New Jersey should be wary before offering him the contract he is rumored to be looking for.
Beside Okposo, forward Loui Eriksson is an intriguing candidate as he would likely be able to deliver 20-30 goals, which would be highly beneficial for New Jersey's offense. Moreover, P.A. Parenteau is another option. He would give the team scoring depth and additional veteran experience.
After July 1st, the 2016-17 Devils should slowly start taking shape. Fans will have a better idea of who is returning and who is an alum. But while it is not definitely clear who the Devils will be aiming to sign, fans should expect to see several new faces wearing red and black next season.