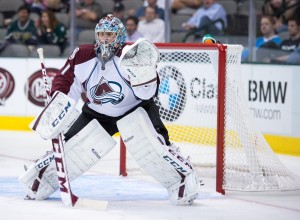 The month of December hasn't been too kind for the Avalanche. So far they have gone 3-5, with only two of their wins coming in regulation. They've battled a scoring drought, injuries to key players, and bad defensive play. On Monday and Tuesday it was time to get even more familiar with new division rivals, the Dallas Stars.
After seeing the Stars twice already this season and winning both times, the Avs were ready to add a little salt to the wound with a home-and-home series. Monday night they welcomed them into the Pepsi center, ready to unleash Paul Stastny onto Lehtonen. Stastny seems to always play well against Dallas. Stastny was on a nine-game scoring drought, and needed to get something going. Not only for himself, but for the team as well. Nathan MacKinnon scored the first goal of the game, but it would be Kevin Connauton to tie it up shortly after with his first NHL goal.  In the second period, the Avalanche erupted for four goals. Paul Stastny scored two himself, with Andre Benoit, and Erik Johnson netting the others. In the third period the Avs weren't able to contain Tyler Sequin who scored for Dallas, but  Stastny recorded his fourth point of the night with an assist on a Tyson Barrie goal. The Avalanche gathered their confidence and blew Dallas out by a final score of 6-2.
The next night would be a whole new game for Dallas. Both clubs would change goaltenders to Giguere and Ellis and rest their starters. Even though the Avalanche have a great record when scoring first, it would not be the case in this game. Matt Duchene notched the first goal of the game, but Ray Whitney would step up his game. He managed to tie it at one after Duchene's goal, and then again in the second after Erik Johnson scored. Colton Sceviour scored his second goal of the season for Dallas to give them the eventual win.
I'll be the optimist with this situation. The Avalanche haven't been playing very well this month, but the first game against Dallas was a great look at just how well this team can come together for a win. Every guy knows his role on the team, and as long as they all stay focused, things seem to come together for them. The second Dallas game wasn't bad either, they just couldn't capitalize on a goaltender who seemed to be on his game for a whole sixty minutes. I trust that They take what they learn from these last two games and apply it moving forward. There is still a lot of season to go.