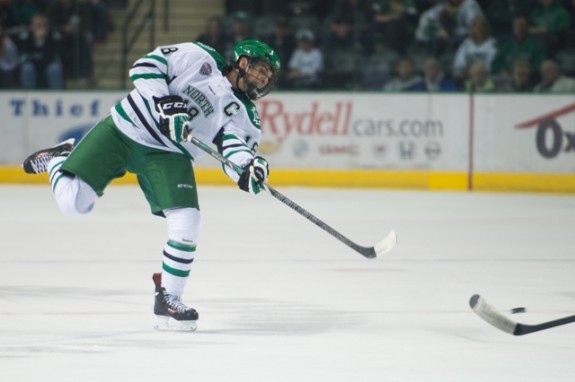 Going into the Christmas break, the University of North Dakota Hockey team leads the National Collegiate Hockey Conference in points by defenseman with 47 goals.  Even more impressive, the UND hockey team ranks third nationally with 2.61 points per game by defenseman.  At the halfway point, the defensive corps is providing a source of secondary scoring for the UND hockey team.
When asked about this at the Wednesday press conference, head coach Dave Hakstol said this.
"Got lots of puck moving guys back there," Hakstol said.  "We've felt that way all the way along, throughout fall camp, and coming into the early part of the year. We felt like our defensemen were going to have to add and provide offense for us. I think we've been okay in that area. I think it's an area where we're going to continue to improve. I think those guys can continue to raise the level of their game and what they're bringing to the table, not just defensively, but offensively as well."
College Game is changing; gone are the big hitting defenseman
While the UND hockey team is scoring goals from the back-end, they're also changing their defensive team philosophy as well.  In the past, UND has been known for its bruising defensemen, that knock your head off, if you come in front of the UND net.
"You have guys back there that are hard to play against," Hakstol said. "I think you're going to see more and more of Gage Ausmus, as he grows into that role. It's a role that you really have to grow into. You can't just jump in at this level and expect to be that dominant physical force. You have to catch up to the game first, and then you have to build and grow your game, a little bit."
Hakstol continued, "I think our D corps is a little bit of product of the changing times of the game as well," Hakstol said. "If you look at the way the game is played, a lot of the big hits these days are five-minute majors and you're out of the game.  We saw Andrew MacWilliam go through that last year and that was difficult."
College game evolves
To evolve with the changes in the game of hockey, coach Hakstol hired former NHL assistant coach Brad Berry. Recently during a "Through These Doors" episode coach Berry talked about how the college game has evolved, it's about guys that can move the puck, be agile and make plays. UND has made those adjustments to their defensive corps.
"To generate offense, you have to have a five man attack," Hakstol said. "There are not many goals being scored off the rush, unless you have a defenseman up with the play. Not a lot of goals are scored off the cycle, unless you have a defenseman involved in the play and moving in the offensive zone.  So, it's the product of some of the changes in the game."
Junior defenseman Nick Mattson reinforced what coach Hakstol said.
"It's just kind of how our D-corps is built this year," Mattson said. "We don't have any big bruisers back there. We're just kind of trying move the puck and jump up in the offense and support the forwards.  Again, this kind how our team is built this year, kind of different format from our previous two years."
One of the things that coach Hakstol talks about is being tough to play against and playing on your toes. It's a trade mark of the Dave Hakstol teams.
"There's different ways to be tough to play against," Mattson said. "We don't have a (Andrew) MacWillam or a Bloody (Ben Blood) back there hammering guys, but as a forward when you're going in to fore-check a guy and he's able to spin off  you quick, use his skating to evade you . Or if you're a forward trying to maneuver down low and a guy able to use his skating to stay on you the whole time. That's tough to play against, too. It may not wear you down quite as much, but it's still effective."
The game of hockey is changing. Some of this has to do with the way the game is being officiated. Some of this has to do with the players as well. More and more, the NHL is becoming a skating game.
"There's different ways to defend", Mattson said. " The game is changing. If you look at the top defenders in the NHL, they're more mobile, a little bit undersized, but they're able to use their stick and quickness."
The UND defensive corps is changing. Gone are the bruising, burley defensemen. In their place, are quick skating defensemen that are chipping in on the score sheet and are tough to play against, minus the high penalty minutes.