Last Friday night was my first opportunity to see the Wisconsin women's hockey team play this season. I plan on it not being my last for a very simple reason: the Badgers are really fun to watch.
High-End Talent
To be clear, I'm not under the impression that this is some new or unique opinion. After all, Wisconsin is the No. 1 team in the country in both the USCHO.com and USA Today/USA Hockey Magazine polls, and has been for the entire season.
So, the Badgers are really good, and anyone watching last Friday's game against Ohio State saw that firsthand. As you may have read on this website, that contest was an even one for the first 10 minutes. It was entertaining, back-and-forth hockey; the Badgers' talent was noticeable while the Buckeyes hung right with them.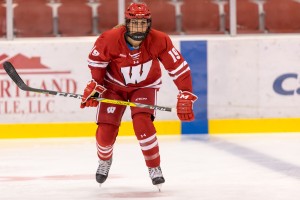 The final 50 minutes of the contest were still fun to watch, but in more of a "look how good Wisconsin is" kind of way (so, not too fun for Ohio State fans). The Badgers controlled the play for the majority of that time and their impressive speed and skill were on display.
While Ohio State struggled to create sustained offense, Wisconsin made things difficult on the Buckeye defense. The Badgers' outstanding puck control and movement in the offensive zone often had the look of a power play, even during even-strength situations.
"Their speed is very explosive and their skills with their hands, too," Ohio State head coach Nadine Muzerall said. "You think you got them and then in a tight situation they cut back and go the other way and you thought that you played them well defensively."
Wisconsin outshot Ohio State 48-14 in Friday's 7-0 win and followed that with a 5-0 victory Saturday in which the Badgers fired 45 shots on goal to the Buckeyes' 11. And those kinds of lopsided stats are not uncommon for the No. 1 team in the nation. Wisconsin averages 3.9 goals and 40.25 shots on goal per game, while surrendering just 1.0 and 17.6 per contest, respectively.
Plenty of Players
Wisconsin's skill is easy to notice, but it's not the sole reason for the team's success.
"They don't have a weakness. They have the depth," Muzerall said. "All of their players are great players and [on] most other teams, their fourth line could be a first or second line, so depth really goes a long way."
Yet again, the numbers support that sentiment about Wisconsin's depth. Ten Badgers have tallied at least 10 points through 20 games this season. Eight different players scored goals in last weekend's sweep, while 13 of the 18 skaters who played against Ohio State registered at least one point in the series, led by Emily Clark's seven (not surprisingly; Clark was named WCHA Offensive Player of the Week).
Not a bad weekend for @emclark13 as she tallied 7⃣ points against the Buckeyes#OnWisconsin || #Badgers pic.twitter.com/oH0Z9tn7Ep

— Wisconsin Hockey (@BadgerWHockey) December 11, 2016
"I think it's gonna be huge for us moving forward, it's tough to defend," Clark said of the team's scoring depth. "The scoring is definitely spread out and balanced so it's good for our confidence as a whole."
And I haven't even mentioned the team's goaltending yet, which seems like a crime. Senior netminder Ann-Renée Desbiens is 14-1-1 this season with a .957 save percentage and 0.75 goals-against average. She also has eight shutouts and broke the NCAA record for career shutouts last month. Nikki Cece even stepped in and won three of four games Desbiens missed this season due to injury.
2016 has been good to the #Badgers so it wasn't easy to choose just 5⃣ Top Plays❗️https://t.co/U1fbBUFMoB

— Wisconsin Hockey (@BadgerWHockey) December 15, 2016
While several Badgers hit the ice with some of the best players from their respective countries this week, Wisconsin is in the midst of a break from game action that ends Jan. 6 with a tilt against Lindenwood.