It appears that George Gosbee and Anthony LeBlanc, the driving force behind the current Arizona Coyotes ownership, can rest a bit easier.
That's because, going forward,  their operation of the Coyotes will not take such a severe economic hit. As Canadians operating an American company called IceArizona, Gosbee and LeBlanc were subject to a sizable tax hit. Foreigners running companies based in the Untied States could be subject to a tax obligation between 15 and 30 percent. Plus, additional tax obligations could result in estate and gift tax consequences.
Both Gosbee and LeBlanc said earlier this year that the tax burden for their IceArizona operation was terrific and sought relief.
Since the start of the NHL season back in October, Gosbee and LeBlanc, while adding loyal fans,  corporate partners and entering into long-term agreements to add revenu,e would still be subjected to an adverse tax structure.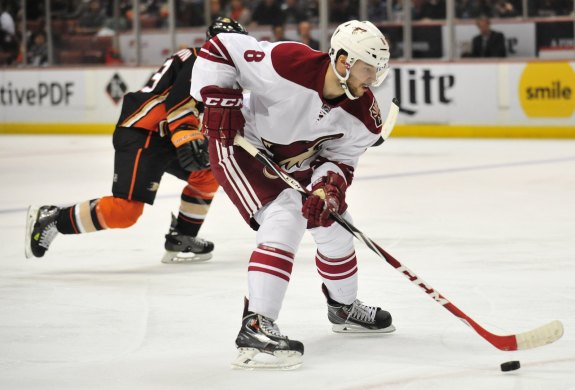 When the season began last October, Gosbee and LeBlanc were in touch with Andrew Barroway, a Philadelphia lawyer by trade but also diversified into hedge funds and made millions. An avid sports fans and passionate Flyers' follower, Barroway attempted to secure the Islanders and Devils upon two previous occasions and in both cases, deals collapsed.
Still, the behind-the-scenes work continued for Barroway's direction and on the final day of 2014, the NHL announced Barroway finally acquired 51 percent of the Coyotes. That means an American now heads the IceArizona, the corporate name of the franchise, and tax consequences for Gosbee and LeBlanc have loosen considerable.
All of this will sort out on Friday afternoon when Barroway meets the media at Gila River Arena and the deal explained.
It's unlikely complete details will be disclosed but it is a safe bet to assume Barroway, Gosbee and LeBlanc will be pressed to explain the reasoning behind the sale. The bottom line is economic and with a strong push from Gosbee and LeBlanc on the corporate side, the franchise seems to be moving forward.
Now, the players need to glean some encouragement about their future and start to string some wins together.
follow Mark Brown on Twitter, @journalist193
Mark Brown is a former sports editor for daily newspapers in the Philadelphia and Cincinnati markets. He was named Best Sports Columnist, honorable mention 2004 by the Associated Press Society of Ohio. He is a contributor to major daily newspapers, including the Chicago Sun Times, Philadelphia Inquirer, Honolulu Star-Bulletin, Milwaukee Journal, Arizona Republic, Nashville Tennessean and the Associated Press. He was a Featured Columnist for bleacherreport.com and covered the Arizona Coyotes.