With every passing day, we are getting closer to the NHL season.
And with every passing day, we are (hopefully) getting closer to the first trade of training camp.
It sounds like there should be some movement during the pre-season, be it minor or possibly major.
Four teams are currently over the salary cap, although technically there are only two — the Chicago Blackhawks and Boston Bruins. The Philadelphia Flyers will get reprieve from Chris Pronger's contract and the same goes for the Tampa Bay Lightning with Mattias Ohlund as both remain on long-term injury reserve. But the Hawks and Bruins will need to do some shedding sooner than later, and there's been plenty of speculation over potential players on the block. Most are of the mindset that those teams will be dealing veteran depth, not star power or young talent, to get under the $69-million cap ceiling. All 30 teams are currently above the cap floor of $51 million, so there are no concerns there, nor obvious trading partners.
Several teams, including the Bruins, still have key restricted free agents without contracts as training camps open next week. Depending on the progress of those negotiations and the likelihood of getting them signed in time for the start of the season, that could also make for some unexpected wheeling and dealing.
With the cap complicating matters, there hasn't been much in the way of mid-season moves in recent years. The trend has teams making their trades and essentially finalizing their rosters in the off-season, perhaps tweaking here or there as buyers or sellers at the trade deadline in early March. Aside from that mini-flurry, teams typically stay the course for the duration of the regular season — the five months leading up to the deadline. But the off-season doesn't officially end until the puck drops on October 8, and trade talks are bound to heat up between now and then.
With that in mind, I figured it was the perfect time to bust out my second installment of Be A GM mode. The first revolved around taking over a team and inviting 5 free agents to training camp. For the second, I'll be taking over not one but 10 teams to pull off 5 trades in advance of the regular season.
Again, I encourage you to do the same and share your ideas in the comments section below. Or just tell me how dumb and unrealistic my fictitious trades are, and why they would NEVER happen in a million years.
Admittedly, I'm not the best at this whole trade prediction thing. Few, if any, have come to fruition over the years, and I'm still licking my wounds from the lashings I took over my trade deadline predictions this past spring. Most notably, or rather notoriously, was my suggestion that Winnipeg acquire Cam Ward from Carolina straight up for Evander Kane. I was vilified to no end for that one, even if I still think it would be a decent deal and address a need for both teams. But that horse has since been buried (rest his soul), and there's no need to revisit that trade in the present tense as Carolina plans to give Ward another chance at returning to form under new coach Bill Peters.
Kane, on the other hand, well, his days could still be numbered in Manitoba. I'm not even convinced he starts the season in a Jets jersey, not after all that has transpired this off-season with his radio interview, infamous tweet and recent public exchange with Blake Wheeler over becoming a leader.
Shall we start there? Sure, without further a do, here are my 5 Potential Pre-Season Trades: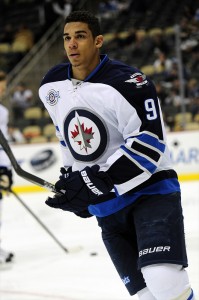 1) To Buffalo = Evander Kane, Dustin Byfuglien and Alexander Burmistrov
To Winnipeg = Tyler Myers, Chris Stewart and Mikhail Grigorenko
Analysis: Don't hold your breath for this one. Jets GM Kevin Cheveldayoff has NEVER made a trade in his current role, let alone one of this magnitude, but you'd think the pressure to do something, anything, must be mounting given Winnipeg has yet to make the playoffs. He needs to put his stamp on this team, so why not go for the gusto and make up for lost time in one fell swoop. Tim Murray is still relatively new to Buffalo, so he might also be thinking 'Go big or go home'.
The deal itself is fair value, in my opinion, as the Jets gets rid of three players who don't want to be in Winnipeg for one reason or another, while the Sabres part with three guys who might not have fit in Buffalo long-term.
Kane wants out, whether he's ready to admit that publicly or not. Byfuglien wants to play defence but is penciled in as a forward to start this season by Jets coach Paul Maurice, while Sabres coach Ted Nolan would have no problem playing him at his preferred position given Buffalo's overall lack of depth. Burmistrov is somewhere in Siberia, toiling in the KHL but wanting to return to the NHL in a different location most likely.
Myers has a big contract and is about to become redundant with Nikita Zadorov on the cusp of turning pro and becoming Buffalo's tower of power on the back end. Stewart came over from St. Louis in the Ryan Miller deadline deal, barely played with Buffalo and was initially rumoured to be flipped to Ottawa among other places. He's still on the market as a pending unrestricted free agent next summer. Grigorenko was rushed to the NHL, his development suffered and now he's facing long odds to ever make an impact in Buffalo, which is stacked with forward prospects. The Jets could make better use of all three assets.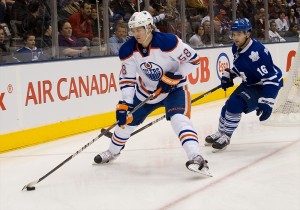 2) To Nashville = Jeff Petry
To Edmonton = Ryan Ellis
Analysis: Petry is a pending unrestricted free agent after signing a one-year lame-duck deal this summer, while Ellis remains unsigned as a restricted free agent with training camp right around the corner. Ellis might be looking for a longer-team deal similar to the one signed by Minnesota Wild forward Nino Niederreiter, but he may end up with a shorter deal at a slightly lower cap hit than Edmonton's Justin Schultz.
Petry is familiar to Predators GM David Poile from past international stints with U.S. teams. Ellis is familiar with Oilers star winger Taylor Hall, having been junior teammates on the Memorial Cup-winning Windsor Spitfires.
This would just be a straight up swap of two guys who might make a better fit with their potential new club than their current club.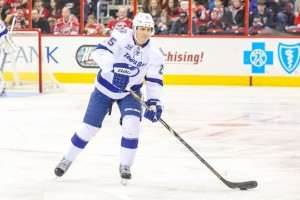 3) To Columbus = Matt Carle and Brett Connolly
To Tampa Bay = Nick Foligno, David Savard and Detroit's 2015 3rd Rounder
Analysis: Matt Carle has a big contract at $5.5 million for four more years and he might have been knocked down Tampa's depth chart with the additions of Jason Garrison and Anton Stralman this summer. The Lightning aren't in huge cap trouble, but they could certainly afford to shed his salary. Connolly is in that logjam of young forwards and just hasn't found a place in Tampa's lineup yet despite learning to score in the AHL. Not that Columbus is any less deep up front, but a change of scenery could be beneficial for Connolly.
Foligno is a pending UFA and much like Carle could have trouble maintaining his role with Columbus acquiring fellow rugged winger Scott Hartnell this summer, while another from that mould, Nathan Horton, finally appears healthy again. If the Blue Jackets aren't planning to extend Foligno long-term, they might look to move him sooner than later. Savard is in a strange spot as he's started to live up to his potential and might have been in line for some power-play time with Columbus that may not be available in Tampa. He's a poor man's Carle at a big-time discount ($1.3 million per for the next two seasons). Columbus can sweeten the pot on a deal like this thanks to owning two 2nd round picks and three 3rds in the 2015 draft.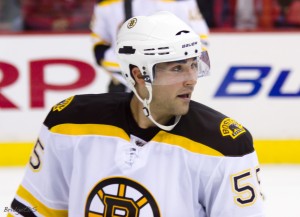 4) To Arizona = Johnny Boychuk and Chris Kelly
To Boston = Brandon McMillan, Kyle Chipchura and a 2015 2nd Rounder
Analysis: Boychuk and Kelly are two names that keep coming up as possible trade bait to get Boston back under the salary cap. The Bruins would only need to move one or the other, but the receiving team might demand both be included in this type of deal. They are quality veterans who could bring a winning pedigree to Arizona.
If Boston is taking back any salary, it won't be much. Enter McMillan, a younger version of Kelly with a cap hit of $625,000, and Chipchura, a depth winger that Boston could also certainly use, costing only $875,000 per for the next two seasons.
In contrast, Boychuk makes $3.37 million and Kelly earns $3 million. Do the math and that is a savings of $4.87 million. The Bruins are only $809,143 over the cap, but they still have to sign Reilly Smith and Torey Krug. This deal is all about dollars and cents, but it also adds up for both teams on paper.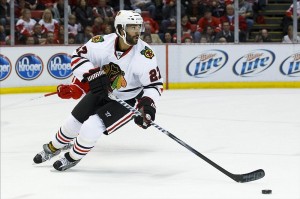 5) To Florida = Johnny Oduya
To Chicago = Alex Petrovic
Analysis: These two teams are regular trading partners, because of the Dale Tallon connection, and could easily pull off another swap prior to the season. The Blackhawks need to lose a contract and Oduya makes as much sense as anybody, while Florida could use another veteran defenceman and he'd make for a good fit there.
Granted, Oduya wasn't part of Chicago's Cup-winning team that Tallon helped build prior to landing in Florida, but he still seems like a good fit for the Panthers, who have invited Shane O'Brien to training camp on a tryout basis. Oduya would be an upgrade on O'Brien and complement the young cast of Erik Gudbranson, Dmitry Kulikov and first overall pick Aaron Ekblad. Add in Brian Campbell and Willie Mitchell and the Panthers could boast one of the better defence corps in the league.
Florida could take on Oduya's $3.38-million salary in exchange for Petrovic at $795,000, which would be doing Chicago a favour to the tune of $2.58 million. The Blackhawks are $2.22 million over the cap, so this is exactly the kind of trade they will need to make, or perhaps they would prefer a draft pick in return to avoid taking back any salary at all. Petrovic is no throw-in, though, as he'll immediately compete for a roster spot with the Blackhawks in training camp just as he would have with the Panthers.
Dare I ask, your thoughts?
Larry Fisher is a sports reporter for The Daily Courier in Kelowna, British Columbia, Canada. Follow him on Twitter: @LarryFisher_KDC.