How do you know hockey season is just around the corner in Winnipeg? Evander Kane is making headlines once again. This time it is teammate Blake Wheeler that is stoking the fires. In an interview with Craig Custance of ESPN, Wheeler offered this tasty tidbit on Kane:
"He's coming to the stage of his career where he's no longer a young guy. He needs to step up and be a leader on our team."
Wheeler on E. Kane: He's coming to the stage of his career where he's no longer a young guy. He needs to step up & be a leader on our team.

— Craig Custance (@CraigCustance) September 9, 2014
Kane responded with a tweet directed at Wheeler.
@BiggieFunke you could have just thrown me a text. #youcanfindmeatthetopofthecircle

— Evander Kane (@evanderkane_9) September 10, 2014
The Media's Response
The Winnipeg media took this story and ran with it like a pack of wolves on a hunt for its prey. TSN 1290, the radio rights holders of the Winnipeg Jets chimed in, as morning show hosts Matt Leibl and Troy Westwood weighed in with their responses. Afternoon hosts Hustler and Gary Lawless interviewed Custance on their show to talk about this story. As per usual, the media in Winnipeg mauls, shreds and dissects any story about Kane and throws it to Jets Nation for them to chew on. The Winnipeg media cannot get enough of Evander Kane.
#nhljets Blake Wheeler quick to diffuse @EKane9JETS exchange re: stepping up and becoming a leader 1/2 #cbcmb

— Mitch Peacock (@MitchPeacock1) September 10, 2014
would rather see comments like Wheeler's on Kane than clubby atmosphere that has infected #nhljets. pushing one another isn't a bad thing.

— gary lawless (@garylawless) September 10, 2014
You can tell by Wheeler's voice today that players on jets almost expect overreaction by fans in Wpg

— Pete Tessier – Seal Your Face (@Teddier) September 10, 2014
The Fans Response
Of course, if the media goes crazy over Evander Kane, the fans aren't that far behind. In a hockey crazy market like Winnipeg, any story involving one of the Jets best players is a lightning rod for conversation. Jets Nation is divided on how they feel about the enigmatic left winger. Some love him while others don't care for him. I can see both sides.
https://twitter.com/ZahidP76/status/509732978055204865
https://twitter.com/marcelpicard/status/509745733394640896
If only as many Winnipeggers could have such strong opinions on the upcoming municipal election as they do on Evander Kane…

— bad wolf (@coleynmh) September 10, 2014
The upside of Kane is that he drives up possession for the Jets (51.6% corsi, 51.5% fenwick) by using his speed and size. This despite the fact Kane has gone through different linemates on a regular basis. With Wheeler and Mark Scheifele as possible linemates this season, Kane could break out and have a huge season.
The flip side is that Kane does have an abrasive personality, that at times can rub some people the wrong way. Whether it be his money phone antics or his feuds with former coach Claude Noel and current bench boss Paul Maurice, Kane can be seen as difficult and temperamental.
What has to be remembered is that Kane is a very talented player. Trading him may not be the answer. One look has to look no further than the Boston Bruins running out of patience with their young star Tyler Seguin. The Bruins couldn't handle Seguin's antics and dealt him to the Dallas Stars. Seguin cleaned up his act and shone brightly in the Lone Star State. Meanwhile, the Bruins struggled to score in the playoffs and were bounced in the second round by the Montreal Canadiens.
The Chicago Blackhawks stayed patient with Patrick Kane despite his off-ice antics. Kane rewarded the Blackhawks by scoring the Stanley Cup winning goal in 2010, and winning the Conn Smythe trophy in 2013.
Story Blown Out Of Proportion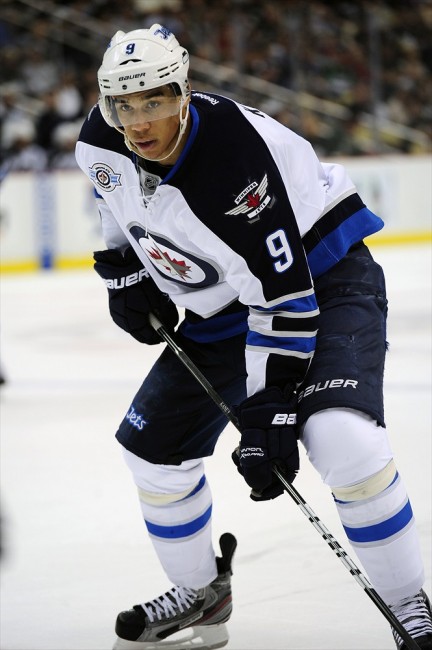 Once again, this was just another story about Evander Kane blown out of proportion by the media and fans alike. Winnipeg needs to chill out when it comes to their young star. Not everything said about Kane is newsworthy. It would be wise to take a step back and look at the big picture. Wheeler and Kane could very be on the same line together and they must be a cohesive unit in order for the Jets to succeed. Wheeler needs to help Kane grow and become the leader everyone wants him to be. If that doesn't happen, it will be a long season in Winnipeg.