A Legend Was Born
After playing in nine games for the Ottawa Senators at the end of the 2012-13 regular season, forward Jean-Gabriel Pageau earned a spot on the club's injury riddled playoff roster, and really grabbed the attention of fans. The fourth-round draft pick of 2011 scored four goals and added two assists in his 10 post-season games, which included a hat-trick and a game-winner in the Sens first-round upset of the Montreal Canadiens. The diminutive forward prospect instantly became a fan favorite in part due to calling Ottawa his home. JGP started the 2013-14 season with the Sens, in a third line role, but was demoted to Binghamton of the AHL on Halloween and made just two more trips up and down between the AHL and NHL all season. He finished the disappointing campaign with just two goals in 28 games for the Sens; while amassing 44 points in 46 AHL contests, recording his first 20-goal season as a professional hockey player for the Binghamton Senators.
Starting Over
Pageau now begins the 2014-15 season on a vastly different note. Veteran free-agent signee David Legwand is expected to begin the year in JGP's old spot on the depth chart, centering the team's third line.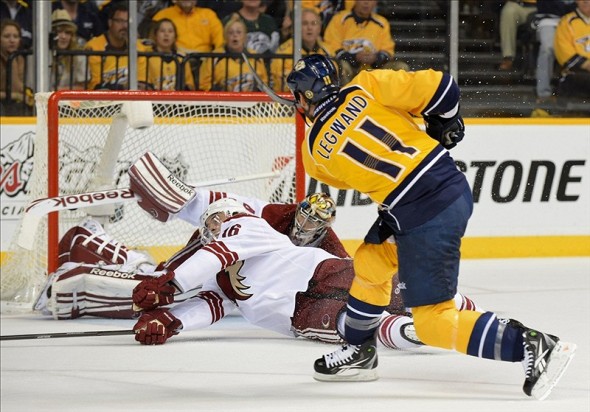 At 34 years old, Legwand put together the third-best statistical season of his career with 51 points in 2013-14, while splitting time between the Predators and Red Wings. While he possesses the experience, skill and contract to play the role of second line center, both General Manager Bryan Murray and Head Coach Paul MacLean have insisted on a desire to have 2011's 6th overall pick, Mika Zibanejad play in the team's top six, with center being his natural position.
While it may be tough to start closing the door on a 21-year-old prospect who is coming off a career season in the AHL, and has already made an NHL impact, the reality is Pageau keeps getting passed on the prospect ladder. In addition to the veteran Legwand being added, the likes of Mark Stone, Matt Puempel, and Curtis Lazar are far more talked about in the Sens' farm entering the upcoming season. At 5'9 and a listed 175 lbs. JGP is by far the runt of the litter. He will have to have a strong camp and preseason in order to re-establish himself as a viable NHLer, and force Murray and MacLean to make some tough roster decisions and juggle some lines around.
Getting the Band Back Together
What Pageau has going for him is the already established chemistry with two of the Senators' projected bottom six wingers. During his great run in 2012-13, JGP played 58.3% of his 5v5 shifts with Erik Condra and 47.9% with Colin Greening. No other forward came close with Chris Neil (16.0%) and Cory Conacher (15.5%) being the next two most common. While Condra bounced all around the forward ranks last year, Greening experienced his worst season since becoming a full-time pro after being stuck on the fourth line with Zack Smith and Chris Neil. In order to spark Condra and Greening into returning to their own 2012-13 form, Murray and MacLean may be inclined to put them back with Pageau.
With four NHL calibre centers on the roster, Pageau will have to beat out wingers Stone and Lazar in camp and force the decision-makers to put either Legwand or Zibanejad on the other's wing on the second-line. If unable to do so, Pageau will have to start all over yet again, and try to form some chemistry with the team's top LW/RW prospects down in Binghamton, while waiting for the call to come home.