The German professional ice hockey league (Deutsche Eishockeyliga – DEL) celebrates its 20th anniversary in 2014. The history of the league is definitely shorter than the history of ice hockey in Germany, but in the last twenty years the league has contributed greatly to the sport's development and popularity among the nation.
The DEL was established in 1994 after the Bundesliga, the traditional model of organizing team competitions in Germany, dissolved. Since then the DEL grew into a stable and formidable organization with great growth potential. By way of example, it has become a powerful point of attraction for Canadian and American players employing the greatest number of North American professionals playing outside of their native continent.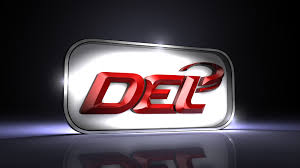 The DEL operates as a professional hockey league owned and self-regulated by its clubs. This is an open organization with strict membership rules. In order to qualify for membership the applying teams need to show a consistent and high level of the game in the second-strongest league in Germany (DEL2). A club's financial standing must be stable and its arena needs to meet the DEL requirements. Moreover, the teams need to run a talent support program and pay a membership fee (currently equaling 800 000 Euro).
The incumbent champion is ERC Ingolstadt, which has won the title for the first time in its history. Winning the title for a DEL club first of all means qualification for the elimination rounds while playing 52 regular season games. After the qualification is over and the teams are seeded for elimination games this is just the strongest team of the two which goes into the next round. Thus, in the previous regular season ERC Ingolstadt only managed to take the 9th place in the regular-games table. Thereafter it knew no stopping – a big surprise for many experts and opponents.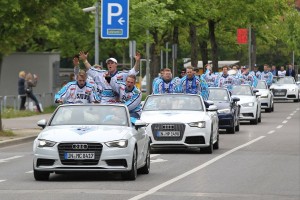 In terms of attendance only three clubs could boast the average visitor numbers exceeding 10 000 in the 2013/14 season: Berlin Polar Bears (12 738), Cologne Sharks (11 712), and Mannheim Eagles (11 283). Hamburg Freezers (2014 regular season winners) could rally the average of 8 506 spectators to the arena. The other teams' attendance numbers varied between 3000 and 6000 spectators. Wolfsburg Grizzly Adams, however, registered the lowest number of fans on the arena in the last season – 2 530. Whether this result could be called disastrous in a soccer-crazed industrial city is a disputable question indeed!
In the twenty-year long history of the league 8 clubs have managed to win the title. Berlin Polar Bears have crowned themselves 7 times (2005, 2006, 2008, 2009, 2011, 2012, 2013). Mannheim Eagles won gold 5 times (1997, 1998, 1999, 2001, 2007). Cologne Sharks have been champions twice (1995, 2002). One-time champions are Duesseldorf EG (1996), Munich Barons (2000), Krefeld Penguins (2004), Frankfurt Lions (2004), Hannover Scorpions (2010), and ERC Ingolstadt (2014).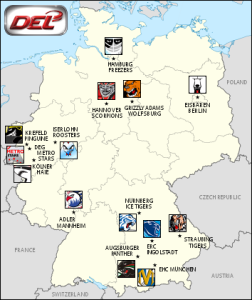 All in all there have been 33 teams participating in DEL, which has counted 14 clubs in the last season. Thus, the survival of clubs poses a challenge for ice-hockey in Germany. The ice-hockey system is developed well in the country with DEL2 being a donor and a recipient of DEL's outgoing and incoming clubs at the same time. Nevertheless, it is a major challenge for a top-level hockey club in Germany to keep its franchise going strong. The strongest competition comes from soccer, Europe's and Germany's sport number one. Basketball, handball and other team sports are very popular among Germans. Therefore, hockey clubs are well advised to popularize the game among broader audiences. In his recent interview DEL's CEO Gernot Tripcke mentioned that this problem is seriously tackled. The strategy, however, is non-conflict and rather cooperative. Thus, different sport leagues in Germany prefer to support each other rather than try to outperform colleagues into non-existence. The DEL clubs' financial results and sponsor satisfaction have improved in recent years according to Tripcke. The league's total sales equaled 100 000 000 Euro in the last season, which is a standing record for DEL.
Together with the challenges of popularization and survival of separate teams comes the expansion challenge. There are a few federal states in Germany like Sachsen, for example, which have no teams in DEL. Bavaria, on the other hand, is well represented in the league with the game enjoying popularity among the fans and support by sponsors. This seems to be predetermined by geographic and cultural proximity to the Czech Republic. Certainly there is a lot of work behind this success of the game in Bavaria.
Major German cities like Frankfurt or Freiburg are currently not represented in the country's top league. This leads one to believe that the game and DEL can grow together in Germany, but this needs to be wisely planned and organized.
No league is complete without a story of its stars. The choice of the best of the best is always subjective, but still worth writing.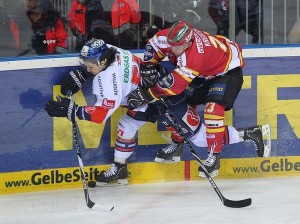 Daniel Kreutzer is one of the best scorers in DEL's history and one of the top home-raised talents. Having played 201 international games for Team Germany his biggest international success is reaching the 2010 IIHF World Championships' quarterfinals, where he and his teammates lost against Russia.
Robert Hock is a born Czech and a naturalized German, who has spent his professional career in Germany. That is where he became the best scorer in DEL and a true hockey legend. Being a top scorer brought Hock to 5 DEL All-Star-Games but no titles.
Steve Walker from Canada found his home with Berlin Polar Bears, with whom he won 5 titles and was a major force for the team's success and domination in DEL after the Millenium. Walker participated in 2 DEL All-Star-Games and holds the 2008 DEL-Playoffs MVP title.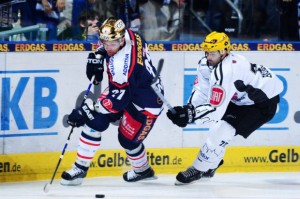 A born Berliner Sven Felski, nicknamed Bürgemerster (city mayor), spent 20 years of his professional career (1992-2012) with Berlin Polar Bears. A six-time national champion also managed to help his national team qualify for the IIHF's World Championships in 2006 and participated in 8 top IIHF world championships as well as the Olympics in Turin (2006) and Vancouver (2010). Felski's popularity could probably bring him a mayor's seat. Tangential proof to this is the demand for his book "Tore, Spiele, Meistertitel" ("Goals, Games, Champion titles") and big audiences of his sports program at the city radio Berliner Rundfunk 91.4.
Canadian Pat Cortina found success and recognition as the Head Coach of Munich EHC. He combined working as the Head Coach for the club and for the national team. It is now Cortina's sole responsibility to achieve palpable success with Team Germany on the international level. Medals, be they bronze or silver (gold is worth dreaming for, of course) are badly needed for the national team.
The 21st DEL season starts on the coming week end with 7 games played on Friday evening of September, 12. In an interview before the start of the season DEL's CEO Gernot Tripcke explained that the league would build on its strengths and previous successes to achieve sustainable growth during the next and the following years. This is exactly what one would wish for ice hockey in Germany.