A Done Deal
After months of negotiations, the Minnesota Wild and forward Nino Niederreiter have finally agreed to a contract. The 22-year-old turned down a huge offer from Russia's Kontinental Hockey League earlier this September, instead signing a three-year, $8 million deal with Minnesota.
Wild at Heart
During contract talks, Niederreiter's agent Andre Rufener told the StarTribune's Michael Russo that his client was "a Wild at heart." The native of Switzerland apparently wanted nothing to do with the KHL offer and was set on finding a way to stay in Minnesota.
Since being traded to the Wild in June of 2013 in exchange for Cal Clutterbuck and a third round draft pick, Niederreiter has become an integral part of the team. The 6'2″ 205-pound right wing provided Minnesota with some size, as well as a bit of offense with 14 goals in 81 games last season. Let's also not forget about Niederrieter's Game 7 heroics in the first round of the 2014 Stanley Cup Playoffs:
Making it Big
Before Nino Niederrieter signed a multi-million dollar contract and before he scored game-winning goals in overtime, he spent most of his professional hockey career playing in the minors for the New York Islander's AHL affiliate, the Bridgeport Tigers, as well as the WHL's Portland Winterhawks. When he did get time playing for the Islanders during the 2011-12 season, most of it was spent on the fourth line.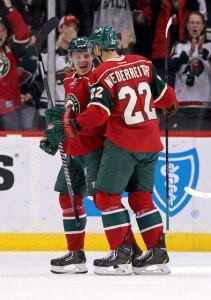 After the 2012-13 lockout, Niederrieter was not invited to the Islanders training camp and he later asked to be traded. Soon after, he was sent to Minnesota, where he flourished during the 2013-2014 season. Niederrieter spent much of the season as one of the Wild's top six forwards and proved that he was deserving of a permanent spot on the team. Clearly Chuck Fletcher took notice of the forward's improved play, as he decided to lock him up for another three years.
Niederrieter demonstrated he has the potential to be a star for the team and hopefully his skill will continue to grow during the next couple of years that he is set to spend with the Wild.
Minnesota might be able to check this signing off the list, but they still have to deal with the stalled negotiations involving Darcy Kuemper. Any thoughts or comments on that situation? Is Kuemper  crazy to choose the KHL over a two-way deal with the Wild?