So we have finally journeyed into the Atlantic Division…..again. There will be a few detours back and forth and then eventually the Q&A's will focus to the West. Boston's questions are being handled by Tim Rosenthal of Bruins Daily and the Boston Herald. Here we go with the Boston Bruins Q&A!
=======================================
1. Boston was supposed to go to the Stanley Cup Final….what the heck happened?
Where to begin with this one? Well for starters the Bruins ran into a Canadiens team that's haunted them in the past and still present matchup problems. They always have the speed advantage, and they took advantage of that in the second round against Zdeno Chara, who while still a top tier defenseman, is not getting any younger and that showed in Game 7. The B's also had disappearing acts from David Krejci who is a noted playoff performer in years past – as well as Milan Lucic, Brad Marchand and the Merlot Line, just to name a few. That, along with the fact they hit 14 or 15 posts in the series and Carey Price's stellar play was too much for the Black and Gold to overcome resulting in a disappointing exit.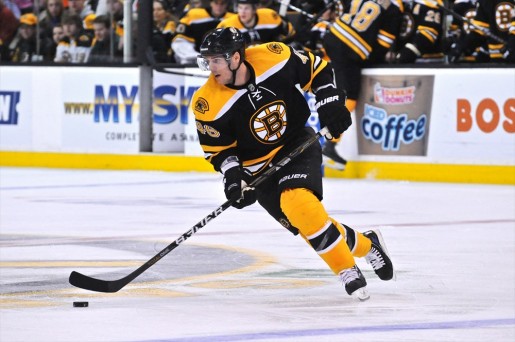 2. Where did David Krejci go in the playoffs and can Loui Eriksson handle the first line?
Iginla, like Chara, isn't getting any younger, but he can still produce. That said, the big question is can Loui Eriksson fit in on the first line with Krejci and Lucic? If he tallies between 25 and 30 goals this year then I think they'll be fine. Unlike the Penguins (with Malkin and Crosby) and Blackhawks (Sharp, Kane, Toews and Hossa) of the world, the Bruins are a team that prides itself around depth. They rely on all four lines to get the job done, and that will not change even with the notable departures. So assuming Loui stays healthy, the Bruins should be just fine, but that doesn't mean they won't miss Iginla.
3. How is Jordan Caron still a Boston Bruin?
You're better off asking someone
how many licks it takes to get to the center of a tootsie pop
(for the record the answer is not three).
4. Who will ultimately replace Chad Johnson and can they handle the 25 game or so workload?
Niklas Svedberg has been waiting in the wings to backup Tuukka and he showed some pretty good stuff down in Providence. He led the Baby B's to two Calder Cup Playoff appearances and also snatched the league's rookie of the year award if I'm not mistaken. Svedberg did pretty well in his lone appearance last year against the Predators and, like Johnson did last year, should be able to get between 20 and 25 starts.
5. Torey Krug was offered how much by a KHL team? When does he ultimately get a new deal?
With the Boston Bruins currently in cap hell, still, they have to free up some space. Would it be surprising if the Bruins let Krug go to the KHL? I don't think so. I do believe the B's will clear some space because Krug, along with Reilly Smith, are still looking for a new deal, and even if Krug went to the KHL they'd still need to clear space. That might entail Peter Chiarelli to trade someone else from the blue-line like Johnny Boychuk, Adam McQuaid or Kevan Miller. And with David Warsofsky – a similar type of player – also battling for a roster spot, Krug might have to look over his shoulders even if he does sign a new deal.
6. Injuries play a role on every team but what was the one injury that hurt most?
No question it was Dennis Seidenberg. For the past several years he's been the perfect compliment to Chara. Sure the Bruins were still able to win the Presidents' Trophy and all without him, but there's no denying that things would have been a little different against the Habs if he were healthy.

7. What does Claude Julien have to do to keep Boston focused this year?
Not get rattled from Boston Bruins fans calling for his job for another season. Okay, in all seriousness, Claude just needs to keep doing what he's doing. He's not a guy that gets shaken up easily and he always gets his team to play their best hockey late in the season. I wouldn't be surprised if the B's had a few hiccups early in the year, but as long as he keeps them focused on the task in hand then they'll be fine. He doesn't need to do much adjusting in terms of X's and O's.
8. Which team are you most worried about within the division?
For obvious reasons, Montreal is always a threat to the Bruins, but the Tampa Bay Lightning are also a team that could easily challenge the Bruins in the Atlantic. With the additions they made this off-season, the Bolts have a pretty good mix of youth and veterans. If Steven Stamkos and Ben Bishop can avoid injuries then the Bolts have a real shot to make some noise in the Atlantic and the East.
9. Are there any prospects to keep an eye on in training camp?
David Pastrnak is going to be on the radar just based on the B's drafting him in the first round in June. Whether he makes the roster or not is anyone's guess, but Peter Chiarelli and company have high hopes for him. Even though Matt Fraser saw some time during the playoffs last year, he's another guy that will get a closer look and could fill Loui's role on the third line.
10. What is your prognosis for the Boston Bruins in 2014-15?
Despite the losses and the tight cap space handcuffing them in the off-season, I still expect the Boston Bruins to be one of the top teams in the East. The conference hasn't gotten better for the most part and should very well be up for grabs again. It would be surprising if the Bruins could slay the Kings, Blackhawks, or the other powerful teams out west, but another Stanley Cup Final appearance is still a reasonable outlook.