The theme for this NHL offseason has been analytics or advanced stats. Many teams have started to add an analytics department to their organizations in order to get the most information possible.
The Edmonton Oilers hired well known blogger Tyler Dellow is a prime example. Dellow, who went under the blogger name and Twitter handle @mc79hockey, was very critical of the Oilers and their personnel decisions.
Regardless of whether you like Tyler Dellow, you have to admire someone who took his passion for hockey & made room for himself in the game.

— Adam Proteau (@Proteautype) August 5, 2014
The Toronto Maple Leafs are also going the analytical route, hiring Kyle Dubas as their assistant general manager. Dubas was the general manager of the Sault Ste. Marie Greyhounds of the Ontario Hockey League, and was largely responsible for bringing advanced stats like Corsi and Fenwick to junior hockey. The Leafs added to their analytical department by adding Darryl Metcalf, who ran the wonderful, but now deceased extraskater.com website, Cam Charron, a prominent Leafs blogger and former contributor to this website, and Rob Pettapiece who wrote for Yahoo Sports Buzzing the Net junior hockey blog. Not everyone was thrilled with these hirings though.
I like the hiring of Darryl Metcalf. I dislike the hiring of Cam Charron, who from my experiences is a weasel who can't be trusted. — steve simmons (@simmonssteve) August 19, 2014

The New Jersey Devils also jumped into the analytical game, by hiring Sunny Mehta, a former professional poker player and former Edmonton Oilers blogger to be their director of analytics department.
Combine those hirings with the fact that the Los Angeles Kings and Chicago Blackhawks, two teams that have combined to win the last three Stanley Cups, use analytics on a regular basis means the NHL is shifting towards that way of thinking.
So where does this leave the Winnipeg Jets? General manager Kevin Cheveldayoff did talk about this with Ed Tait of the Winnipeg Free Press.
"I do have strong beliefs in it. We do some things done that are maybe different than an average team, although I can't speak for them. What we talk about is not so much following the trends but trying to get ahead of them. Like anything, you're always trying to be innovative whether it's your on-ice training or off-ice training, conditioning, nutrition.
But with the popularity of Moneyball in baseball I think nowadays everybody in sport is saying, 'What else can we do?'"
While Cheveldayoff may have strong beliefs in advanced stats, his decisions have made some wonder what are his beliefs. Earlier this summer, Chevy signed Chris Thorburn to a 3-year, $1.2 million extension. This despite the fact that Thorburn had a 43.1% Corsi and a 45 % Fenwick number. 
The re-signing of Matt Halischuk also raises concerns. To go with the fractured forearm Halischuk suffered in December, Halischuk's Corsi was a meagre 43.1% and his Fenwick was at 44.7%.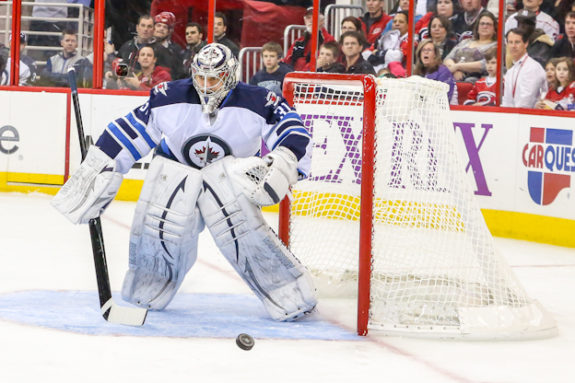 Finally, the continued loyalty Cheveldayoff shows to goalie Ondrej Pavelec is baffling to say the least. After signing a 5-year contract extension in 2012, Pavelec's save percentage has decreased every year, going from a .906 in 2011-12, to .901 in 2013-14. Pavelec ranked 70th out of 97 goalies in the NHL in save percentage last season, behind the likes of Evgeni Nabakov, James Reimer, Antti Niemi and Corey Crawford. Those four goalies were roundly criticized at some point by media and fans during the season.
Corey Crawford allowed 25 goals over the final six games of the Western Conference Final.

— Dave Lozo (@DaveLozo) July 17, 2014
Weirdness of the biz; Reimer's inability to fill for injured Bernier costs 3 coaches, 2 execs their jobs. And he gets $4.6 million. — Damien Cox (@DamoSpin) July 25, 2014

Here's why the Jets need a change of thinking when it comes to analytics. Even though I just posted numbers on three players who are a hinderance to the Jets, it is the critical thinking involved in analytics that is required. Numbers are a valuable tool and they should be used to help evaluate a player and the team. To use these numbers properly, the Jets need to make the proper and sometimes difficult decision in letting certain players go.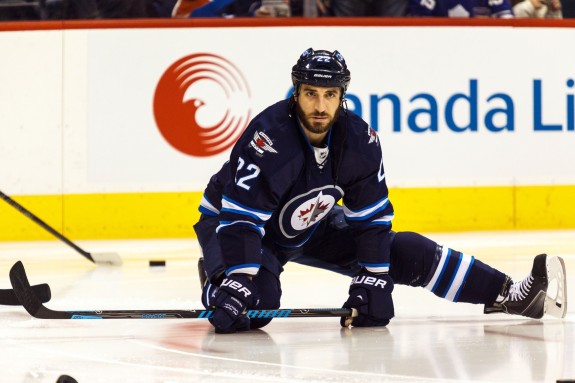 Take Thorburn for example. One of the main reasons why Cheveldayoff decided to keep him was his influence on the locker room. Thorburn is liked and respected by his teammates. Cheveldayoff pointed to a fight between Thorburn and Zdeno Chara of the Boston Bruins and how he stood up for his teammates. Yet the Jets lost the game 4-1.

The times are changing in the NHL. Grit and truculence are good to have and yes their is a need for physical players. But players need nowadays need skill and good hockey sense. Teams like the Kings and Blackhawks have understood that and have achieved great success. The Jets need to rethink how they evaluate players and if advanced stats can do that, they should look into it more closely than they currently are. The rest of the league is starting to pass them by.