The re-acquisition of Ben Lovejoy is going to go down as one of the worst trades in the history of the Pittsburgh Penguins. We've revisited this trade before and it doesn't look good anyway you slice it. The Penguins should never have given a 24-year old, smooth skating and physical defender to the Anaheim Ducks for Lovejoy, did I mention that Simon Despres was a first-round pick as well?
A lot of people who blindly defend Lovejoy state how he was in over his head at the end of last season playing as a top-four defender and that he didn't ask to be traded to Pittsburgh. While both of these things may be true, he's frustrated everyone this season. The same people who defended Lovejoy's poor performance in a top-four role last season are now the same people who are praising his work as a top-four defender this season.
Lovejoy is the rare example of a player who's advanced metrics look great, but you watch him play and wonder what is going through his head. He misses defensive coverages, turns over the puck and rarely is able to clear the puck out of the defensive zone on his own.
The breaking point was last night against the Boston Bruins when Lovejoy blatantly pulled off of an odd-man rush.
https://vine.co/v/imDYTLZEpnp
It's one thing if Lovejoy's at the end of his shift, he's tired and the team is focusing on defensive play. However, the 2015-16 Penguins are the 27th team in scoring and they've only managed 68 goals in 30 games played. For some context, the leader of the NHL, the Dallas Stars, have scored 107 goals in 31 games played.
If the Penguins were struggling to defend, it makes sense to pull off of an odd-man rush and get fresh legs on the ice. But when a team with more star power than any team in the league can't score goals, the last thing they should be doing is missing an odd-man rush because he was tired.
This is just one example of Lovejoy's ineptitude as a defender and what's even more revealing is his with and without analysis.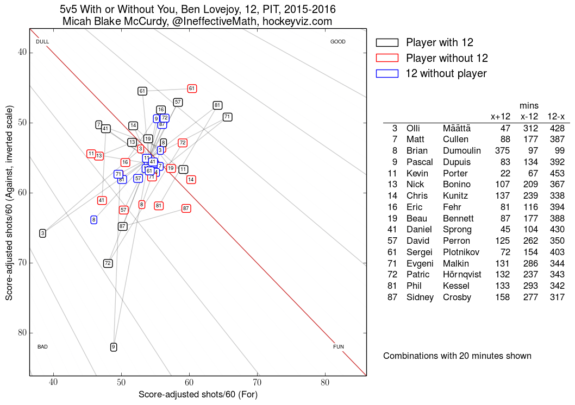 Lovejoy's most consistent defensive partner is Brian Dumoulin, who wears number eight for the Penguins. Take a look at Lovejoy (#12) with Dumoulin and without.
The results are inexplicably clear, Dumoulin has been covering Lovejoy all season and he's the only reason why this pairing is considered the Penguins "shutdown pair." But despite Lovejoy's miserable performance almost every night, many members of the media continue to apologize for him. He's a fantastic person and great for doing interviews with, but the truth is that Lovejoy is number six or seven defender.
His antics aren't the only thing holding the Penguins back, but he's hurting the team just about every night with poor play. The problem is that Pittsburgh does not have anyone better to replace him and that's why they're not built to compete this year.
Thanks for reading! Feel free to leave your comments below or tweet me anytime @MPityk_PIT