The date was March 2nd, 2015 and the Pittsburgh Penguins were active at the trade deadline as usual.
Of the multiple trades the Penguins made, two were significantly more important than the others. Both of these trades focused on bolstering their defensive depth, but one of them was a gamble.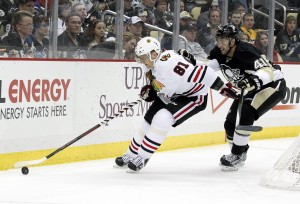 The first trade brought defenseman Ian Cole to Pittsburgh from the St. Louis Blues in exchange for Robert Bortuzzo and a 2016 seventh-round draft selection. This trade was fair for both teams. St Louis. got the gritty enforcer they had been searching for and Pittsburgh acquired a talented former first round pick who was buried in the lineup.
Cole was on the last year of his contract and is a restricted free agent. There is little doubt in my mind that the Penguins will re-sign Cole, hopefully to an affordable long-term deal to avoid another Matt Niskanen situation.
The Ben Lovejoy Trade
It was after the official trade deadline had passed, but there were rumors the Penguins had one more trade coming in. Twitter was full of energy and enthusiasm as everyone awaited General Manager Jim Rutherford's big announcement.
Then he gave the press conference and immediately the buzz died. The Pittsburgh Penguins sent 23 year-old, former first round pick, Simon Despres to the Anaheim Ducks for former Penguin Ben Lovejoy.
His first stint with the Pens was from 2008-2013 and he appeared in 98 NHL games. In February of 2013, Ben Lovejoy was traded to Anaheim for a fifth-round pick.
Not only was this trade a misuse of assets as the Penguins essentially traded a first-round pick for a fifth, but they disrupted their most consistent defensive pair.
Simon Despres was playing alongside Rob Scuderi and the two, statistically, were the Penguins best and most consistent pairing. Additionally, Lovejoy is a 31 year-old veteran who has reached his peak, Despres is only beginning the upswing of his career.
Pittsburgh made a clear statement they were trying to win this season, as if they did not learn anything from previous management.
Let's take a look at relative performance of both players heading into the trade deadline using some charts courtesy of war-on-ice.com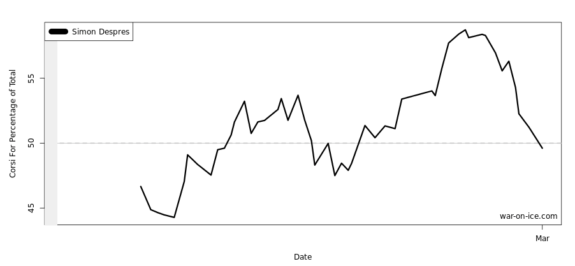 Despres' rolling 10-game shot-attempt percentage was trending downwards heading into the trade deadline. However, at the time the Penguins were struggling a whole and many players possession metrics were on the decline. The one thing that Pittsburgh's management did not like about their 1st round pick from the 2009 draft, was his inconsistencies.
However, when you consider the style of hockey that Despres plays, variability is almost guaranteed. He is a jack of all trades, capable of dishing out hits, killing penalties one shift and working the powerplay the next. Skilled defenders often make mistakes and are subject to more criticism because they are more noticeable than other players given their play style.
Need an example close to home? Remember Kris Letang against the Boston Bruins in the Eastern Conference Final?
Given that the chart shown is covering a small sample for Despres, let's look at Ben Lovejoy's production prior to the trade.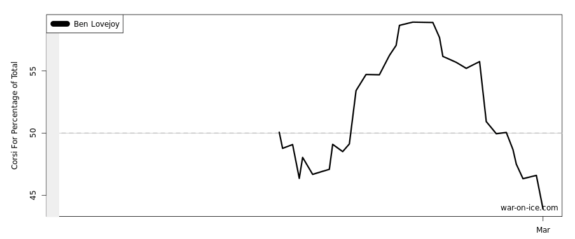 If Rutherford was looking for consistency, that's the exact opposite of what he got in the return of Ben Lovejoy. In his time with Anaheim, he was shielded against tough competition. Lovejoy played alongside Cam Fowler and was over deployed against opposing bottom six forwards. His play as of right now is that of a bottom pair defender and that is all Ben Lovejoy will ever be.
Thoughts Looking Back
If you've been following the Anaheim Ducks this postseason, you know their team is playing very well. What might be most ironic is once Simon Despres earned a starting spot in the lineup, he has been one of their most consistent defenders.
In 7 playoff contests, Despres has 5 assists and is a +4 skater, while logging over 18 minutes of ice time per night.
Penguins head coach Mike Johnston's entire coaching system was designed around defenders activating, joining rushes and contributing offensively from the point. This worked flawlessly until the massive amount of injuries they endured at the end of the season.
Ben Lovejoy was given over 20 minutes of ice time per night and he struggled. He was asked to play a role that he simply isn't able to. In 5 playoff games, Lovejoy had 2 assists and was a -3 skater.
At a time when the Penguins needed offensive minded defenders, would it not have been wonderful to have Despres on the back end instead of Lovejoy?
Take a look at this clip from the Anaheim Ducks most recent game and watch Simon Despres (#24).
Despres' play is exactly what Johnston has been looking for all season. As the play begins to shift towards the neutral zone, you see him backing up to stay in position. But watch when Ryan Getzlaf applies pressure, look at the instinctual play and explosion from Despres. He catches Getzlaf in front of the net, grabs the puck that didn't find its way to the net, drives the play around the back of the cage and sets up the go ahead goal.
That play reminded me of something the Penguins' beloved Kris Letang is capable of.
Who Won The Trade?
If you guessed any team not named the Pittsburgh Penguins, you would be correct. Rutherford went out to acquire an experienced defender at all costs and he did just that.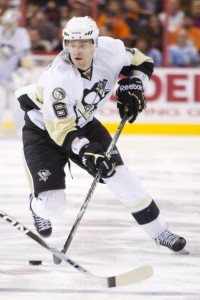 Despres is finally showing the good city of Anaheim why he was drafted in the first round. If the Penguins had given him more responsibility and greater ice time, it is easily conceivable he could have progressed like this in Pittsburgh.
The underlying problem with the Penguins annual attempts to win, is that they simply are not executing properly. Just like when Rutherford traded James Neal to Nashville, he failed to maximize the value he could have received back. Despres was easily worth more than Ben Lovejoy and now he's proving that in Anaheim.
This will be a tough one for Pittsburgh to swallow. Maybe after this move, management will finally evaluate players more thoroughly before acting impulsively and taking the first deal they receive.