The Montreal Canadiens finally broke the cycle by beating goaltender Ben Bishop, and, more importantly, the Tampa Bay Lightning to force Game 5 in their second-round series. It may just be getting started though.
Canadiens Get to Bishop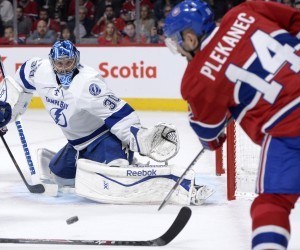 While Montreal had gone winless this regular season against Tampa following last spring's first-round sweep, Bishop's personal mastery over Montreal extended to February 1, 2014—a span of 10 games. His last loss was in a shootout, though.
You would actually have to go back all the way to April 18, 2013 to find the last time Montreal beat Bishop in the conventional sense. Prior to the Habs' win Thursday, Bishop was 11-0-1 against them since then (regular season and playoffs).
While it's no doubt a relief for the Habs to have finally solved Bishop, two things remain to be seen: 1) Whether or not the six-goal outburst (three on Bishop) was a fluke and 2) if it wasn't, whether it is too little too late.
Every goalie has his bad games, and, while Bishop isn't the most technically sound goalie around (the Max Pacioretty and David Desharnais goals as exhibits 'A' and 'B'), he is big. That just doesn't go away. Unless you have the benefit of a readily accessible shrink ray. And methinks not in the case of the Canadiens, in spite of the nefariousness of their supervillain-esque, yet quite pitiful post-whistle attempts at getting under his skin up until Game 4.
In sharp contrast, from a glass-half-full perspective, if the six goals were more a sign of the Canadiens and head coach Michel Therrien actively changing tactics, then maybe them keeping it up isn't out of the question.
It then instead becomes a question of whether or not the Canadiens are able to essentially sweep the Lightning for the second time in two years. That would be hard to do against separate, mediocre teams, let alone the same, very good one.
Really, there are arguments both for and against such a scenario.
For: The Habs were able to win at least four straight on five separate occasions this season (twice they won six). They have the by-all-accounts most valuable player in the game in nets in Carey Price. They would have the benefit of two home games left versus one for Tampa. You can't spell "Canadiens" without "can." etc.
Against: Only four teams have ever come back from three games down in a series to win. And, even if you do take away Tampa's goaltending, they still have a pretty good team on paper. Winning four straight against a pretty good team, regardless of whether or not the Habs have solved them, will be very difficult.
But, hey, that neat spelling thing… am I right?
You also can't spell "Canadiens" without "die," but let's conveniently ignore that…
Getting Results
Even if the Habs don't manage the impossible feat, there's something undeniably comforting in how they finally got the results they were looking for on Thursday. Call it vindication, proof that they actually belong in this series, with fans' eyes telling them the Habs perhaps deserve a 2-2 split at the very least. They had been outshooting Tampa Bay all series long, but had (very) little to show for their efforts.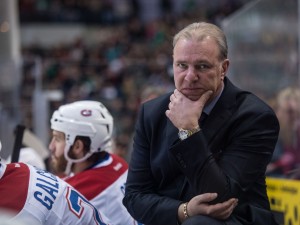 Now, having adapted to earn higher-quality scoring chances, the Habs and Therrien deserve credit for actually showing up in Game 4, when it would have been all too easy to just go through the motions and lose, facing the unenviable task ahead of them. One can argue that the hardest part is now behind them.
It isn't really, but look at it this way: Almost every single thing had to go Montreal's way from the get-go on Thursday night for them to stand a chance. Had the Lightning scored first, who knows how the Habs would have responded to that first sign of adversity?
Sure, up to that point, they had been generally good about not giving up (Game 2, notwithstanding, of course). But, down 3-0 in the series and 1-0 against a team that they had had trouble scoring against in the series' potential deciding game? Throw in the towel now and avoid heartbreak later on by the time the final horn sounds.
It would have been understandable. Thankfully, following their first win of the series, they're more emotionally invested in the outcome of the series. They're more likely not to go gentle into that good night, however Games 5 through potentially 7 start.
Obviously, Montreal didn't end up encountering much resistance against a lackadaisical Tampa squad that clearly took their good fortune up to three minutes into Thursday's first period for granted. And instead of folding, Montreal got the bounces they had been seeking, had been needing all series long.
Lucky Is as Lucky Does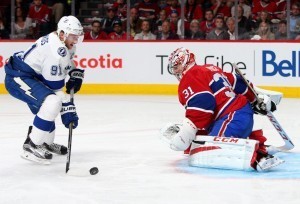 During the first three games, their PDO, which combines shooting and save percentages to estimate "puck luck" stood at .910. Anything below 1.000 suggests an upward correction is in order. Tampa's was 1.09, suggesting just the opposite. In Game 4, their ratings were 1.067 and .933 respectively.
Now, PDO generally has more significance when measured over longer periods of time, but the conclusion is pretty obvious: For all that went Montreal's way in Game 4, they weren't nearly as lucky as Tampa had been over the first three games of the series. Maybe just maybe, the Canadiens have more room to maneuver upward from here on out.
One way to look at it, in the spirit of having broken the cycle, is it will probably be as hard as hitting for the cycle is in baseball… or, you know, coming back from three games down. That apparently exists in that sport too.
In any case, the Canadiens have just gotten their first hit, a home run for all intents and purposes (and are coincidentally on their way home to the Bell Centre as we speak).
It's unlikely the Habs will explode for six goals again. They're no doubt welcome to, but Tampa is unlikely to willingly serve up another one straight down the plate like that the rest of the series (and the analogy would kind of fall apart if they do). The Canadiens are more likely going to have to strategically eke out a few more, picking their spots all the while, with the potential for maybe one more semi-comfortable win left in them.
Not everything has to go perfectly right for Montreal in the process… just right enough. That's what strikes are for. And just like batters tend to generally get four at-bats every outing, so does Montreal here. As long as at each time they get a hit, they're set. But their first out?
Best not to think about it.
You can alternatively think of it as sudden death, or, seeing as the Habs have essentially lost twice in overtime already this series, maybe not. The fact remains, despite making it look easy in Game 4, the Habs are in tough, tougher than leather on a still-bucking bull. No one will be able to blame them for not pulling it out. Everyone (outside Tampa) wants to see them try.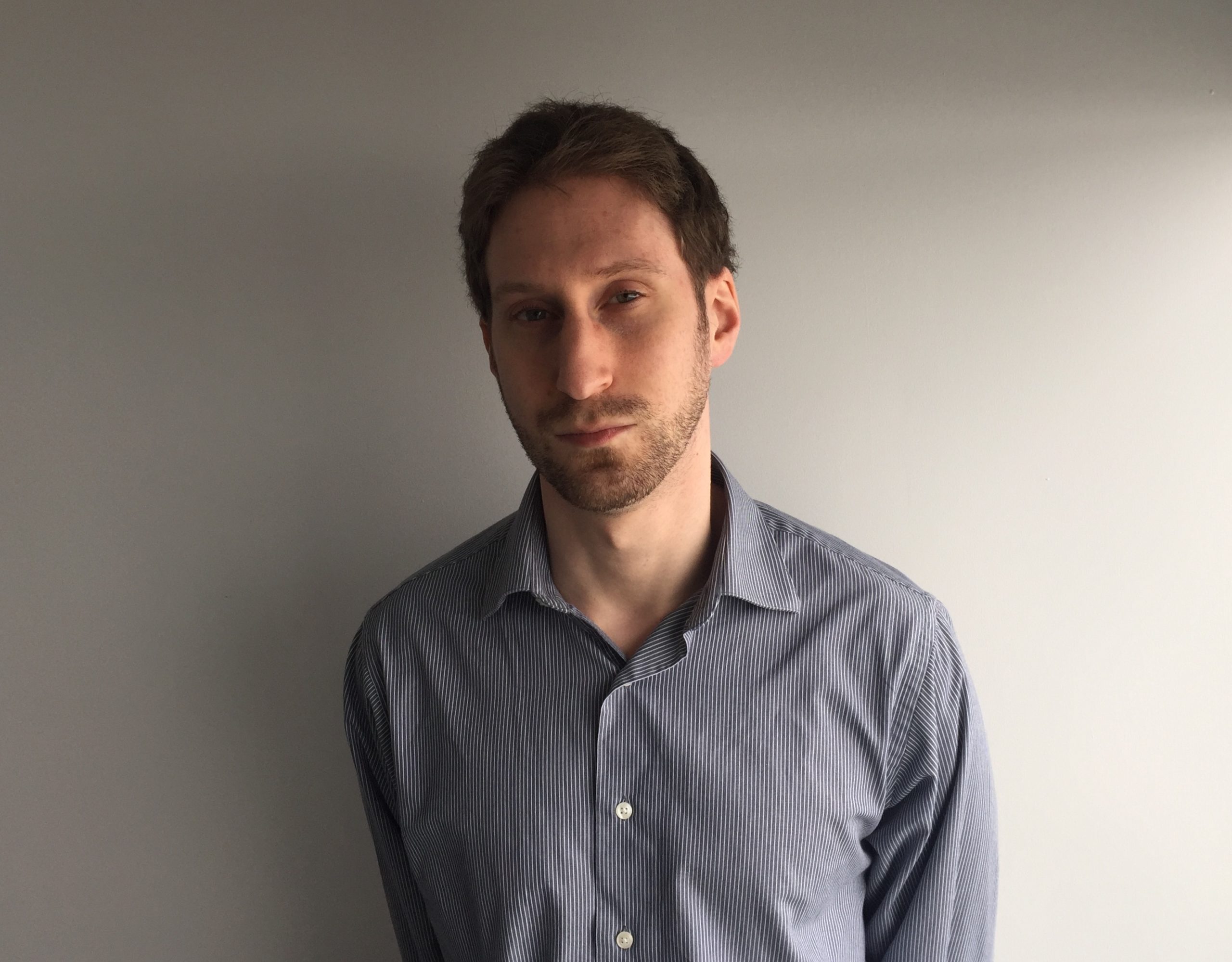 After 10 years of writing hockey, Ryan decided it was as good a time as any to actually join The Hockey Writers for the 2014-15 season. Having appeared as a guest on such programs as CBC Radio One's Daybreak, Ryan has also written for the Montreal Gazette and Bleacher Report and worked for the NHL itself and his hometown Montreal Canadiens. He currently writes about all things Habs for THW, with it being a career highlight for him to have covered the 2021 Stanley Cup Final as a credentialed member of the press.