On Thursday night, Corey Crawford and the Chicago Blackhawks eliminated the Minnesota Wild from the Stanley Cup Playoffs.  For the last three years, it has been the same story for the Wild.  This year marks the third straight season that the Blackhawks have ousted the Wild from Stanley Cup contention.  In all three seasons, Corey Crawford has been a huge part of the success for the 'Hawks.
Back in 2013, Crawford dominated the Wild in five games with a .950 save percentage and 1.32 goals against average.  His performance against the Wild was arguably his best of the playoffs in route to a Stanley Cup for Chicago that season.
In 2014, the Blackhawks disposed of the Wild in six games.  Crawford was solid again and posted another goals against average under 2 (1.97).  After beating the Wild, the Blackhawks ended up losing in the Western Conference Finals to the Los Angeles Kings.
This season, his performance against the Wild in the playoffs may have been his best.  In a series sweep, Crawford played extremely well.  He held the Wild to a shutout in Game 3, and made at least 30 saves in each game of the series.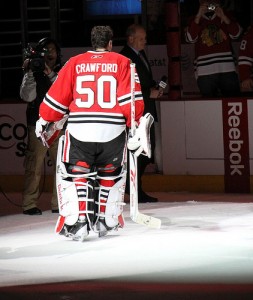 The most impressive part of his performance, could be his ability to rebound.   The Montreal-native was not very sharp in the opening series against Nashville.  He was pulled after one period of action in Game 1, after he surrendered three goals on 12 shots.  In the second game of the series, Crawford was not much better, allowing six goals in an embarrassing loss on the road.
After Crawford's shaky play in the first two games, Chicago turned to Scott Darling to keep the Blackhawks in it.  Darling was one of the best stories of the season in the NHL, and the rookie held Chicago in the series until game six, when Crawford game in relief.  After making 13 saves in his relief-effort, Crawford would not look back.
The Chicago Blackhawks are loaded with talent, but the backbone and most important player on this team is Corey Crawford.  Despite Scott Darling being an extremely capable backup, the 'Hawks Stanley Cup chances rest squarely on the 6'2" netminder's shoulders.  With Crawford's contribution, the Blackhawks await the winner of the Anaheim Ducks – Calgary Flames series.
Zach is a hockey-fanatic on the North Side of Chicago with a passion for the NHL and college hockey.