We all need to hear good news. Blue Jackets TV analyst Bill Davidge gave us some of the best news anyone can give us.
On Tuesday, Davidge tweeted that his treatments have eliminated 90% of his cancer. In addition, Davidge is also in remission. He got diagnosed last year with multiple myeloma.
For those that are not familiar, multiple myeloma is a cancer formed by malignant plasma cells. Normal plasma cells are found in the bone marrow and are an important part of the immune system. When plasma cells become cancerous, they produce a tumor called a plasmacytoma. These tumors generally develop in bones, but they are also rarely found in other tissues. If someone has only a single plasma cell tumor, the disease is an isolated plasmacytoma. If someone has more than one plasmacytoma, they have multiple myeloma.
The good news is that multiple myeloma is highly treatable when caught early enough. Davidge expressed his confidence in the battle in a statement last September.
"This diagnosis has been extremely difficult but with a great team of doctors – particularly Dr. Joe Ruane, Dr. Mike Harrigal, Dr. Peter Kourlas and Dr. Don Benson – a loving family and the support of my Blue Jackets family, I am going to attack this disease with everything I have and am confident I'll win this battle. I am looking forward to continuing my work with the Blue Jackets on FOX Sports Ohio this season and interacting with the best sports fans in the world."
OUTSTANDING NEWS…treatment has eliminated 90% of the cancer and am in remission. Thanks to ALL for your prayers!!! pic.twitter.com/s8z2EmMmav

— Bill Davidge (@bdavidge99) September 29, 2015
Anyone who has interacted with Davidge knows just how genuine and kind he is. Reaction to this news started pouring in from all different parts of the hockey world.
@bdavidge99 great news – good luck Bill

— James Mirtle (@mirtle) September 29, 2015
@bdavidge99 That is great news Bill. Congratulations

— SiriusXM NHL Network Radio (@SiriusXMNHL) September 29, 2015
@bdavidge99 makes for perfect start to our season! Look forward to sharing that desk with you again soon.

— Brian Giesenschlag (@BGiesenschlag) September 29, 2015
@bdavidge99 So happy to hear. Wishing you the very best and continued success.

— Craig Button (@CraigJButton) September 29, 2015
@bdavidge99 GREAT news Billy! Will see you soon!

— Matthew McConnell (@mattycoyotestv) September 29, 2015
https://twitter.com/RogMillions/status/648909030602113024
The great news is that Davidge will be a part of the Blue Jackets broadcasts this season in his usual analyst role. Just think how incredible this really is. Davidge tweeted what his treatment was as of the end of this past July. Treatment included both shots and chemo pills. He had to have two shots per week given to him for five weeks. He also had to take chemo pills daily. Through it all, Davidge maintained his fight and vowed to get through it. His story is an inspiration to many, including yours truly.
Davidge Inspires Us
I had the pleasure of meeting Davidge for the first time two seasons ago on a road trip to Nashville. You could see his smile from literally a mile away. We chatted right outside the Blue Jackets hotel after their morning skate. He asked me where I was from.
"Erie, PA", I told him. He smiled and said "Wow. That's true dedication, traveling that kind of distance." It was 10 hours from home. But it was what he said to me after that which really stood out. I'll never forget that moment.
Davidge told me "It is an honor to meet you. Hope to see you around Columbus sometime." He said that with the biggest smile on his face. I felt like a little kid. It genuinely felt like I belonged, as part of their family. I've never felt more proud of being a hockey fan than at that moment.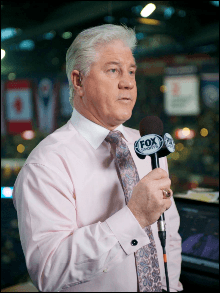 Fast forward to the start of the following season. I attended the Blue Jackets fan fest at Nationwide Arena. I'm walking around, taking in the sights of the evening. Next thing I know, I run into Davidge as he's partaking in one of the events that night.
He was taking pictures with fans as though they were doing a broadcast together. It was my turn to have my picture taken. I say hi to him and ask "Do you remember me from Nashville?" Not only did he say he remembered, he said that it was great to see me again. I was once again welcomed as part of a family. Davidge is one of the main reasons why I am here today, covering the Columbus Blue Jackets. He went out of his way to make me feel welcomed and included. I can't possibly thank him enough for the inspiration he provided me.
The thing is; this is who he is. He inspires us all everyday. He goes out of his way for the betterment of others. When you think of Blue Jackets hockey and the city of Columbus, Davidge is at the top of the list. He embodies everything that the team and city are about. Nationwide Arena is a better place with him in it.
In spite of the news, it didn't change who he was. It made him stronger. His story needs shared. Many are out there looking for some sort of inspiration. Davidge's story of overcoming and inspiring is just the good news many are looking for.
And for that, we thank him. Thank you for everything you have done and will continue to do. You are a true inspiration to many people throughout the hockey world. Your story has changed my life forever. You will always be a hero to me.
Keep on fighting the good fight Billy D. You have our unconditional love and support as the battle continues. You got this. We are all praying and continuing to believe in a full recovery.
The best is yet to come.