Thus far during training camp and the exhibition season, Finnish free-agent acquisition Joonas Donskoi has been the most talked about Sharks prospect. Dating back even to the rookie camp in July and the rookie games against the Anaheim Ducks earlier in September, Donskoi has shown the skill set of a regular NHL player. At 23-years old and a long time veteran across the pond in his homeland, the 2010 fourth-round pick of the Panthers likely doesn't need any AHL seasoning. If Donskoi does indeed make the club, the Sharks could roll out four really good lines.
Throughout the preseason games the Sharks have been experimenting with their forward lines. Recently Donskoi got a look on the top line with Joe Thornton and Joe Pavelski. If Donskoi starts the year with the Sharks, that is by far the most likely spot where he will line up. The second line has been completely unaltered during camp with Patrick Marleau, Logan Couture and Joel Ward together from the first day. The third line wingers have been basically the same all camp in Matt Nieto and Tommy Wingels with either Chris Tierney and recently Tomas Hertl centering. Donskoi therefore doesn't look likely to start on either of the second two lines.
As for the fourth line, Donskoi is simply too talented and too raw to the NHL/North American game to play limited fourth line minutes. If he makes the team he will supplant someone like Tierney in the top nine. While Tierney is also not a typical fourth line player, given his performance last season, knocking him to the Barracuda would be an awful decision. He proved he belonged last year and as a fourth line center with say Raffi Torres and Ben Smith? That would be more like a 3B line than a fourth line. Tierney and Torres are top-nine talents and Ben Smith can play third line in a pinch.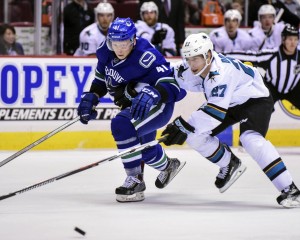 Donskoi—Thornton—Pavelski
Marleau—Couture—Ward
Nieto—Hertl—Wingels
Torres—Tierney—Smith/Melker Karlsson
The NHL is no longer just a two line league, no longer just a three line league, it's a four line league. Teams need four legitimate lines to win games night after night. If Donskoi can handle the top line minutes and score some goals, this Sharks team will be scary deep up front. There are a lot of people souring on the Sharks after missing the playoffs for the first time in 11 seasons a year ago but they have retooled quickly. Ward, Donskoi and Tierney are three extremely talented forwards that they basically didn't have last year (until Tierney came on late). Add these incredibly useful new forwards to a core forward group that hasn't lost anyone significant, and bam, the Sharks go from being a top-heavy team to a well balanced four-line team. Fans around the league hated on me earlier this offseason for being a homer, but San Jose's new found depth is a big reason why I have them winning the Pacific division. Not only are they deep up front but adding Paul Martin on the blue line has deepened their defense as well. On paper this is the best overall team the Sharks have ever had.