Before the season began, the Chicago Blackhawks organization dished up quite a bit for fans to digest when it came to what to expect of the team throughout 2020-21. From upsetting departures to confusing acquisitions to stating outright that this team was in a rebuild. With all that in mind, I did my best to look ahead and predict what would be their reality by the season's end.
RELATED – 4 Bold Blackhawks Predictions for the 2020-21 Season
As the Blackhawks hit the mid-point mark of their campaign, let's see how my foresight tracks thus far. Perhaps we'll even get a glimpse of what's the come the rest of the way, too.
DeBrincat Leapfrogs Kane to Lead Team in Points
The Prediction
It felt as though this could have been the year to witness Alex DeBrincat reach an even higher level of prowess. He was poised for a strong bounceback after a disappointing 2019-20 campaign. Although, it wasn't for a lack of trying. DeBrincat's average of 2.96 shots per game last year wasn't the problem. His conversion rate was.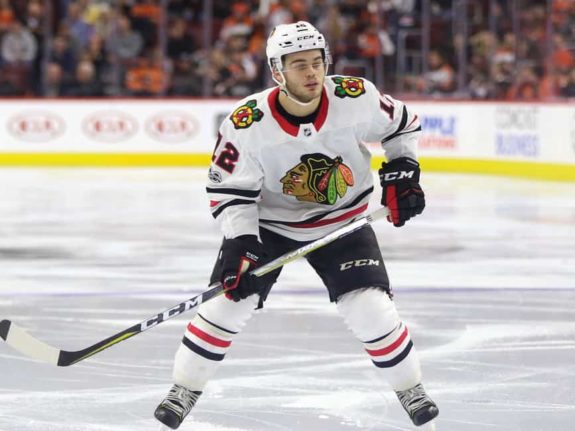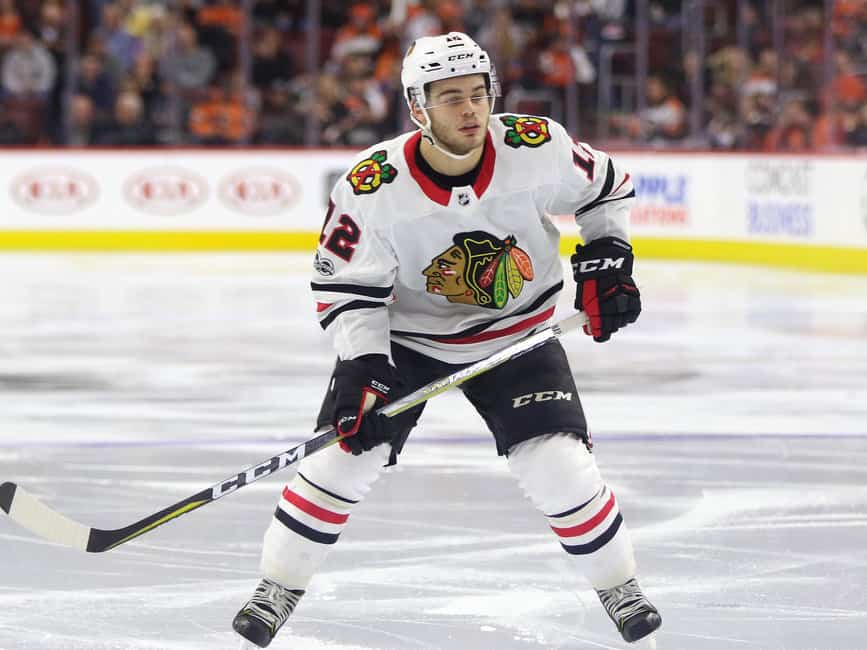 DeBrincat seemed due for a natural elevation, in that it was only a matter of time before his shooting percentage increased from beyond the less than 9% he was scoring at last season. It was also to be expected that his ice time would increase, with Chicago surely needing to rely on talent like his even more through a year to be filled with development.
And, while Patrick Kane had done nothing to suggest a downturn in his production, it just seemed this could be the season where he began to pass his torch straight to DeBrincat.
My Grade
Can I petition for partial credit? DeBrincat has certainly reached a new tier of dominance thus far throughout 2020-21. However, where I missed the mark was not giving Kane the credit he's obviously earned in suggesting he, too, could simply elevate alongside his younger counterparts.
28 games into the season, DeBrincat has played 24 of them and collected 29 points along the way — 15 goals, 14 assists. Even with an impressive pace of 1.21 points per game (P/G), which is the highest of his career thus far, it's not quite as good as Kane's 40 points and pace of 1.43 P/G.
Chicago's surprising success is, in large part, thanks to the effort of the players they need to rely on most — like Kane and DeBrincat. Even if Kane continues to light the lamp, DeBrincat finding a way to sit right behind him on Chicago's point totals list while progressing to new heights is a dual benefit to the Blackhawks. Expect them both to continue producing at will.
Suter Stands Out During Rookie Campaign
The Prediction
It might have seemed like a safe bet to give Pius Suter such praise heading into his first NHL season, given the fact that he was signed after being crowned the Swiss League MVP. However, this is the best league in the world and talent doesn't always translate in the same manner across continents.
Yet, something about Suter's resume seemed like he was poised to make an impact in Chicago. Perhaps it was recency bias, from having witnessed what teammate Dominik Kubalik did last year after following a very similar storyline that concluded with landing in Chicago.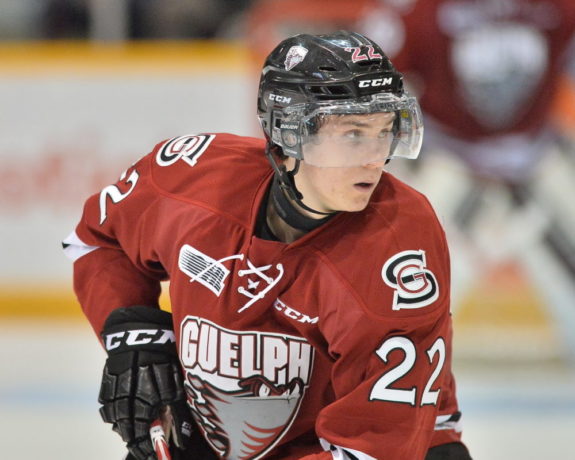 Regardless, Suter has showcased his goal-scoring abilities everywhere he's played. With this being a team that was set to rely on youth, it felt as though they'd be looking to infuse production from every possible outlet. Including another 24-year-old rookie.
My Grade
I think it's safe to say I'm acing this answer, so far. Leading all Blackhawks' newcomers with 8 goals and 5 assists through 28 games played, this undrafted star also sits in fifth on the team's point totals list. In fact, his current pace of 0.72 points per game is superior to the 0.68 that Kubalik set for himself last year.
It's not just that he's showcasing his skill within the city limits of Chicago. Among an impressive rookie class throughout the league, Suter is currently winning the goal-scoring race. As a bonus to the Blackhawks, three of his eight have even been game-winners.
If you're doubting his prowess based on the fact that it took him six games to score, then stop. In that same contest, he also banked his second and third for his first NHL hat trick. He hasn't looked back since, giving us a clear picture of what we should expect of the skilled Swiss for years to come. While he may be streaky with his scoring, expect Suter to stay in a top spot among rookies all season.
Delia Proves Poised for Starter's Role
The Prediction
Following having only played in 18 games with the Blackhawks since 2017-18, including not seeing any action with the pro club through 2019-20, it seemed fair to assume that 26-year-old Collin Delia would be front and center during this rebuild.
Chicago watched Corey Crawford walk, while Malcolm Subban waited to hear what role he'd fulfill. Despite Subban having had more experience at this level, perhaps Delia's patience with the franchise was due to pay off in the way of more playing time.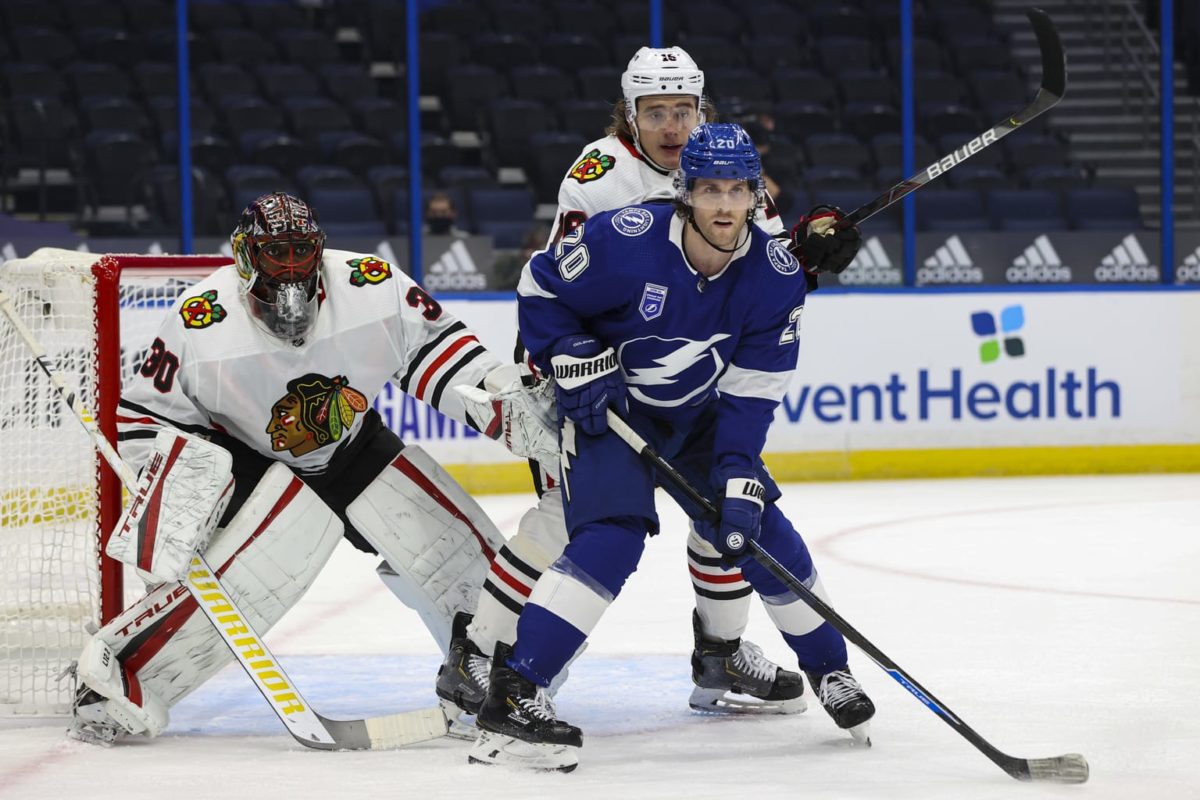 Heading into 2020-21, Delia had accumulated decent numbers during his time with the Rockford IceHogs, including a record of 46-32-7. Why not give him the chance to help steer Chicago's ship through this unique campaign?
My Grade
What's worse than a fail? I don't mind admitting when I'm wrong, especially if it results in optimism all around. After backing up Subban in Chicago's first game of the season, Delia got a chance to make his case through the two games that followed.
Unfortunately, the only thing he proved was that he wasn't yet ready for the opportunity. Delia allowed five goals in both losses, stopping only 63 shots of 73 faced and ended the short stint with a save percentage of .863. He hasn't seen Chicago's crease since, now spending time fine-tuning his game in Rockford.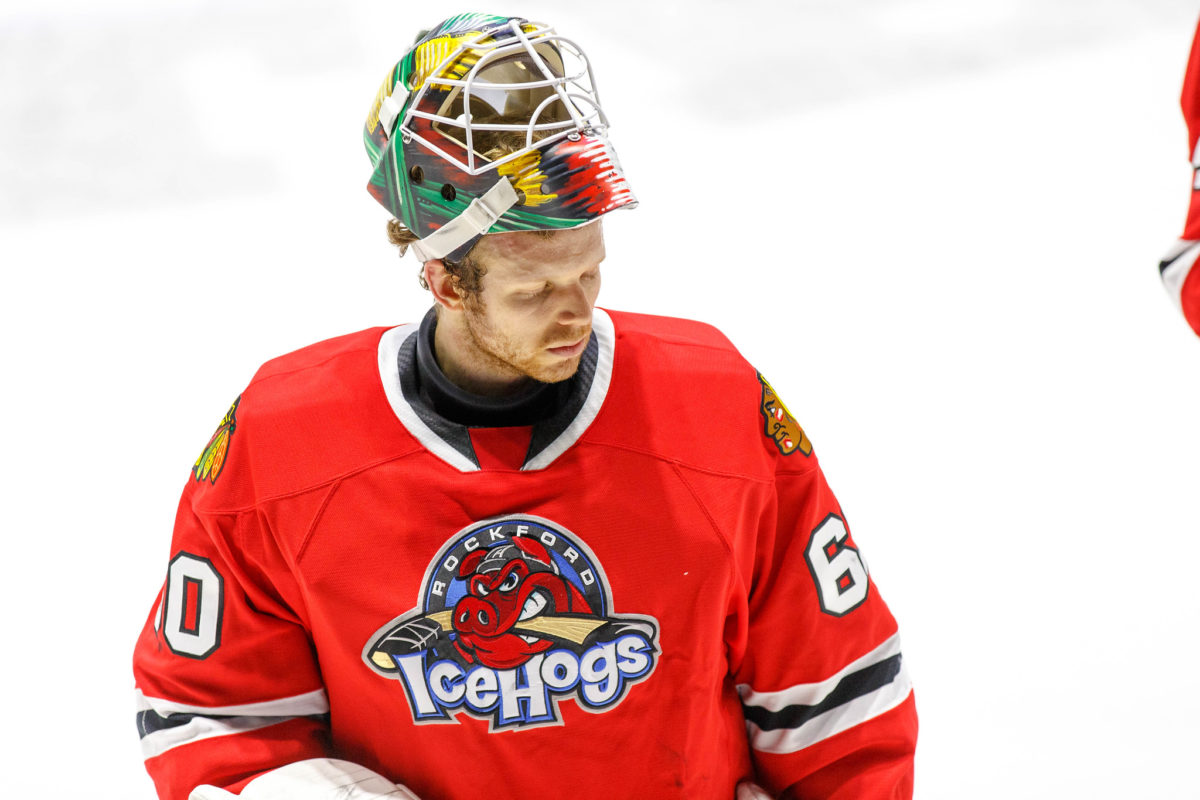 However, despite Delia finding himself in the midst of a less than ideal scenario, the Blackhawks forced a silver lining like no other after giving Kevin Lankinen the reigns. As the rookie netminder continues to perform at Calder Memorial Trophy standards, the possibility of Delia finding retribution fades further and further away. This is now Lankinen's net to lose.
Blackhawks Don't Finish Last in Central
The Prediction
Despite the fact that Chicago management was as clear as can be in expressing their plans to promote development through a rebuilding approach, it didn't seem like they'd be the club to end up at the bottom of their division's barrel.
Most, of course, expected to witness the Blackhawks' struggle. All the aspects of their offseason made it difficult to assume otherwise. However, this team consistently proves they are not the type to bow out without a fight. And this season would be no different.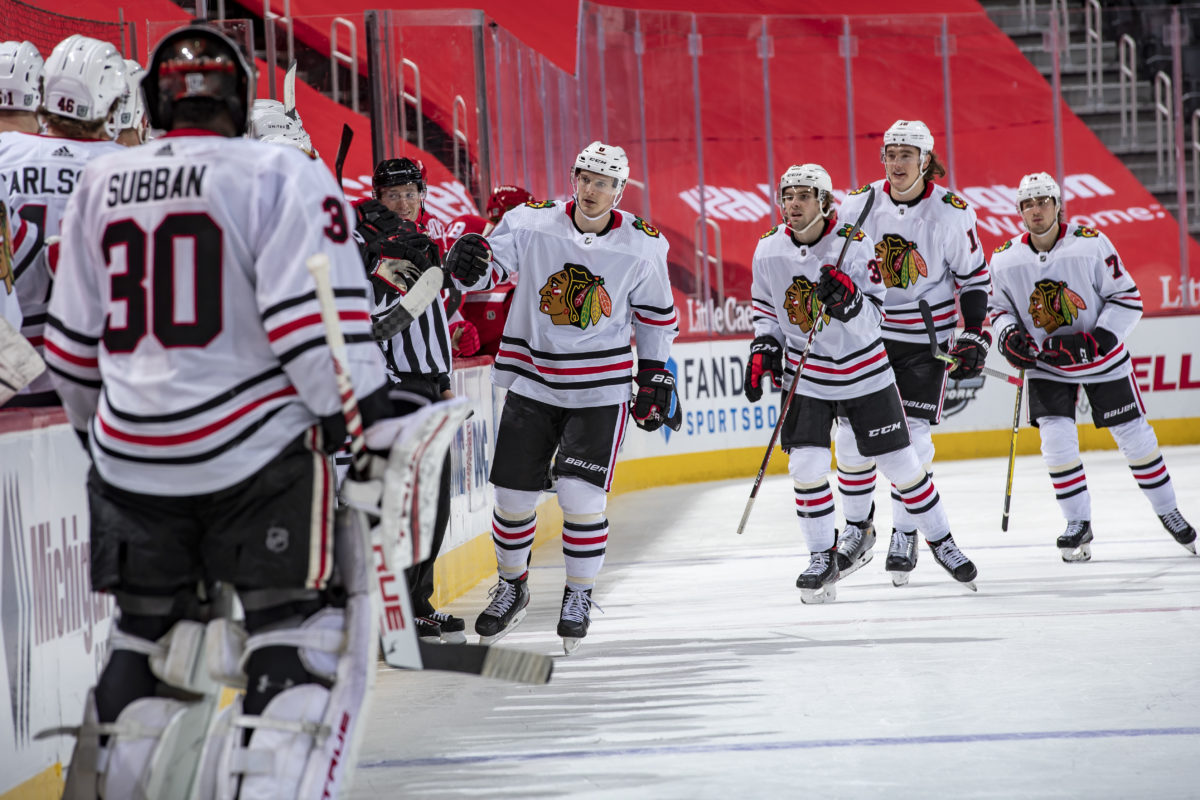 On top of it all, regardless of how Chicago's lineup would end up navigating its path, the Detroit Red Wings appeared poised to still face some rough terrain ahead. Even if the Blackhawks were battling for last, I assumed the Red Wings would beat them to it.
My Grade
Admittedly, the odds were in my favor here given that the Blackhawks simply needed to avoid being ranked last among the eight in their division. However, credit is still due for calling this one correctly. The fact remains, many expected Chicago to be so bad that last place was more than just realistic.
Well, not in my books. As noted, Chicago has never come across as the type of club to succumb to skeptics. While I certainly expected them to be struggling more than they have thus far, I also felt like their inherent ability to compete would ensure them a spot within the top seven. Besides, it's not as though all their talent was being taken away.
Lo and behold, they really wanted to make sure I nailed this prediction. Not only are they above being in the basement of the Discover Central, but their 14-9-5 record and .589 points percentage actually have them in a playoff position at the mid-point of the 2020-21 season. And I'm betting on the Blackhawks to maintain their top-four spot.
Mid-Season Report Card
With some creative calculating, since there is no real way to quantify these predictions, it would seem I'm beyond just a passing grade at this point in the season. Despite an outright failure at my goaltending guess, the other three topics provide a positive mix of correct assumptions and successful storylines.
DeBrincat continues to showcase how dominant he already is while finding ways to elevate to new heights; Suter is beyond being among the Blackhawks' best rookies, as he's been noticed league-wide; and this team isn't merely avoiding a last-place finish, they are actually pushing their rebuild boundaries as they battle for a playoff berth.
RELATED – Blackhawks Redefining What It Looks Like to Rebuild
Chicago has the latter half of this 2020-21 campaign in front of them, to either propel this progress or fail to leverage the unexpected momentum. If they maintain the pace they've now set, one has to assume our year-end recap will also include what can come of their potential through the 2021 Stanley Cup Playoffs.
Blackhawks Banter Is a Guarantee
No predictions are necessary to guarantee that our crew will do all we can to keep you entertained and informed on our weekly show, Blackhawks Banter. Subscribe to our YouTube Channel, like our Facebook Page, and follow us on Twitter to stay up to date and catch every episode.
---
---