Chicago Blackhawks' management left little to the imagination when they explicitly communicated that a rebuilding approach was upon them. With the downturn in fortune that this fan base has witnessed over the past few years, Chicago's loyal supporters deserved an honest outlook. Besides, it was in the organization's best interest to set the bar low, anticipating such results would follow.
And that is exactly what they hoped to accomplish when outlining their plans in the pre-season.
"We're committed to developing young players and rebuilding our roster," the Blackhawks said Tuesday in an open letter to fans posted on social media. "We want more than another window to win; we want to reach the summit again and stay there — an effort that will require a stockpile of emerging talent to complement our top players. The influx of youth and their progression will provide roster flexibility and depth throughout our lineup."
So, we all prepared ourselves for what we were being led to believe would be one of Chicago's ugliest campaigns in recent history. Kicking off 2020-21 with four straight losses fell right in line with those expectations. But then the Blackhawks began to change their fate and they haven't looked back since.
While remaining competitive during a rebuild is far from impossible, the standard of play this roster has already achieved through theirs is beyond the norm.
Traditional Rules of Rebuilding
A rebuild, at its core, generally revolves around the youth of that respective roster. Expected struggles through foreseeable growing pains inevitably mean higher picks in subsequent drafts. Theoretically, that coincides with a greater probability of adding guaranteed talent to directly improve the club's future. 
Case in point, the Blackhawks' lackluster 2018-19 resulted in their ability to select Kirby Dach third overall at the 2019 NHL Entry Draft. Dach is now poised to be a potential leader amongst the next generation of this franchise.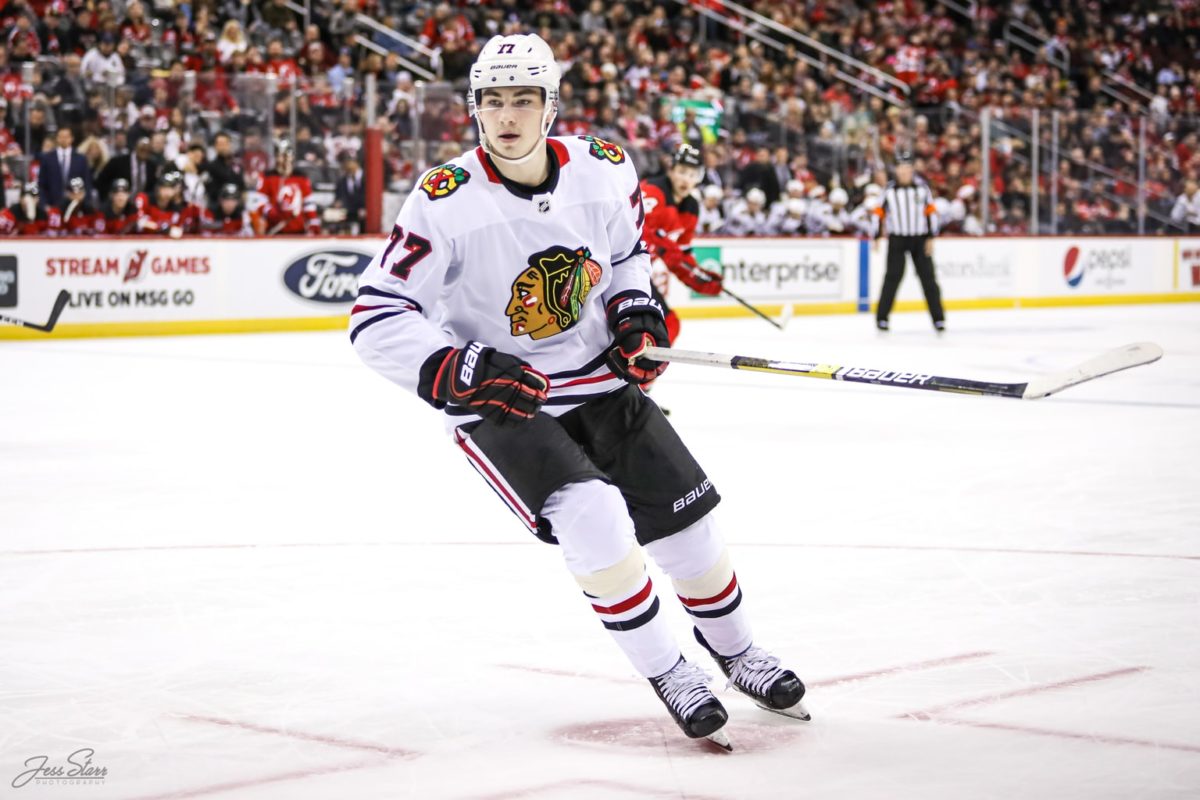 Ideally, a new class of prospects then develops alongside one other to such a degree that an organic cohesion forms. Thus, the team becomes more competitive than it was before that cycle began. Hence, they've rebuilt.
The Blackhawks have taken a different approach. Rather than relying on their youth to navigate the ship this season, they instead chose to balance their sails by incorporating a veteran presence.
RELATED: Blackhawks Not Wrong Sending Dach to 2021 World Juniors
Seemingly counterproductive towards ensuring an advantageous draft position, it's proving to be a path that's guiding them in the right direction. Chicago's most inexperienced are more willing to take chances, thereby expediting their development, knowing there is a safety net of experience that surrounds them.
Chicago has effectively synergized both ends of their age range, despite the nearly 20-year gap within it. They are all there with the same goal in mind — to complete. That's a powerful approach, benefiting everyone involved.
Preseason Moves That Set Their Stage
When your offseason includes losing one of the most successful goalies in franchise history in Corey Crawford, failing to load up on prospects from another trade involving Brandon Saad, and acquiring a host of veterans in preparation for a year that was to be led by youth, it doesn't necessarily speak to the start of a successful rebuild. Yet, so far, it's working.
RELATED: 4 Bold Blackhawks Predictions for the 2020-21 Season
Their plans didn't seem quite clear when the Blackhawks began to add more age. Nikita Zadorov (25), Lucas Wallmark (25), Mattias Janmark (28), and Carl Soderberg (35) all immediately aligned with the elder half of this group upon their arrival.
It's not that these players haven't proven to be impactful throughout their careers. They simply made an aging roster older, on a team that should have been focusing on an opposite approach. Plus, with development as the priority, why add years to your lineup's average age when you have prospects who can fulfill the same roles?
While there could be an argument made that they were brought in for their leadership abilities, the Blackhawks already had that area covered with players like Calvin de Haan (29), Ryan Carpenter (30), Jonathan Toews (32), Patrick Kane (32), and Duncan Keith (37).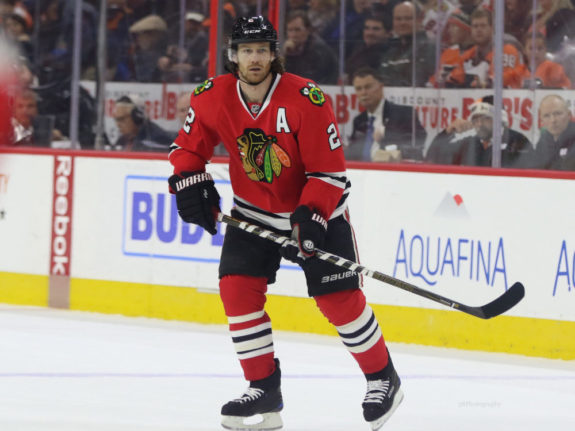 As confusing as these additions seemed, relative to what a rebuilding game plan should entail, each has played an important role in establishing a winning attitude up and down the lineup. These newcomers are not in the way of the youth movement, they're guiding it along.
Not Accepting Lowered Expectations
Despite any internal turmoil centred around how their offseason communications were perceived throughout the organization, those who represent it on the ice rarely resort to waving the white flag. Although we all anticipated a tough-to-witness type of season, clearly they weren't willing to succumb to such lows.
Grading any group's potential starts behind the bench. While Jeremy Colliton has often found himself at the centre of attention for the wrong reasons since taking over the role in 2018, signing a two-year extension at the start of 2021 granted him an opportunity to revive his reputation.
Not only are Chicago's proven performers still putting in the work to play at their peak, but they are also providing invaluable levels of mentorship to those that get to develop alongside them. From rookies making their debut to stars who have been producing for years, there is a collective buy-in from everyone to be at their best.
Prospects Making Most of Opportunities
The unique nature of how the 2020-21 season was structured opened up a window of opportunity that may not have been possible otherwise. While the benefits of a taxi squad are laid out in the same manner for every team, some have found ways to extract more from theirs than others. Chicago is one such example.
RELATED: Colliton Sets Sights on Success With Blackhawks
As onlookers are forced to learn new names and numbers with the influx of players making their way into the Blackhawks' lineup, each has proven they belong. Nicolas Beaudin, Lucas Carlsson, Brandon Hagel, Philipp Kurashev, and Kevin Lankinen have now become household names. You can expect the same of Wyatt Kalynuk, as well.
This is a rarity, even as far as rebuilds go. Yes, younger players get to see more playing time, but they don't typically showcase this level of talent from the start. While the support of their colleagues is complementing the trajectory of Chicago's prospects, the reality is that it's still on each of these athletes to make good on the opportunity. As they continue to, the team's overall results are all the better for it.
Goaltending Far From a Negative Storyline
One such example of a rookie making their case for earning a more permanent role on this roster is coming from the position that sparked some of the greatest pre-season concern. Where many found reasons to doubt the Blackhawks' inexperienced goaltending duo of Collin Delia and Malcolm Subban, no one foresaw Lankinen swooping in to quiet the critics as quickly as he has.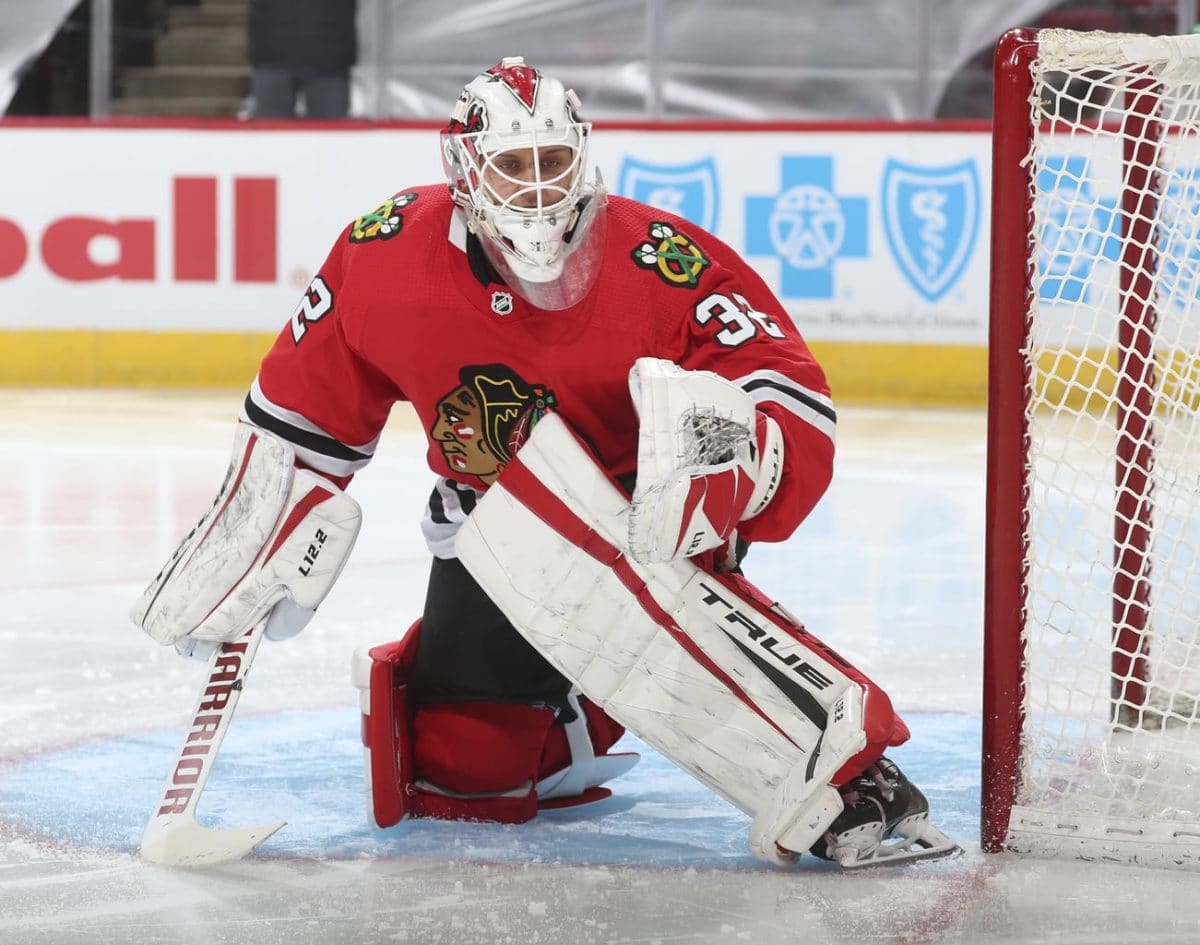 Following some early season struggles from their two front-runners, it was time to roll the dice on Lankinen. He made their taxi squad for a reason, so it only made sense to give him a shot. Well, he's quickly turned into Chicago's go-to following such a stellar start to his NHL career.
Lankinen is managing the majority of the workload, playing nearly 70% of their games. He's maintaining a save percentage (SV%) of over .925 and goals-against average (GAA) of under 2.50. He's also already achieved his first shutout. These numbers transcend normalcy for what to expect out of a rookie netminder. 
RELATED: Blackhawks Star of the Week: Lankinen
Connor Hellebuyck, the 2020 Vezina Trophy winner as the league's best goaltender, ended the 2019-20 campaign with a .922 SV% and 2.57 GAA. With Hellebuyck widely considered amongst the elite in the league, that's pretty good company for Lankinen to be in.
That said, we shouldn't be surprised to see more of Subban and Delia throughout the course of the season. This is still a year wherein growth opportunities have to be the organization's priority, whether that development helps the team directly or works to increase the value of their assets.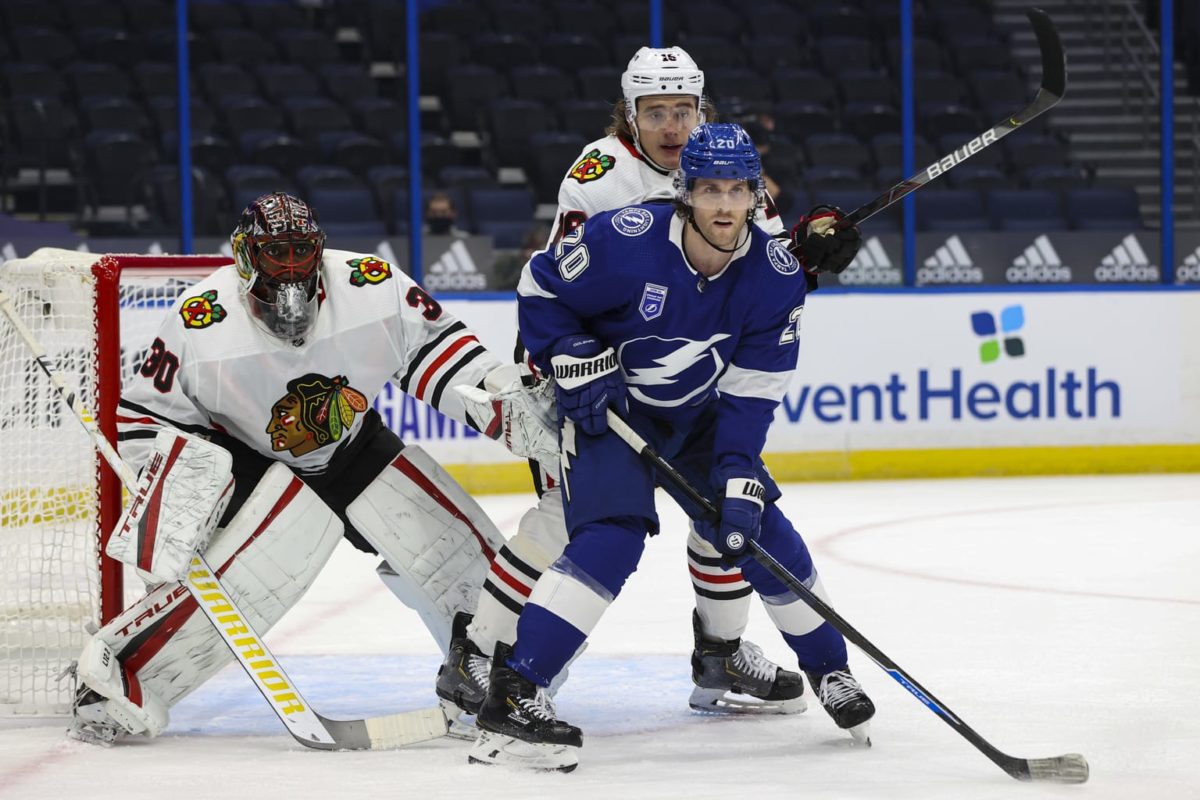 Besides, if all are actively competing for the crease, it's a positive across the board. The expected elevation in play from each puts their team in a better position to compete, every single night. For now, however, Lankinen's results have done all the talking necessary to make it his net to lose.
Star Power Shining Bright
If you were to guess who would lead the Blackhawks in production this season, it's likely that you would have said Patrick Kane, Alex DeBrincat, and Dominik Kubalik. And justifiably so.
While Kane will continue to be Chicago's predominant superstar for as long as he's there, DeBrincat is enjoying a well-deserved bounce-back season, and Kubalik continues to prove that his rookie success was far from a one-off.
These three currently sit atop Chicago's point totals list and are expected to remain there by season's end. While prolific prospects can do wonders for a franchise, having their stars show up is always a necessary ingredient for success. The Blackhawks are currently on the right side in both regards.
Taking Every Advantage Possible
Not to be overlooked amidst all the individual components that are coming together as effectively as they are for Chicago, is their ability to capitalize as a team. When granted an extra-man opportunity, it requires the whole system to take full advantage.
Chicago's early-season prowess seemed less like the expectation and more so an exception. However, they're now maintaining a power-play percentage of over 32%. Even if that isn't sustainable, it doesn't diminish how far they've come when compared to their special teams' struggles through 2019-20.
What this illustrates is a strong implementation of their strategies, along with evidence of effective cohesion. Neither typical of a team in rebuild mode, as those such squads often struggle to take advantage of these scenarios.
As most anticipate that Chicago will find its way back towards the league average in this category, they continue to prove their doubters wrong. Just like they have with every other aspect contributing to their success this season.
Keeping the Competition Close
Chicago's trend, thus far, has seen them battle through some rather close match-ups. Nearly 75% of their games have been decided by two goals or less and they've secured at least one point in three out of every four of those contests.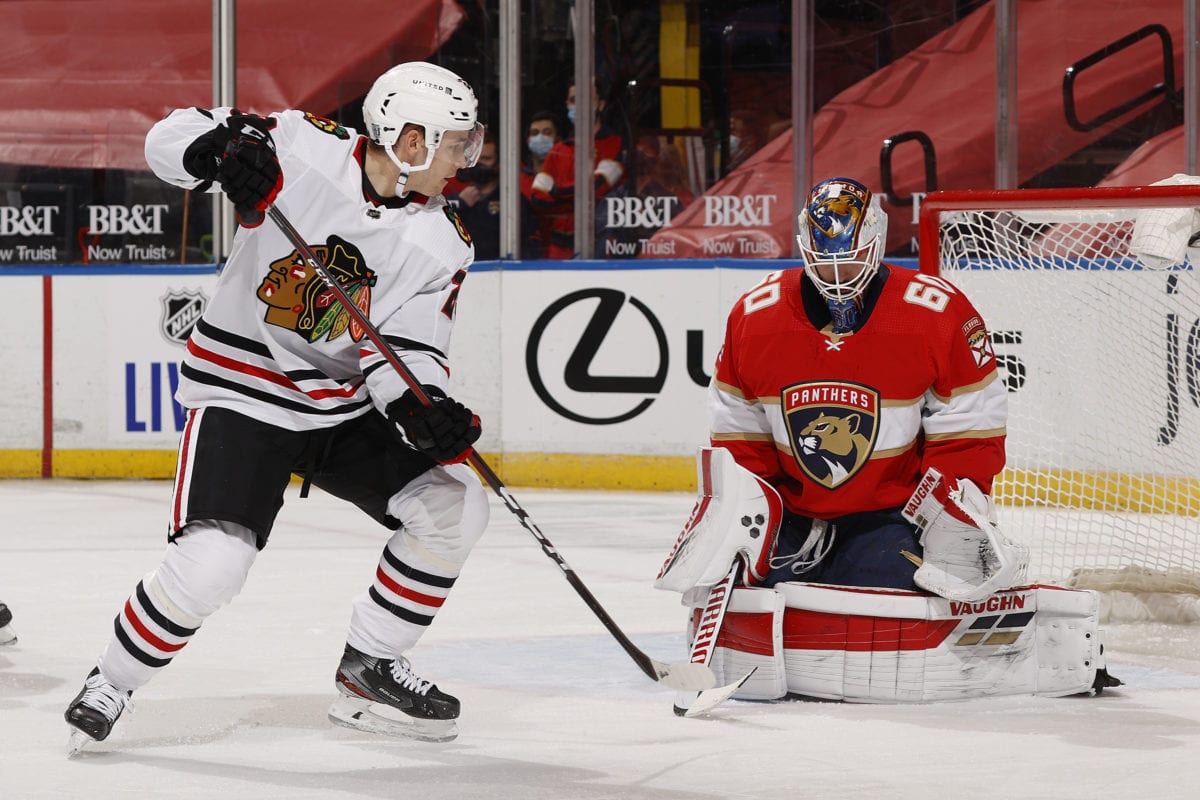 While winning by the largest margin possible is always the preferred path to victory, that's more typical of the teams set to do the most damage in any given year. The fact that a rebuilding roster is able to keep things as close as they are, speaks volumes to its development and capabilities.
And it's not just that these Blackhawks are finding ways to make it difficult for strong squads that have to face them. They are also earning success through those close matches along the way.
RELATED: Blackhawks Weather the Storm Against Hurricanes
Rebuilding teams are generally looked at as an easy two points and stat-padding opportunity for contenders. Chicago has been anything but so far this season. What's more, is that they haven't had to obsess over potential pain inflicted upon them, as they've done their share of hurting those who take them lightly.
The Right Recipe to Rebuild?
While no real fan would ever hope for their team to lose, the reality is that inconsistent success does little for long-term growth. Average results often perpetuate a cycle of mediocrity.
It's then that some supporters start to proclaim that failure in the short-term might not be the worst option if it leads to a brighter future. That doesn't mean one should ever expect professional athletes to stop trying, nor does it grant a free pass for their fanbase to hope they do. It's simply an attempt to rationalize tanking.
REALTED: Blackhawks Banter: Calder Nods, Overtime Heroics, Scratches & More
Luckily for Blackhawks' fans, this is no longer the type of contemplation they face. Chicago has found a way to leap-frog a few steps in their rebuild manual. What should have felt like underdog upsets along the way, has become the standard they now hold themselves to.
This franchise already formulated into something much more than could have realistically been expected of them through 2020-21. Where they would have been justified in requiring at least the duration of this season to reach such cohesion, Chicago took an alternate approach in setting their bar higher than anyone else had for them.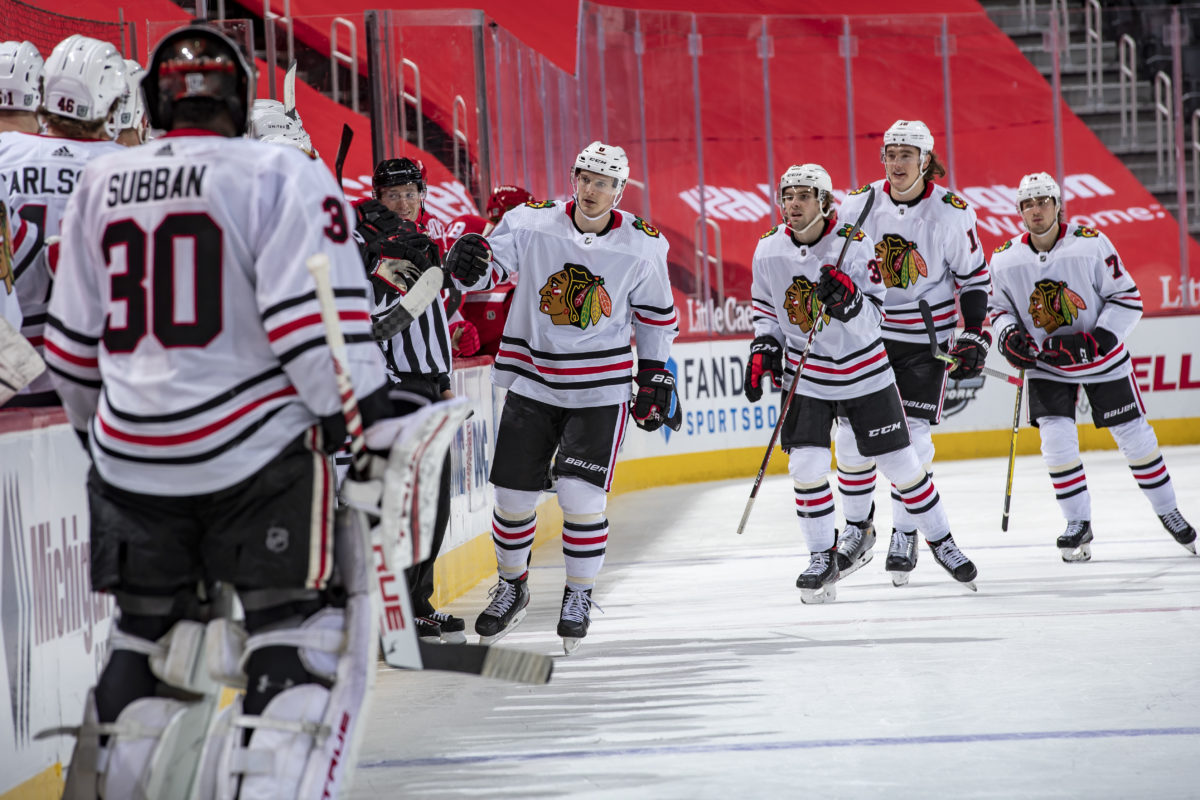 All the while, we see youth talent developing, veteran stars producing, and coaching strategies working. These are the desired outcomes of any successful rebuild. The Blackhawks are simply speeding up their process.
---
---