Training camp starts on Sept. 21 for the Chicago Blackhawks, and training camp is the perfect opportunity for the coaching staff to get creative with line combination tests for the upcoming season. Most fans are curious who Connor Bedard's linemates will be for his rookie season. His linemates are predicted to be Lukas Reichel and Taylor Hall on the first line, which would be great as they're the team's best talents. Even if that is on Chicago's mind, Bedard will still get a spin with different players at training camp to see where the chemistry and production lie. His former Regina Pats head coach, John Paddock, said that the linemates that work best with Bedard are at least one consistent player who can create plays at a high level and one that creates space (from 'Regina Pats coach John Paddock on Connor Bedard: Center or wing? Linemates? Expectations? – The Athletic – 05/16/2023).
With that in mind, here are some other lines that the Blackhawks could consider.
Option #1: Tyler Johnson- Connor Bedard- Taylor Raddysh
In June, one of our Blackhawks' writers, Connor Smith, wrote that the team should pair Bedard with Johnson because his Stanley Cup-winning pedigree and veteran leadership would be a good fit for Bedard, and I echo those sentiments. When looking at Johnson's tenure with the Blackhawks, his effect on the rookies has been spectacular. The first thing that comes to mind is how he was paired with Cole Guttman on the second line last season. He mentioned how much he loved playing with Guttman and how much they learned from each other. It also paid dividends for Guttman, who was one of their most consistent players in 14 games.
That line also created the seventh-most chances on the team with 102 and was tied for fifth-best in goals-for with six. In the same breath that Johnson praised Guttman, he also talked about building chemistry with Raddysh. They played on a line with Jonathan Toews and Jason Dickinson throughout last season and worked well together.
The results with Guttman show that they could be a good pair for Bedard. It gives Bedard a veteran who gets results out of his linemates, and it also gives him a good playmaking wing. With Raddysh, he mentioned working more on the physicality part of his game that helps create space. He also was the Blackhawks' second-best scorer with 37 points in 78 games and has a two-way element to his game, which would help Bedard. The team may keep Raddysh and Johnson as a second-line pair, but if they want to test them on the first line, Reichel and Hall can move to the second line.
Option #2: Lukas Reichel – Connor Bedard – Philipp Kurashev
Just like with the Johnson and Raddysh pair, Lukas Reichel and Philipp Kurashev give the coaches peace of mind, knowing they have proven chemistry. Reichel mentioned he loves playing with Andreas Athanasiou and Kurashev because they always try to make plays. They spent some time together on the first line last season, and one of the Blackhawks' most effective lines last season was Reichel, Max Domi, and Kurashev before Domi got dealt to the Dallas Stars. So, why not try that pairing again, but with Bedard? They're all playmakers and a lot of offense can come from it.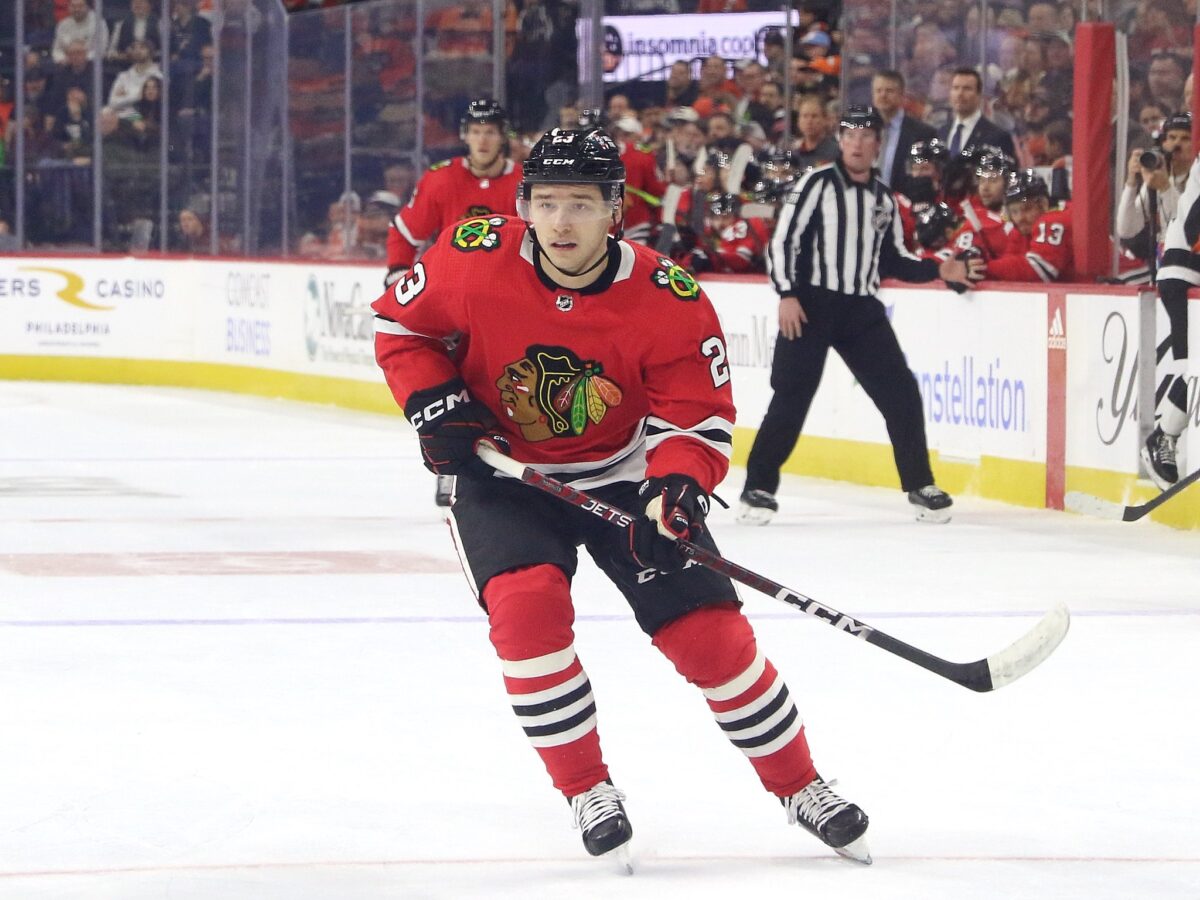 The only thing this line lacks is defense, but each team needs a line that can be relied on to score, and this could be it. Reichel and Kurashev played some of their best hockey together, and adding Bedard to it could be dynamite as they could all elevate each other's games. It would also be a very speedy line. I could see the team giving them a twirl.
Option #3: Taylor Hall – Connor Bedard – Taylor Raddysh
My colleague and fellow Blackhawks' writer, Gail Kauchak, brought this line option up, and this line would be fun. To start, Keeping Bedard and Hall together might be a priority for the coaching staff because Hall has a lot of experience and is always a threat for a scoring wing. Hall is also effective here because he can play his off-wing. He usually plays left wing, but also briefly played right wing last season with the Bruins, and he mentioned it is something he is used to. This gives the coaching staff options to be more creative with that line. This option differs from the presumed Reichel pairing because it would move Hall back to his usual left-wing spot.
Related: Blackhawks' Taylor Hall Can Shape Connor Bedard's Future
This line has the makeup of being very effective. Both Hall and Raddysh can bring physicality, but Hall can bring more of the playmaking element, and with Bedard's finishing touch, their different talents could mix well.
Option #4: Ryan Donato – Connor Bedard – Taylor Hall
This is my "out there" line combination. It is unlikely, but it could work. Keeping Hall and Bedard together in this line would be necessary as it would give some dependability on offense, but the wild card is Ryan Donato. He signed as a free agent from the Seattle Kraken. His game stands out to me because he is one of those "swiss army knife" players who can play anywhere in the lineup. He has experience in both the bottom six and top six. When he was signed, general manager Kyle Davidson said his versatility and depth were key components to the signing. He has a bite and energy to his game that could pair well with Bedard, which is that extra effort and doing the little things well, forecheck, digging in corners, etc.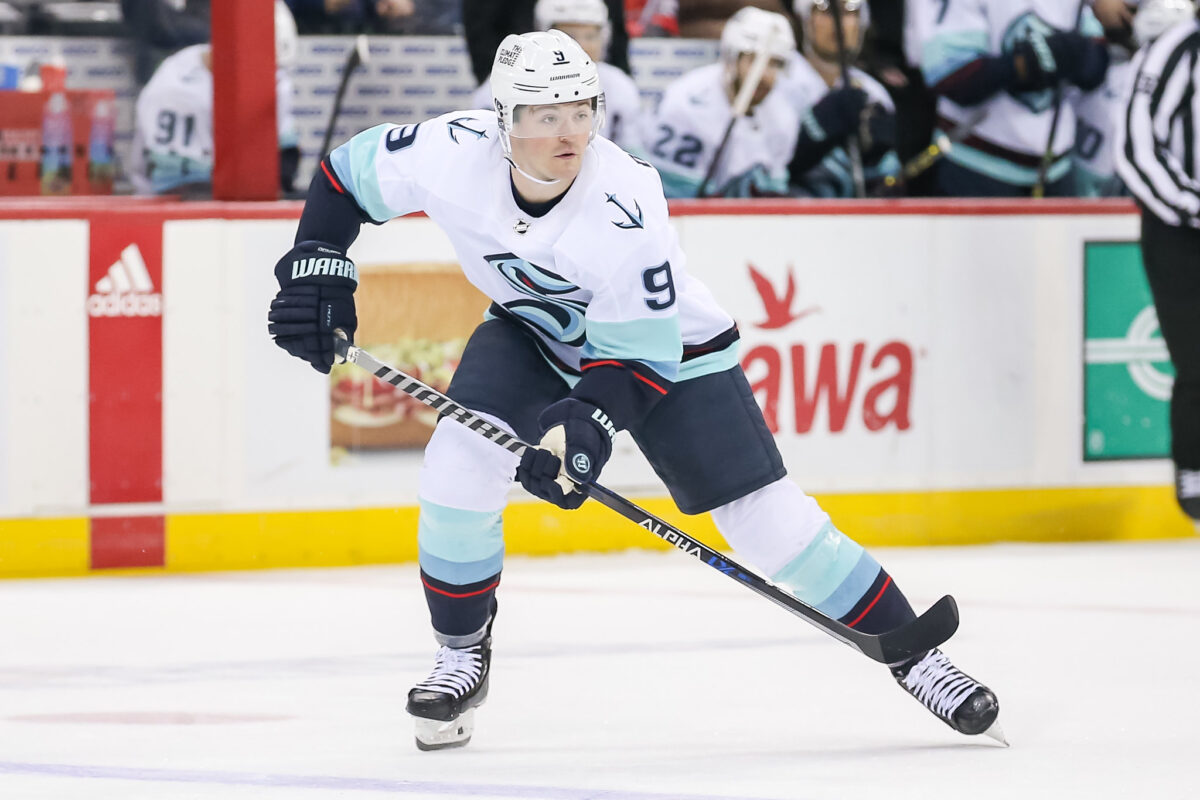 Last season, the Blackhawks put Sam Lafferty on the first line with Patrick Kane for the same reasons: because of his motor and work ethic. It makes the lives of teammates a lot easier. It wasn't a long-term solution and didn't work, but Donato could be different because he already has experience in that role. In contrast, Lafferty was always exclusively a bottom-six player.
Donato will likely have a consistent bottom-six role, but it could be something to consider if injuries arise or they need a spark. His feistiness can create havoc and give Bedard and Hall time and space.
Fan Choice: Philipp Kurashev – Connor Bedard – Taylor Raddysh
I asked Blackhawks fans on Twitter to come up with their most unique Bedard line pairings for me to include, and the winner goes to Logan (@LivingLikeLogan). This combination stood out to me right away. Last season, the line that played the most games together was Philipp Kurashev – Jonathan Toews – Taylor Raddysh, with 29 games, and they created the most chances with 243 chances-for and nine goals-for, which was second-best on the team, as there was a three-way tie for first with 10 goals for. This could be a sneaky good line.
Related: Philipp Kurashev Enters Pivotal Season With the Blackhawks
---
Latest News & Highlights
---
The Blackhawks want and frankly need, Kurashev to consistently establish a top-six role. He signed a two-year extension and is coming off a career-high 25 points, but he goes through extended hot and cold streaks. Therefore, putting him with a generational talent like Bedard could unlock his true potential. If not, it is what it is, but they should at least try. The stats show that Kurashev and Raddysh can create offense together, so Bedard could up the ante there. As Logan mentioned when he sent in this line idea, "I think it would be fun if nothing else." I agree!
Overall, Raddysh is a solid fit in many different Bedard line scenarios, so that could be something to watch. Also, these lines may seem far-fetched but remember that the lines you never think of usually click. The fun part of having a talent like Bedard is his talent and hockey IQ will make any pairing better and can complement every player's strengths, so possible linemates for him make for an exciting challenge as there is quite the selection. It's a long season, and players will be in and out of the lineup so that most players will get a turn, but training camp gives a great starting point to see which Bedard lines have "it."
---

---