The Arizona Coyotes have been troubled by past management, and former general manager (GM) John Chayka holds much of the blame. Chayka was the youngest GM in the NHL at the time, so there was optimism about what he could accomplish. But after several mishaps with drafting, trades, and free agency, it was clear he was not the right person for the job.
Related: Bill Armstrong's 4 Biggest Decisions as Coyotes' GM
After his resignation, the Coyotes needed someone to turn the ship around. They then hired Bill Armstrong, a grizzled veteran who had been the director of amateur scouting with the St. Louis Blues. "I didn't come all the way here to the desert to get a tan," Armstrong said. "I came here to win a championship." There was an immediate difference when Armstrong came to town; there was hope in the valley of the sun. However, Armstrong still had to push the team back into contention. It was not a small feat, but the 50-year-old tackled it head-on.
Tearing Down the Coyotes
When Armstrong took over the team, there were plenty of objectives he had to meet. After an embarrassing first-round exit in the playoffs against the Colorado Avalanche, the Coyotes' future was up in the air, especially with a new GM. After he made no moves during the 2020-21 season, that offseason, the team was stripped of many fan favorites, including Oliver Ekman-Larsson and Conor Garland, who were packaged together in a blockbuster trade to the Vancouver Canucks.
This was Armstrong's first of many moves as GM. shaping the future of Arizona. The Coyotes received expiring contracts in Loui Eriksson, Jay Beagle, and Antoine Roussel, but they also received something much bigger, the Canucks' 2021 first-round pick, which became winger Dylan Guenther, who is expected to play an integral role in the desert in the near future.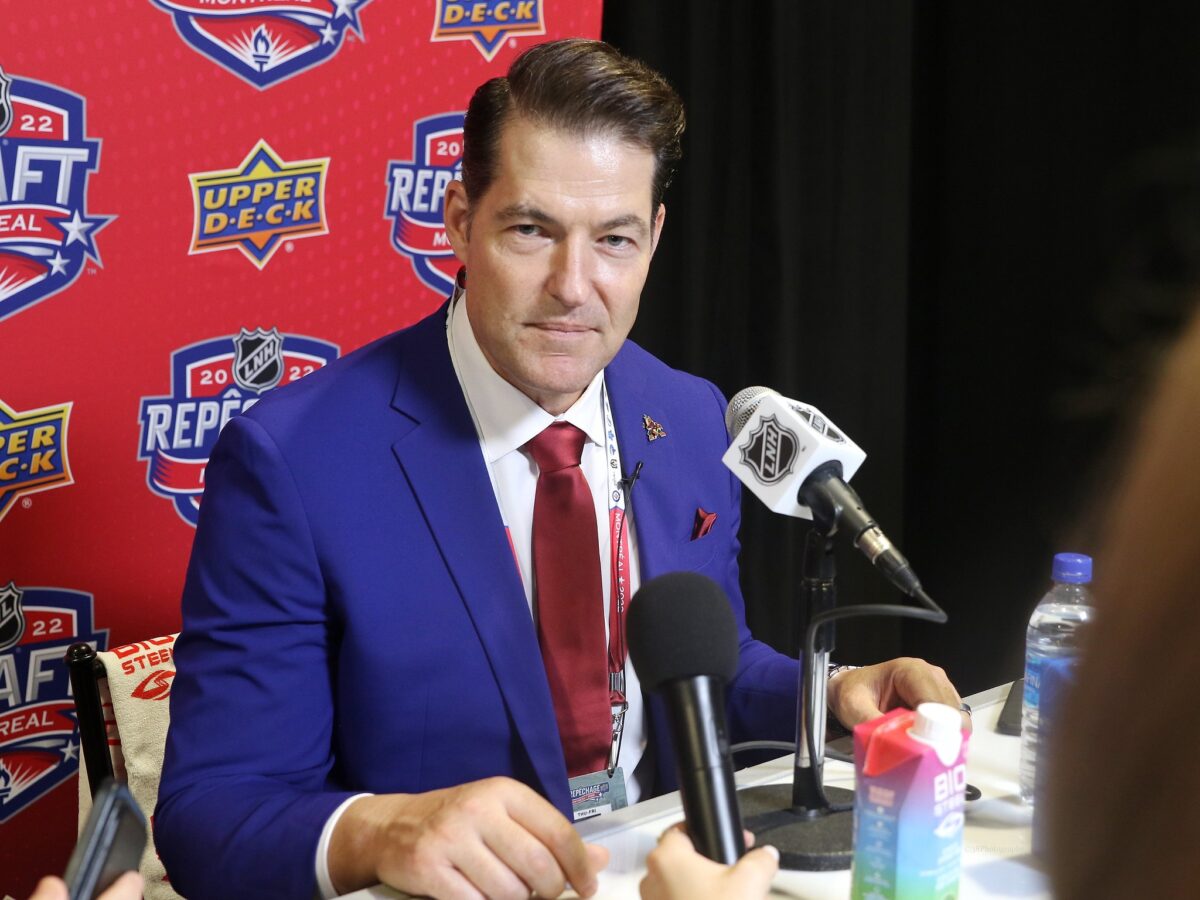 Even after trading away Ekman-Larsson, management needed to add more draft picks for future seasons. That's exactly what they did, trading Derek Stepan, Darcy Kuemper, and Chrisitan Dvorak for future assets. Although Armstrong had traded a plethora of players for draft compensation, he also opened the door to taking on bad contracts. He did an excellent job, acquiring Shayne Gostisbehere, Andrew Ladd, Anton Stralman, and Zack Kassian. While these players didn't necessarily help the on-ice product, they helped build a culture that made players want to play for the team. They built an identity for the Coyotes, and Armstrong didn't have to pay anything for that.
---
Latest News & Highlights
---
Armstrong received many second and third-round picks for taking on contracts, and turning those assets into players is vital to making a championship-caliber team. It appears he is doing just that.
Armstrong Turning Assets Into Players
During Armstrong's time in the desert, he has accumulated an absurd amount of draft capital. Through the next three drafts, the Coyotes have ten second-round picks, more than triple the average. Although, regardless of the number of draft selections, they must take the correct players to bring a Stanley Cup to Arizona. It doesn't need to be all of them, but hitting on just a few will elevate the roster to the next level.
Taking on two years of Andrew Ladd's contract, the Coyotes received three draft picks (one second-round pick was later traded), resulting in the team selecting Tanner Ludtke and J.J. Moser. While Ludtke has yet to play for the Coyotes, he has a bright future, and Moser has the potential to be a top-pairing defenseman – and Armstrong got him basically for free.
When Armstrong ended the Jakob Chychrun saga by trading him to the Ottawa Senators, he also received three draft picks. While two selections have yet to become players, the 2023 first-round pick they received ended up being Daniil But. But is a top prospect and could become an elite winger down the road.
Premier Scouting Staff Helping Draft Top-Tier Talent
When looking at elite teams, most of the top players were drafted to that respective team. It's possible to build teams through free agency, but the outcome is usually unsuccessful. Armstrong recognized that and hired Darryl Plandowski as director of amateur scouting, who has an extensive history as a scout. He spent 11 seasons as the head amateur scout with the Tampa Bay Lightning, drafting the likes of Nikita Kucherov, Brayden Point, and Andrei Vasilevskiy – players who have helped shape the team and one of the reasons the Lightning have won two Stanley Cups recently.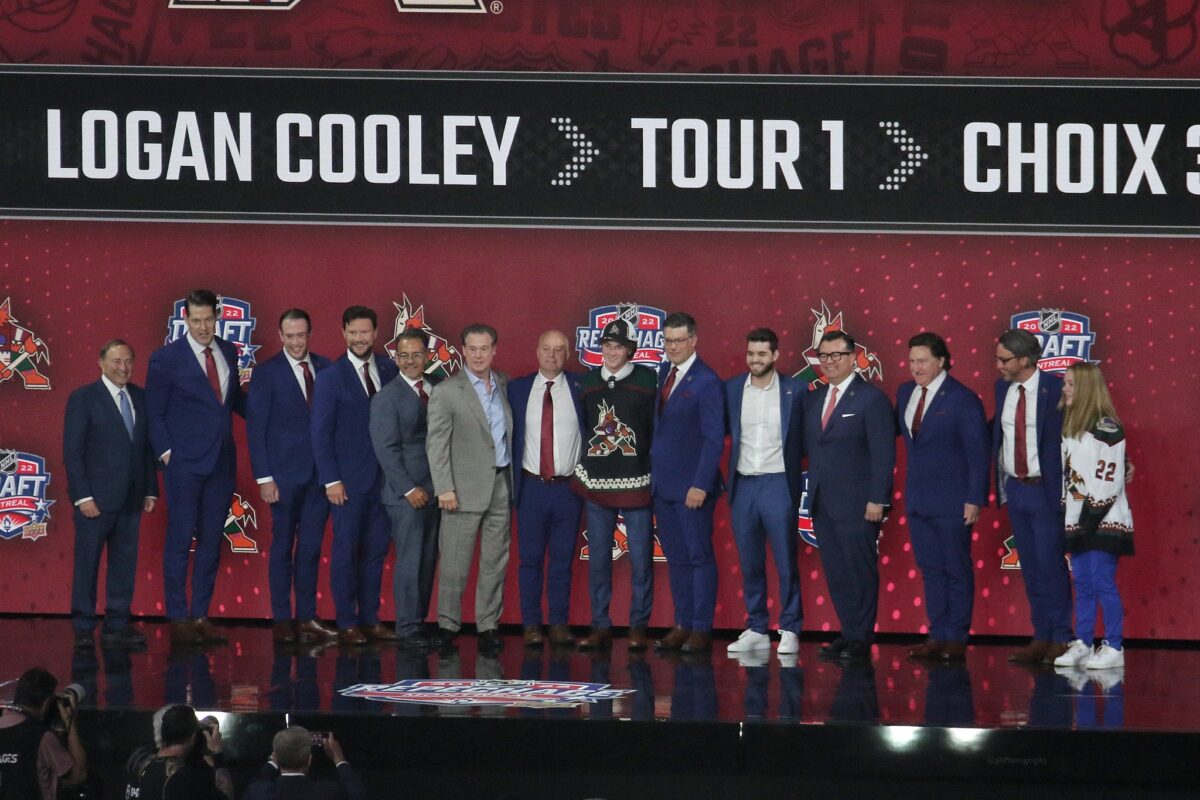 Armstrong tends to draft players who have size, including Dmitri Simashev, Connor Geekie, Maveric Lamoureux, and Michael Hrabal. While height doesn't determine if a player will succeed at the NHL level, it always helps to have an advantage like that on the ice. He's also willing to trade draft picks for players, as he did with Los Angeles Kings defenseman Sean Durzi, for whom he gave up a second-round selection. Durzi is a player who can grow with the team and make a big impact in 2023-24.
Coyotes Have Correct Man at Helm
The Coyotes finally seem to have the correct person in charge. Armstrong has drafted elite players across many drafts, which should bring a Stanley Cup to the desert soon. The Coyotes have been rebuilding for what seems like an eternity, but those days are in the rearview mirror with Armstrong.