One of the Chicago Blackhawks' top young players recently drew a comparison to one of the most dynamic players in the league from someone who knows a thing or two about dynamic players. Also, a former goaltender and playoff hero is hoping to mount a comeback this season. Finally, another prospect is going to start his season overseas until training camp opens.
Dach Draws Favorable Comparison
When you try to think of players Blackhawks' center Kirby Dach may compare to, Toronto Maple Leafs' star Auston Matthews probably isn't the first player to pop into your head. While they both play the same position and were top-three picks in the NHL Entry Draft, there is not much else there to go by.
Dach played well and showed progression during his rookie season. He showed flashes of greatness through the normal growing pains of being a first-year pro. Matthews scored four goals in his NHL debut and went on to win the Calder Trophy, for being the top rookie of the 2016-17 season, by scoring 40 goals and 69 points.
When the Blackhawks returned after the pause in play due to the COVID-19 pandemic, Dach looked like a different player. He was stronger and seemed more confident than he ever was at any point during the season. This is where Chicago-area trainer Ian Mack draws the comparison to Matthews, as he recently told Ben Pope of the Chicago Sun-Times.
"[Dach is] 19, and then Auston Matthews — another one of our guys — he's 22," Mack said. "I would say those two guys are light years ahead of most people their age, just from a maturity level and what they're willing to focus their time and attention on. They're head and shoulders above everyone else I've met their age."

From "Inside trainer Ian Mack's plan to make Kirby Dach a dominant player for the Blackhawks" by Ben Pope – Chicago Sun-Times, 9/5/20
Mack knows a thing or two about elite players as Blackhawks' superstars Patrick Kane and Jonathan Toews are among his clients. That is high praise, for sure, and fans in Chicago are hoping Dach lives up to it
Darling Looks Forward
Scott Darling was a great success story. He was a hometown guy who overcame addiction to get back to the highest level of the game. He even picked up a couple of wins during the 2015 postseason run that ended with the Blackhawks' third Stanley Cup championship in six seasons.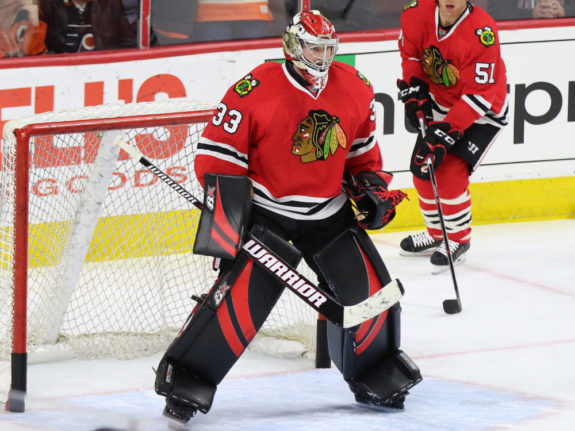 Following the 2016-17 season, Darling was traded to the Carolina Hurricanes and was given a chance to be a full-time starter. Things did not go as planned for him in Carolina as he struggled to have the success he achieved with the Blackhawks.
In November of 2018, the Hurricanes placed Darling on waivers and sent him down to the American Hockey League (AHL). On Feb. 10, 2019, he was granted a personal leave of absence. He was traded to the Florida Panthers the following offseason, who quickly bought the final two years of his contract.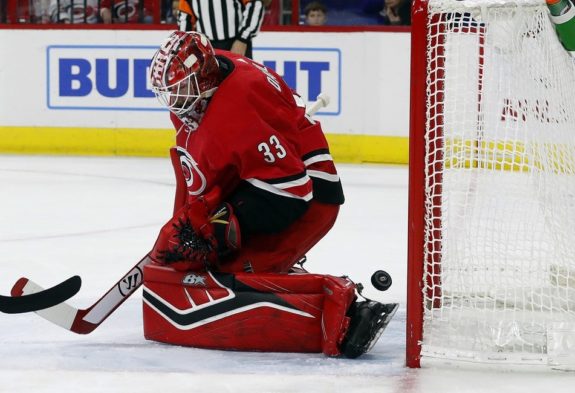 Darling spent the 2019-20 season playing for Innsbruck HC in the Austrian Hockey League, where he posted a 3.34 goals-against average (GAA) and .898 save percentage (SV%). He was recently a guest on former Blackhawk John Scott's podcast, "Dropping the Gloves," and gave us an idea of what he'd like to do this season.
"I'm still playing, I'm going to try to sign (in the US) this year and stay domestic," Darling explained. "But with everything going on, teams have bigger things to worry about than signing a backup, third string or fourth string goalie."
No matter where Darling ends up for the upcoming season, there is little doubt that he will have a lot of Blackhawks fans cheering for him.
Teply to Stay Put for Now
On Saturday, the Blackhawks announced that two more of their prospects will be starting their 2020-21 season in Europe. They confirmed that Philip Kursashev will be loaned to HC Lugano of Switzerland's National League. This was first reported by a Swiss media outlet earlier in the week.
The Blackhawks also revealed that forward Michal Teply has been loaned to BK Mladá Boleslav of Czech Republic's Czech Extraliga. The Blackhawks originally drafted him in the fourth round (105th overall) of the 2019 NHL Entry Draft.
Teply quickly rose up the prospects pyramid during the 2019-20 season. He led all Western Hockey League (WHL) rookies with 29 goals, 34 assists and 63 points for the Winnipeg Ice. In addition, he picked up five assists in five games for the Czech Republic at the 2020 IIHF World Junior Championship. His big season earned him a three-year, entry-level contract with the Blackhawks, which he signed in April.
Both players are expected to return to Chicago for the start of training camp, which is tentatively scheduled to start on Dec. 1. At least we will have some players to keep track of while we wait for the NHL Entry Draft and free agency to begin. This will be a quick and unprecedented offseason and we will keep updated with all the news as it breaks.
---
Sign up for our "Blackhawks Newsletter" for all the latest on the team.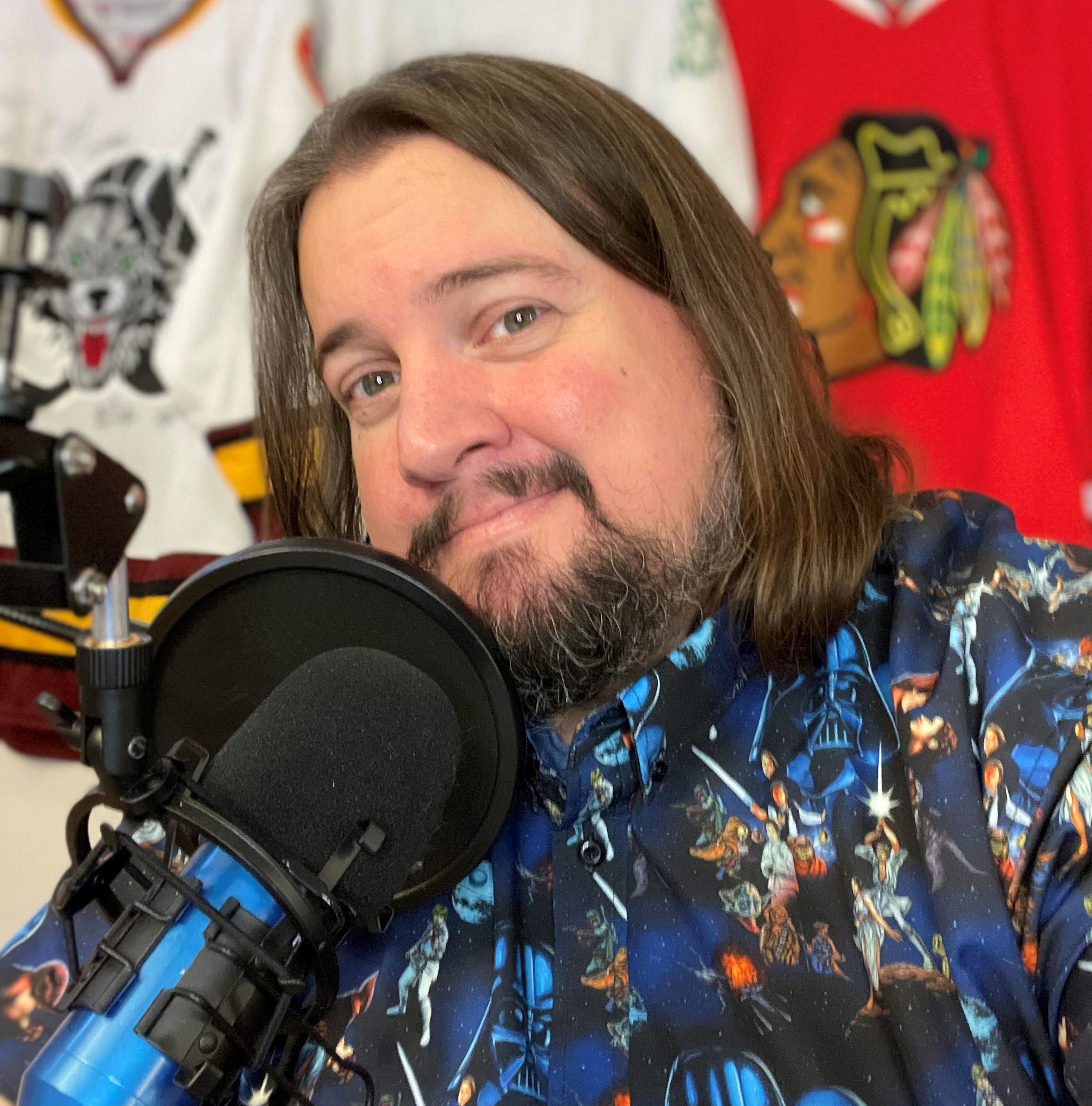 Greg Boysen has been writing about the Chicago Blackhawks since 2010 and has been a site manager for both FanSided and SB Nation. He has been published in The Hockey News and was fully credentialed for the 2013 Stanley Cup Final. Among his various roles with The Hockey Writers are covering the Blackhawks, the AHL, writing the daily "Today in Hockey History" column, serving as a copy editor, and appearing and hosting multiple YouTube shows, including Blackhawks Banter. He is credentialed with the Chicago Wolves, Rockford IceHogs, and Milwaukee Admirals, while also being a regional scout for the NAHL. And, just because his plate isn't full enough, Greg hosts trivia in the Chicago area two nights a week. For interview requests or to provide topic suggestions, follow Greg on Twitter and reach out.