The Philadelphia Flyers had quite the 2019-20 season. It was a season where there was new change all around, from bench boss to some faces suiting up in Orange and Black. The leap in progress that was made this year deserves credit all throughout the entire organization.
As disappointing as it is right now for the Flyers and their fans, this is a sign of better days to come. Management will continue to build from here and shape the roster into a squad that will finally bring the Stanley Cup back to the City of Brotherly Love.
With that being said, where did things go wrong on this run? There are a few factors that stuck out to me throughout the postseason.
Scoring Struggles
It is always great to have scoring depth throughout a roster, especially getting contributions from the bottom six. Philly had a lot of help throughout their playoff run offensively thanks to bottom-six forwards such as Nicolas Aube-Kubel, Scott Laughton, and Michael Raffl to name a few. Laughton in particular had an overall great postseason. He tallied 9 points in 15 games, 5 of those being goals. That part of the offense got hot at a good time, but the same cannot be said for some of the bigger names in the lineup throughout portions of the playoffs.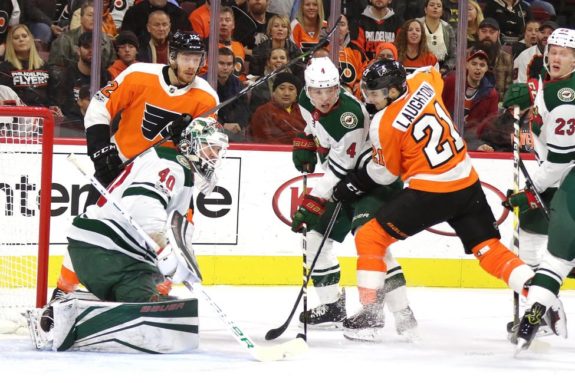 Players such as captain Claude Giroux and Travis Konecny were in goal droughts for most of the playoffs. Giroux was able to find the goal column once, but Konecny did not find the back of the net one time the entire postseason (he did have seven assists though). That absence of offense caused problems, especially when Travis led the team in the regular season (both in goals with 24 and overall points with 61). Sean Couturier only posted 2 goals as well throughout 15 games, and James van Riemsdyk notched 2 himself in 12 games played.
Related: Flyers' Top Undrafted Free-Agent Signings of All-Time
The offense as a whole jumpstarted in Games 5 and 6, giving the Flyers a chance to redeem themselves after being down three games to one, but their old woes came back to haunt them in Game 7. Philly was not able to score at all in the deciding game of the series, chalking up 16 shots to the Islanders' 26.
It was great that bottom-six players like Laughton and Raffl found offensive touches to their game, but it was not sustainable because the top-six offensive players who were expected to score more did not put up enough of their own production.
Unfortunate Breaks
Flyers goalie Carter Hart was solid overall throughout this postseason run. The 22-year-old has been molding into the franchise goalie that the team wants. If you did not know his background, you would think that Hart has been in multiple playoff appearances before, with this actually being his first trip to the show.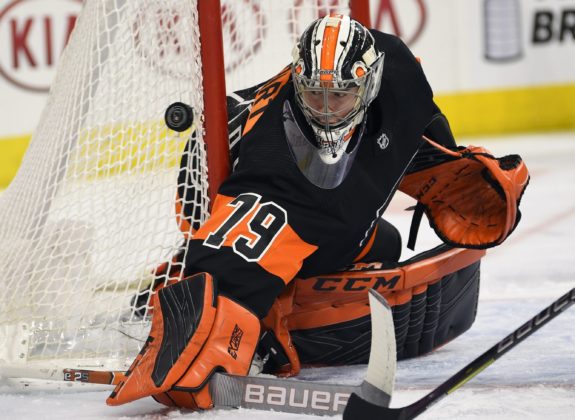 With all that said, Hart had a rough go in a few playoff games, including a couple from the series against the New York Islanders. There were a couple goals in Game 3 specifically that I think he wanted to have back. The Matt Martin goal was a tough one that trickled in to tie the game, but the one that really stung later in the contest was the tally by Islander forward Leo Komarov. Both goals gave the Isles a 2-1 lead, and on top of that, the Komarov goal was scored in the dying seconds of the second period.
Those two goals alone cost the Flyers that game, and it was pivotal to the series; the Islanders took the lead two games to one. Overall, as stellar as Hart was throughout this year's postseason run, there were still some struggles along the way for him. There were a few goals throughout the playoffs that he could have defended against differently. This stuff happens though, and he will grow from it. He is still so young, and he handled the starting job very well. It is just unfortunate that there were some bad breaks during a few games.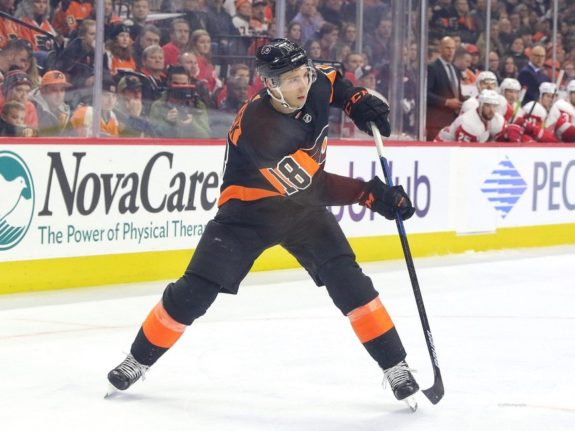 I do not want this to come off as being too hard on Hart, though, because the offense did not back him up in that Game 3 I mentioned either. Tying back into the prior point on the scoring drought for some players, the bottom-six forwards were the only ones to find the back of the net that night. Tyler Pitlick got the lone goal in the contest. There were no goals scored by Giroux, Konecny, or Couturier among other players who were not contributing to the scoresheet.
The defense could have done a better job supporting Hart throughout the Islanders series. A lot of goals were given up in Game 6 as well, and the offense had to bail the defense out in order to force Game 7. If the offense had not found a way to keep up with the Isles in goals, the series would have been over right then and there. The Flyers' goals in Game 6 came from Kevin Hayes, van Riemsdyk, Raffl, and Laughton.
Blown Leads
On multiple occasions throughout their series, the Flyers found themselves with a significant lead. Game 2 saw them ahead 3-0, while Game 5 had them up 3-1.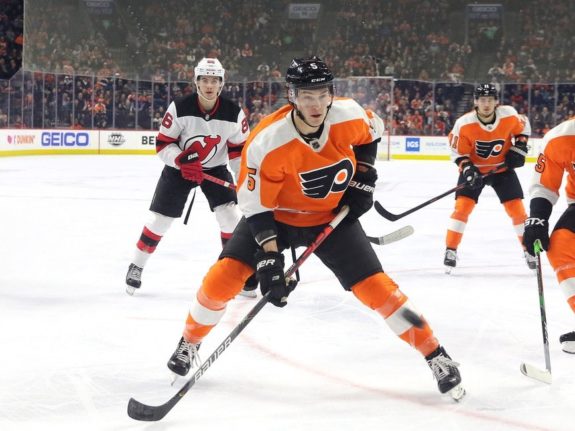 In both instances, the Islanders were able to bounce back and tie the score up before regulation ended. The Flyers was fortunate enough that they won both games in overtime (Philippe Myers clinched the victory in Game 2, and Laughton got the winner in Game 5).
Even though Philly won both of these games, the Flyers struggled to close out their games before the end of regulation. The Islanders were able to power back into the contest on two occasions. Game 2 saw Islanders comeback goals from Anders Lee, Anthony Beauvillier, and Jean-Gabriel Pageau, while the comeback goals in Game 5 were posted by Brock Nelson and Derick Brassard. On a side note, Nelson himself was a Flyer killer throughout the entire series. He had four goals in the seven-game series, while also assisting on four.
While the Flyers still won those games with a blown lead, it shows there is a little more work to be done finding ways to close the deal on games. That can be improved upon through experience and growth in players' games. Players will take lessons that they learned from these hard-fought contests and build on them.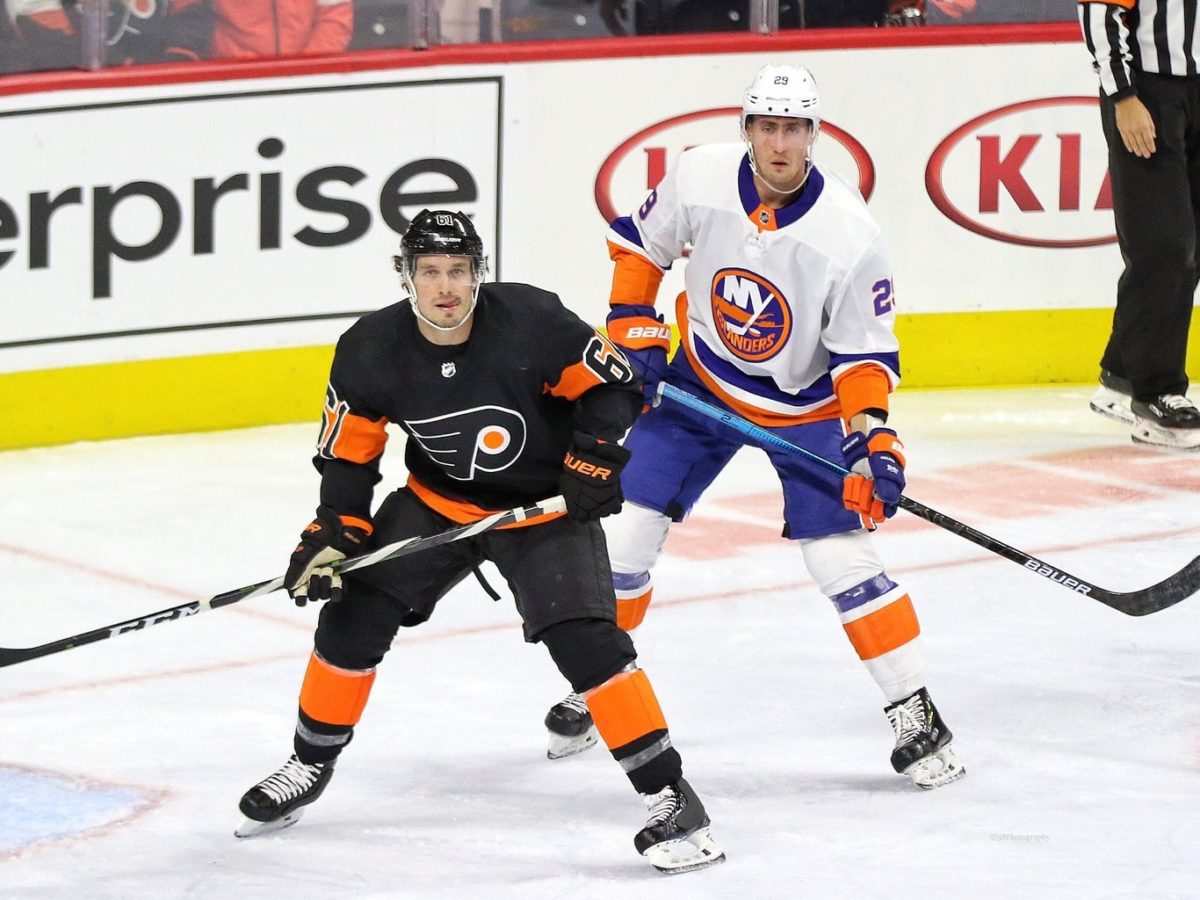 Speaking on overtime in general, the Flyers needed extra time to win every game in that series versus the Isles. They did not win one game in regulation against them, which is a bit problematic in its own way. The Flyers can regroup in this offseason and learn from these mistakes that occurred during their series.
Bright Future Ahead
The Flyers accomplished a lot during their 2019-20 campaign. Coming off of a season where they missed the playoffs and ultimately fired both their head coach and general manager, the organization covered a lot of ground in a short amount of time. New general manager Chuck Fletcher took over and made significant moves to aid the veteran core that can mentor the younger players.
Related: Devils' 5 Best Defensemen of All-Time
One of his best additions last offseason, though, was hiring head coach Alain Vigneault. He has stepped in and helped provide a culture to bring his locker room together. The players have bought into what he is selling and are not only going to battle just for him but for their teammates as well. Vigneault is a well-respected hockey man, and there is a reason he is a finalist again for the Jack Adams Award.
It is heartbreaking seeing the Flyers' season officially finished, but there is light at the end of the tunnel for fans of the club. Their offseason has begun and they can now shift their focus into gearing up for next season.
---
---