There's a few of the younger players in the NHL that have quickly won over the hearts of fans and proved just how much of an asset they are to their team and Chicago Blackhawks' Brandon Saad is one of those. The left winger has the size, strength and the impeccable beard-growing ability that will take him far in his NHL career. He found himself thrown onto a line with Marian Hossa and Jonathan Toews in the second game of the 2013 season when most guys his age still have quite a bit of working to do until they even see time on the pro sides of things. At only 22-years-old, Saad has already shown just how much he can contribute for his team and with him still being young and having experienced the scenarios he has already been put in, there is no doubt that he'll improve even more as the seasons go on.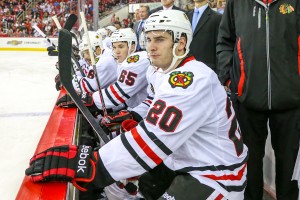 Growing into his own
Since his debut with Chicago, Saad has improved in so many areas that has earned his spot back with some of the best after falling to the fourth line for a bit. "Consistency" has been used often to describe him but with nights of him scoring more frequently, the word is becoming a thing of the past. In the 32 games he has played so far this season, he has seven goals and 14 assists which puts him as one of the top five players on the Chicago team along with Patrick Kane, Toews and Marian Hossa.
Saad has been compared as a younger Hossa and to former defenseman Nick Leddy. Toews has said before that Saad has major awareness and backchecking abilities just like Hossa and killer speed like Leddy. These things along with his growing confidence have added to the frequency of him racking up points for the Blackhawks. He's an aggressive player that also gets the job done in high-paces so being part of the top-line is where he would be the most effective and  where he really belongs.
Saad history
He was drafted in the second round, 43rd overall in the 2011 NHL Entry Draft and was signed to an entry-level, 3-year contract. On Oct. 7, 2011, Saad made his NHL debut against the Dallas Stars but just five days later, was reassigned to his junior club. Despite not being ready for the big league at that point, there was no doubt that he was going to be a star player with some one of recognition he has received. He was named team captain of the Saginaw Spirit in the 2011-12 season after Ryan O'Connor was traded to the Barrie Colts. He finished the OHL season with a 1.73 points-per-game average.
The Blackhawks recalled Saad in April and he made his playoff debut. He scored his first NHL point on Apr. 21, 2012 with an assist against the Coyotes. Saad scored his first career NHL goal on Feb. 5, 2013 against the San Jose Sharks and in that same year, he was named as a finalist for the Calder Memorial Trophy. To top everything he has done, on Jun. 24, 2013, he won his first Stanley Cup as the Blackhawks defeated the Boston Bruins.
The bottom line
Saad is definitely moving up in the Blackhawks ranks with his dynamic and confidence constantly growing. With him being one of the younger skaters on the team, there is still room for him to improve and come out of his shell. The big question is though with his 3-year contract coming to an end, where does that leave him? He has proved that he has earned a place to stay in Chicago but with all of the older talent, that may not matter. Even if the worse does happen, he'll be fine with wherever he ends up. He was put up as a top-liner with some of the biggest names in the league early in his career and showed that he can keep up with them all while finding his groove and going his own way.
I'm from the sunny sides of Anaheim, CA. I currently go to college and am majoring in journalism. I talk hockey in other places so check out my Twitter.