The Chicago Blackhawks are now 3-8-2 since Jeremy Colliton took over as bench boss. They've lost their last four games in a row, and six of the last eight. Most recently they've struggled with coming to play on time. Sunday's game against the Calgary Flames marked the seventh straight contest where the Hawks gave up the first goal. There's not a whole lot to be happy about right now, and it looks like another long season with no playoff hopes, once again.
But the Blackhawks are trying their hardest to remain focused and positive. So in that spirit, this week's post will focus on some of the good things. Because believe it or not, the Hawks are taking some steps in the right direction. Below are a few positives from each of the past four matchups.
Blackhawks' Week 9 Matchups
Vs. Vegas Golden Knights, Tue. 11/27, Loss 8-3
@ Winnipeg Jets, Thu. 11/29, Loss 6-5
@ Nashville Predators, Sat. 12/1, Loss 5-2
Vs. Calgary Flames, Sun. 12/2, Loss 3-2
Overall Record: 9-14-5, 23 points
Some Firsts Against Vegas
The big news from this past week was that Nick Schmaltz was traded to the Arizona Coyotes for forwards Dylan Strome and Brendan Perlini. While Schmaltz was slated to be a big part of the Blackhawks' future, he only scored two goals and nine assists (11 points) in the first 23 games of the season. He quickly fell out of favor, and the Hawks decided to take their chances on the two Arizona forwards instead.
Strome and Perlini began their Blackhawks' careers against the Golden Knights this past Tuesday. Things worked out rather well for Strome. He was immediately placed with former OHL Erie Otters' linemate Alex DeBrincat, and their chemistry paid off. DeBrincat provided the secondary assist for Strome's first goal as a Blackhawk. Strome also notched his first helper on Erik Gustafsson's late third-period goal.
Defenseman Gustav Forsling was recalled from the Rockford IceHogs and made his season debut against the St. Louis Blues on Nov. 14. He contributed four assists in his first six contests, but it took him until his seventh game to get that first goal. He had a little bit of luck on his side, as the puck was wide of the net and got tipped in by a Golden Knights' player. It just goes to show you that good things can happen when you shoot the puck.
Scoring Depth in Winnipeg
The Hawks went on a bit of a scoring streak against the Jets, although unfortunately, it wasn't enough to win the game. They tallied five goals in all, and a few of them came from some unlikely sources. Marcus Kruger scored just his third goal of the season and John Hayden tallied his second of the year in the first period. Kruger is pretty much a staple on the fourth line, although he had moved from center to wing for this contest. Hayden was playing on the third line. Both goals were a great example of depth scoring, and it's what kept the score tied at the end of the first period.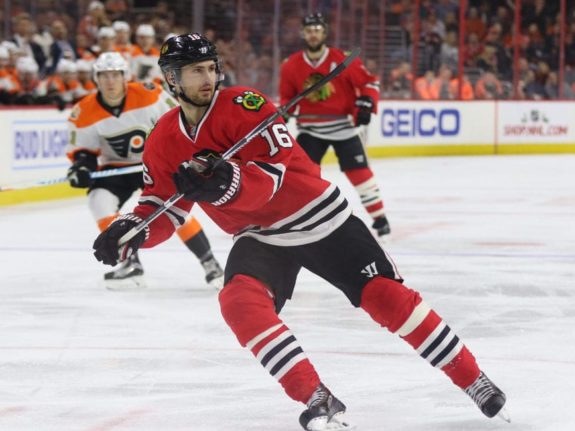 Defenseman Jan Rutta added to the scoresheet in the second frame. It was only his second goal of the season. Dominik Kahun tallied his third goal of the year in the third period. This was another third line contribution, with Hayden providing the assist. The Blackhawks' scoring was rounded out by Artem Anisimov. Considering Anisimov has scored 20 or more goals in each of his last three seasons with the Blackhawks, one wouldn't particularly think of him as being a depth scorer. But it was only his fourth goal of this year, and he's actually been centering the fourth line of late.
Last week we discussed how other depth players such as David Kampf, Alexandre Fortin, and defensemen Alex Gustafsson contributed with goals in another five-goal outing against the Florida Panthers. My point here is these newer and younger role players are finding some confidence and starting to make contributions. If they can continue with this progression, it could spell good things ahead for the Blackhawks.
Enough Is Enough in Nashville
The Hawks took on the best team in the Western Conference on Saturday, and it showed. They went down 3-0, and then 4-1, and that was just in the first period. But something else happened against this very physical team; the Hawks pushed back.
Relatively early in the game, Duncan Keith was the recipient of a very questionable hit into the boards by Predators' Miikka Salomaki. The hit crumbled Keith onto the ice, but he jumped right back up more angry than anything else. He went straight after Salomaki, and Alex DeBrincat came to his defense and fought Matt Irwin. When Keith realized Salomaki wasn't getting penalized for the hit, he instigated more contact with Salomaki and was therefore ejected from the game. Here's what Keith had to say about the incident.
Duncan Keith on Miikka Salomaki hit: "I just thought it was a little bit from behind. I didn't see the hit coming. It didn't hurt, but at the end of the day we're down 3-0 not even five minutes into the game. Enough's enough." #Blackhawks

— Charlie Roumeliotis (@CRoumeliotis) December 2, 2018
Now one certainly doesn't want all the Blackhawks turning into goons. That's obviously not going to help them win. But the team came together and stood up for themselves and each other. They had much more of an edge in their next game against the Flames as well. Keith and DeBrincat's reactions gave some spark to an otherwise complacent group. It provided some must-needed energy, and might've helped give the Hawks the sense they have something to fight for moving forward.
Character Against Calgary
So this is where the Hawks found themselves on Sunday night. Time to leave three tough losses behind and turn that chip on their shoulders into a victory, right? Wrong. That's just not the way it's working for the Blackhawks this year. They had to settle for a moral victory instead.
Once again, the Hawks gave up the first goal. But instead of the opponent scoring in the first few minutes as in past games, it took half the first period for the Flames to get on the board. Goaltender Corey Crawford played his butt off and kept the Hawks in the game. Baby steps. And captain Jonathan Toews answered back shortly thereafter. The Hawks weren't losing at the end of one, they were tied. Moral victory.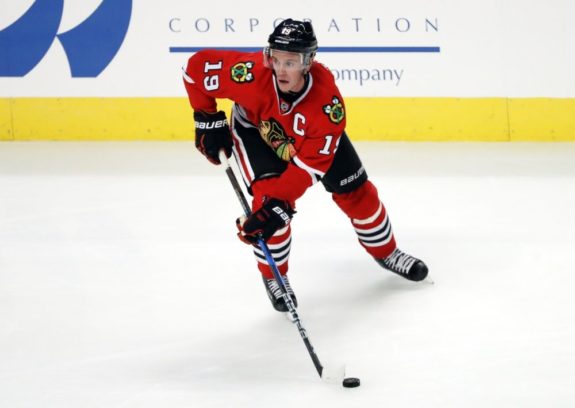 Then came the Chris Kunitz elbowing penalty which turned out to be a game misconduct. He was trying to bring that energy from the previous matchup, but unfortunately (and unintentionally) it was a little too much. The Flames scored twice on the ensuing five-minute power play to make it 3-1. But wait, Strome scored his second of the season to bring the score to 3-2. A power-play goal no less; the Hawks' first in six games!
Defenseman Brandon Manning engaged in a fight, and Toews and Rutta had a few stare-downs with Flames players. Alas, no equalizer came, which has been the story of many previous tilts where the Hawks have been forced to come from behind. Well, maybe they can do it next time, because the Hawks have no choice but to keep working, keep focusing, keep trying to get better. It's a process, and we all have to be patient.
Related – Blackhawks' Play Needs More Power
---
What comes next? I'm glad you asked. The Hawks face the Anaheim Ducks and then the Vegas Golden Knights in back-to-back away games this Wednesday and Thursday before heading home to host the Montreal Canadiens on Sunday. Can they pull any of the positives together and win some games? Stay tuned.